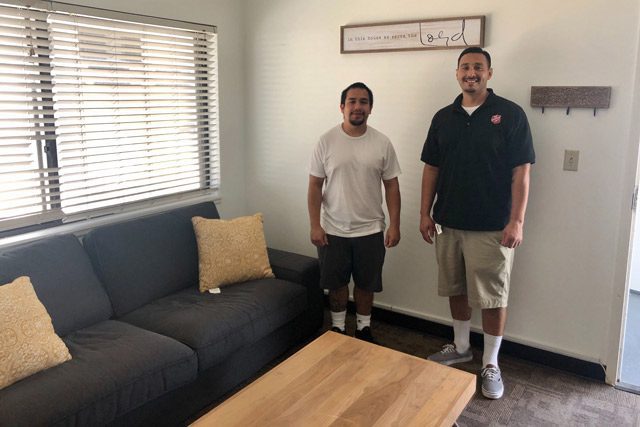 Santa Monica Bridge House adds phase 2
Expansion creates more opportunities for ARC grads 
By Hillary Jackson –
When Santa Monica Corps Officers Lts. Christopher and Erin Wikle assessed the ministries in their corps, it was clear the Bridge House was the most fruitful. 
"I think it's the lifeblood of our corps," Christopher Wikle said of the program that connects graduates of the Santa Monica Adult Rehabilitation Center (ARC) with corps-facilitated sober living. "I couldn't imagine our corps if it didn't have this connection with the ARC and the recovery component, and the Bridge House is really the epicenter of that…It's critical for us.
The Santa Monica Corps expanded its Bridge House Oct. 1, 2019, to create two phases of the corps-run sober living program. The move allowed the corps to double its ministry through the Bridge House program amid budget cuts by utilizing the corps apartment. The addition allows more ARC graduates to participate—and it's causing a buzz around the ARC.
"They see the guys who are in the house, and they say, 'I want to be like that. I want what they have,'" said Wikle, who regularly visits the ARC to talk with beneficiaries. "It's not really about the privilege of living in this house …but for the people who are really serious about their recovery, there is a different mindset where it's 'the high standard that these guys live at, I want to live it. I want to do that.'"
With the expansion, the Bridge House program can double its capacity to 12 men—with five men and one resident manager in the original phase 1 house and six men in phase 2, housed in the corps apartment. The addition of phase 2 has allowed for slight timeline restructuring, making phase 1 a one-year endeavor and phase 2 up to two additional years, open to all ARC graduates, not just those of the Santa Monica ARC.
"It's going to help in a lot of different ways," said Jason, the house manager. "Sometimes you stay in one place, you feel stagnant, you don't grow. So I think this addition to the Bridge House is opening up more space to grow…in sobriety, spiritually, just in life in general…and then also help the people behind us that are transitioning from where they're at in their recovery or their journey and make room for them."
Robert is the first phase 2 participant who moved into the corps apartment. Each week, as part of the program, he participates in Sunday worship and Bible studies, serves five corps program hours, attends at least three recovery meetings, a house meeting and undergoes regular check ins. He also abides by house rules, has a curfew and is randomly drug tested.
"It has helped me out a lot spiritually, getting to know God and when there's problems I can be able to find my problems in the Bible, and be able to fight those problems and hold my cross," Robert said. "I have learned how to just fight my disease, and know that I have a disease and that it's treatable, and it can't be curable, but it's treatable."
Before finding the ARC, Robert was in and out of jail. At 23 he began to know himself and God. Now he's in school and has worked his way up from a dishwasher to a prep cook at a restaurant in Santa Monica. 
"I have such a massive respect for Jason and for Robert and for all of these men who are working hard to have this new life," said Erin Wikle. "We can learn so much from that as a Salvation Army and as a people who maybe have not been through that…I feel that if we were, as a movement, able to humble ourselves to that level and learn from each other, God would just be so thrilled."