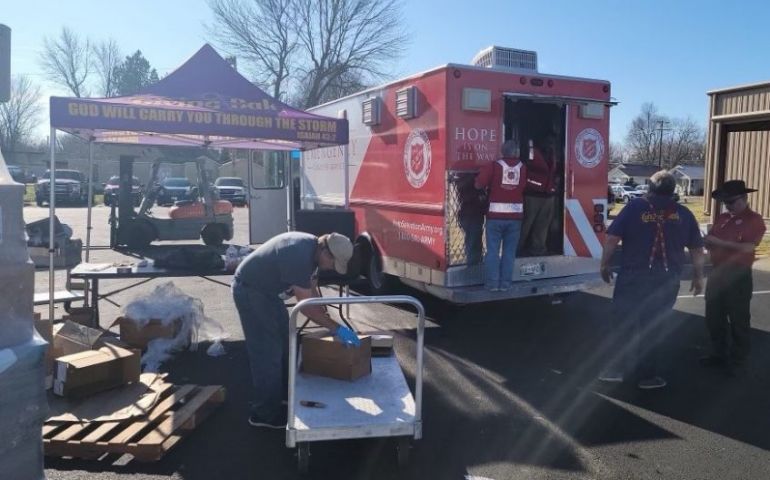 Salvation Army tornado response spans 5 states
The Salvation Army is on the scene in several states, serving first responders and survivors of the tornado outbreak that caused devastation across the midwest and southern regions—particularly in western Kentucky. Food and drinks are being distributed alongside vital emotional and spiritual care as people begin to process experiencing the deadliest tornado outbreak Kentucky has ever known.
At the time of writing at least 80 people in Kentucky are known to have lost their lives in the disaster but Kentucky Governor Andy Beshear told reporters the number is certain to rise above 100 once the wreckage has been fully explored.
The Salvation Army in Madisonville served almost 1,000 meals Dec. 18 to first responders and those displaced by the tornado. They are continuing this service and will assess needs over the coming days. A Salvation Army team from Owensboro is providing meals to emergency responders in Ohio County and the Nashville Area Command deployed two mobile canteens and teams to assist The Salvation Army in Bowling Green to feed residents displaced from more than 70 homes that were damaged or destroyed by the tornado. Salvation Army team members also served meals to residents of two nursing homes and will continue to support people in shelters and first responders over the next few days.
A Salvation Army canteen from Jackson, Tennessee, is being sent to McCracken County to provide support to survivors, workers and emergency responders in Mayfield, Kentucky, which was particularly badly hit. This community is also being served by a team led by Bo Sells, Emergency Disaster Services (EDS) Director, which is assisting The Salvation Army of Paducah to provide food and other assistance to sheltered residents. Clothing vouchers are being supplied to families, along with water and supplies for use in Mayfield.
Tornadoes also touched down in Illinois and Missouri. The Midland Division Emergency Disaster Services team was dispatched to provide support in Augusta and Defiance, Missouri, and Edwardsville, Illinois, with efforts particularly concentrated on the destruction of an Amazon warehouse in Edwardsville, where workers were trapped.
The EDS team provided hydration and snacks to first responders and utility workers at the disaster site from late evening Dec. 10 through the next morning. Team members supported 10 fire departments on-site, and the Madison County Office of Emergency Management requested they return as rescue operations continue.
"As we serve meals to more than 400 seniors who have been without power since the storms…we are reminded how often church is found outside the building," said Major Ethan Frizzell, Area Commander for The Salvation Army in Nashville, Tennessee. "When our officers, staff and volunteers show up on short notice to provide meals, comfort and support to neighbors who have literally been living in darkness for the past 36 hours, love wins and hope marches on."
Frizzell noted that is not only the case in Nashville.
"We are thankful to know our teams are serving in Bowling Green, Mayfield and every other community across Arkansas, Kentucky, Tennessee and all other affected states," he said. "We are here to serve our neighbors in the ways they need until the need is met. This is love."
From The Salvation Army International. Based on reports by Jennifer White and Patricia Sims.
---
Do Good: