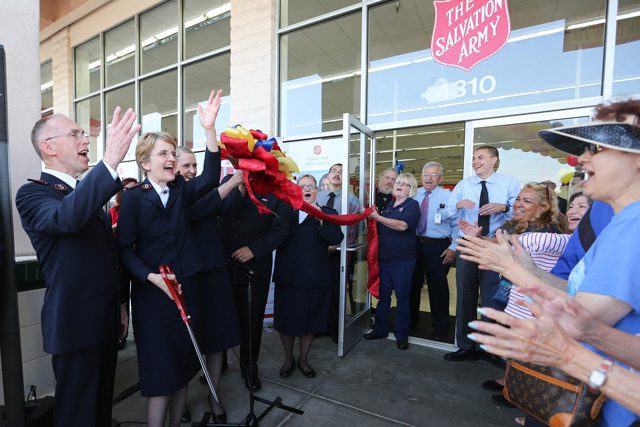 Salvation Army reopens Torrance thrift store
By Hillary Jackson –
The Salvation Army reopened its Torrance (California) Family Store Sept. 12 as a part of the rollout for its new vertical retail and production structure for its Adult Rehabilitation Centers (ARCs). The 15,000-sq. ft thrift store is regarded as the Western Territory's flagship store because it is serving as the model for all other Family Stores in the West and is the highest grossing in revenue.
The Torrance Family Store was closed for six weeks to receive an overhaul following the vision laid out by the ARC's Retail Task Force. The space received new paint, lighting, floors and fixtures as well as a more customer friendly layout.
The store reopened with a ribbon cutting ceremony featuring local dignitaries and Salvation Army leadership. The line of shoppers awaiting the opening stretched from the store's doors and wrapped around the building to near where the donation bins rest behind the store. Officials estimate about 200 people were in line. 
"Are you ready to shop?" Major Henry Graciani, General Secretary for the ARC Command, asked the shoppers, who responded with excited cheers. Nearby, a brass band played and a Salvation Army Emergency Disaster (EDS) canteen distributed coffee and donuts.
"We are grateful that you've come and supported The Salvation Army," Graciani said. "We want you to know that every single dollar raised in the store helps men and women in recovery, so thank you for helping The Salvation Army do its great work we could not do without you."
Territorial Commander Commissioner Kenneth G. Hodder echoed those sentiments when he spoke to the importance of the thrift store to the ARC system.
"This store, therefore, ladies and gentlemen, is not a store at all. Yes, it has items to buy. Yes, it has cash registers. Yes, it has everything you'd associate with a store, but it is not a store," Hodder said. "This place is a life restored. This place is a family restored. This place is a place where we believe God can be glorified when others are helped."
Hodder introduced Torrance Area Chamber of Commerce President and CEO Donna Duperron, who said she also shops at the store. Duperron presented a certificate of congratulations to The Salvation Army, and told the shoppers waiting in line that the Army was "like family."
Torrance City Councilmember and Mayor Pro Tem George Chen also spoke to shopping at the store. "This is a fabulous store. A fabulous, grand reopening," Chen said. "I'm not sure we had a grand opening as well attended as this."
Also present was Councilman Mike Griffith, who is the chairman of The Salvation Army's advisory board in Torrance, whom Hodder acknowledged before he introduced and thanked members of the Retail Task Force.
"Those gentlemen are the experts and they had helped us to put this store together in such a way that that you're going to be thrilled by what you see and the experience that you have," Hodder said.
Territorial President of Women's Ministries Commissioner Jolene Hodder offered a word of prayer before the ceremonial ribbon cutting. Graciani then counted down and the doors opened to excited shoppers. 
 "We are thrilled," said Julie Dover, Western Territory ARC Command Retail Director. "You work really hard, and you know that the response is going to be fabulous, but when it really happens, it's so rewarding. And just to see everybody come in and their eyes just open wide, it was worth the wait." 
The store's grand reopening festivities began Sept. 12 and will run through Sept. 15. As a promotion, the store has 1,000 free items sprinkled throughout the store for customers to find.
"It looks like it's bigger. It's more organized and they have a lot of nice things in here," said Torrance resident Lorene Brubaker, who was among the first customers in the updated store. "This is where we bring our stuff when we want to get rid of it because the people are wonderful and they're caring and you know your stuff is going to go to somebody that needs it."