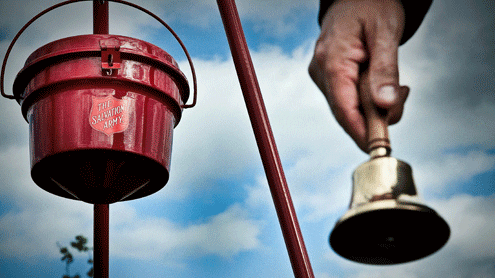 Salvation Army Raises Awareness for People in Need with 2nd Annual World Record Bell-Ringing Contest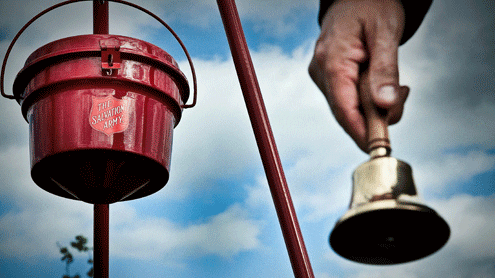 Volunteer Bell-Ringers Attempt to Ring For More Than 60 Hours
Contest Can Be Followed on Twitter Using Hashtag #RINGITON
Alexandria, VA (December 7, 2012) – Eight Salvation Army volunteer bell-ringers- four from the Western Territory  will begin a simultaneous attempt against one another to set a new world record for the longest continuous hand bell-ringing by an individual beginning on Tuesday, December 11, 2012 at 1:00 PM (ET). The second annual World Record Bell-Ringing Contest will help raise awareness for The Salvation Army's 122nd annual Red Kettle Campaign, which helps The Salvation Army collect donations for people in need during the Christmas season and throughout the year. Darrell Tureskis of Springfield, IL, who rang a bell for 60 hours last year, will return to defend his record.
"Due to the overwhelming support and success of the inaugural World Record Bell-Ringing Contest, we knew there had to be another to help raise awareness for the Red Kettle Campaign," said Major George Hood, National Community Relations Secretary for The Salvation Army. "The world record attempt will help unify the Red Kettle Campaign across the country and inspire donors to support their neighbors in need."
A number of participants from last year will also return to compete again in this year's World Record Contest.  Notably, Darrell Tureskis, who rang a bell for 60 hours, 10 minutes and broke the previous record of 36 hours in 2011, looks to extend the record in 2012 by ringing for more than 62 hours.
"This is a great opportunity to shine a light on an easy way for the American public to help people in need," said Darrell Tureskis a small business owner in Springfield, IL. "Last year was an amazing and rewarding experience. Everyone who takes part in the contest is a true supporter of The Salvation Army and the Red Kettle Campaign."
All bell-ringers, which include Salvation Army officers, staff and community members, volunteer their time to ring a bell. The bell-ringers participating in the world record contest will ring in various cities nationwide, at red kettles located at a destination of their choosing. Each participant must follow several rules that could push them mentally and physically during their attempt.
Rules include:
Contestants must ring a bell continuously while at the kettle stand.
Participants must stand the entire time.
No 'self-playing' instruments or other aids may be used at any time during the attempt.
Contestants accrue 5 minutes of rest after each 60 minutes of ringing.
Breaks are the only time contestants are permitted to stop ringing, eat, sit or lie down, or leave the kettle stand, use the restroom or sleep.
Contestants may drink non-alcoholic beverages during the attempt, but that may not disrupt the ringing activity.
Some contestants participating in the World Record Bell-Ringing Contest will also live tweet and stream their record-setting attempts. Contestants and Twitter followers can use the hashtag #RINGITON to follow the action. Some participants will also use UStream so people nationwide can watch as they ring a bell for The Salvation Army.
Contestants participating in the World Record Bell-Ringing Contest include:
Steve Batzka; Kroger, 5725 Coventry Land, Fort Wayne, IN 46804
Ryan Gass; Walgreens, 1835 N. Main Street, Roswell, NM
Judy Grace; Bakers 3614 Twin Creek Drive, Bellevue, NE 68123
Tim Hatmaker; Foods. Co. ; 1465 S. Broadway, Santa Maria, CA 93454
Joey Ostby; Safeway Grocery Store, 1546 N. Main Street, Salinas CA 93906
Jason Perkins; Wal-Mart, 2701 North Texas, Fairfield, CA 94533
Michael Tunstall; Walmart Supercenter, 4610 S Coulter St., Amarillo, TX 79119
Darrell Tureskis; Schnucks Supermarket, 2801 Chatham Road Springfield, IL 62704
The Red Kettle Campaign is the longest running fundraiser of its kind and was started as a fundraiser by Salvation Army Captain Joseph Mcfee in San Francisco in 1891. Since that time, the Red Kettle Campaign has grown into one of the most recognizable and important charitable campaigns in the United States. As part of the campaign, more than 25,000 Salvation Army workers and volunteers spread throughout the country to ring bells daily and solicit spare change donations to the iconic red kettles from holiday shoppers. In 2011, the campaign collected more than $146.7 million nationwide, a new record supported by the public's nickels, dimes, quarters, dollars, credit cards and helped The Salvation Army serve 30 million people in communities where the money was raised.
For updates on the world record contest as it takes place, please visit www.facebook.com/SalvationArmyUSA or blog.SalvationArmyUSA.org. More information on the Red Kettle Campaign is available at SalvationArmyUSA.org.