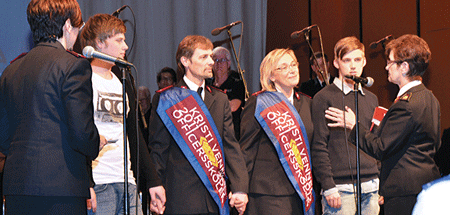 Salvation Army opens fire in Greenland
Army to be at work in 125 countries
General Linda Bond announced the appointment of officers to "open fire" for The Salvation Army in Greenland during Denmark's 2012 Congress.
Lts. Magnus and Petura Haraldsen, who trained in Norway, were commissioned as Salvation Army officers and presented with the Greenland flag. "The next flag you receive," said the General, "will be The Salvation Army flag."
The Haraldsens and their two sons will move to Greenland in time to begin work there on Aug. 1.
Greenland, the world's largest island, is about 81 percent ice-capped. It is slightly more than three times the size of Texas, and lies between the Arctic Ocean and the North Atlantic Ocean, northeast of Canada.
While the island dominates the North Atlantic Ocean between North America and Europe, its sparse population of nearly 58,000 is confined to small settlements along the coast. Greenland's ethnic makeup is 89 percent Inuit and 11 percent Danish and other, with the primary religions of evangelical Lutheran and traditional Inuit spiritual beliefs.
From a report by Major Levi Giversen