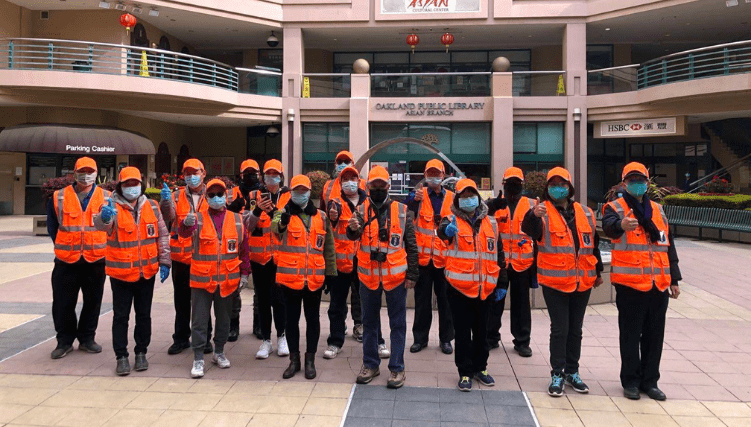 Salvation Army officers patrol Oakland Chinatown to bring seniors peace of mind
By Esther Hsu, Captain–
Ever since the COVID-19 Shelter in Place lockdown in the San Francisco Bay Area, Chinatown has been struggling with keeping businesses open and trying to stay afloat. Now with the increase in anti-Asian hate speech and attacks on Asians—especially the elderly—it has made Oakland Chinatown an even more dangerous place and the residents and business owners are filled with stress and anxiety. 
Many seniors living in Oakland Chinatown are used to walking around to get groceries, needed supplies and for exercise, but say they are wary to leave the house since they do not know if they will become the next victims. Some incidents included an elderly Asian man walking by Lake Merritt, who was pushed down during an attack, suffered brain damage and passed away.
Another elderly man was walking in Chinatown when a man stopped next to him, so the elderly man greeted him, and was assaulted. With the attacks on the rise, many community members decided to band together to patrol Oakland Chinatown streets to make sure there are enough people around to discourage any more violence. 
The Salvation Army Oakland Chinatown Corps is in the heart of Oakland Chinatown and has seen the increased fear in the community and the need for the community to come together to keep each other safe. 
As corps officers, we [Captains Timothy and Esther Hsu] have also joined in on weekly foot patrols to discourage crime in Oakland Chinatown and give assurance to the community—especially seniors who are still walking around and shopping in Oakland Chinatown—that people are watching out for them and their safety. 
The patrols are made up of volunteers from local businesses and the community who come together Mondays, Tuesdays, Thursdays and Fridays from 10 a.m.-2 p.m. and Wednesdays, Saturdays and Sundays from 10 a.m.-5 p.m. in order to patrol Oakland Chinatown nonstop. There are several volunteer groups, with one coordinated by a 75-year-old who organizes the schedules and is part of the patrol.
During the patrols, volunteers greet business owners and let them know of their presence and their contact information in case they encounter anything, so the patrol can quickly arrive and assist. The community has really stepped up and banded together to protect Oakland Chinatown, trying its best to restore a sense of peace and security. 
We also planned a prayer walk with surrounding church pastors and members to get together after Easter Sunday to walk throughout Oakland Chinatown and lift up prayers to God. We want to pray together to ask Jesus to bless the city. We want to bring all Christians together, regardless of race, since we are all facing the same pandemic, but with this added anti-Asian hate, we need to pray together, as sons and daughters of Christ, to get through this hardship and show the community that in order for us all to survive and flourish, we need God's love, unity and peace. 
---
Do Good:
Are you best suited to join the Fight for Good in disaster relief? Mental health? Social justice?

Take our What's Your Cause quiz

and discover where you can make the biggest impact today. 

Get inside the

Caring

Magazine Scripture Study Collection

and find a suite of free, downloadable Bible studies to guide you through topics from New Beginnings Through Forgiveness, to Understanding our Imago Dei or Life Hacks From David.

Subscribe to the Do Gooders Podcast

and tune in for good ideas. Get inspiration from the experts on how to do good and find meaning along the way—and join thousands in making an impact for good right where you are.