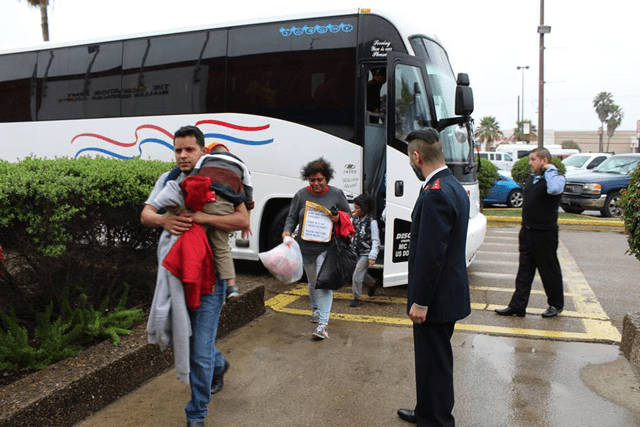 Salvation Army now housing refugees in McAllen, Texas
The organization has worked closely with Catholic Charities to serve the population since 2014.
Hidalgo County, Texas, is dealing with a massive influx of migrant families who were released from immigration detention after Customs and Border Protection announced they were over capacity. Area agencies were already scrambling to keep up with the high volume of individuals processed at the border.
At the request of the City of McAllen, Texas, The Salvation Army has opened up an emergency overnight shelter for undocumented immigrants. Since doing so, the organization has served roughly 100 refugees a night.
Buses transporting refugees arrive at The Salvation Army for dinner each night. There, refugees have access to shower facilities and hygiene products. In the morning, they eat breakfast and depart to meet family members or sponsors elsewhere in the U.S. Then, they await an immigration court date to seek asylum.
Since 2014, The Salvation Army in McAllen has provided meals for Catholic Charities' Respite Center. But this is the first time that The Salvation Army has had to house refugees in McAllen to help with the overflow.  
Last week, Catholic Charities requested that The Salvation Army provide 900 meals per day. These meals are in addition to the provision of dinner and breakfast for the 100 people staying in the temporary shelter housed in the Army's banquet hall. The Salvation Army Emergency Disaster Services team from Denton County in North Texas has been deployed to McAllen and additional teams are being recruited to assist in the coming weeks. The Salvation Army is also working with partner churches in South Texas to provide support to local staff and volunteers.
Additionally, The Salvation Army has provided a mobile shower unit that has been stationed at the Catholic Charities Respite Center since mid-February.
"This is the very first time that The Salvation Army here in Hidalgo County has had to house refugees to help with the overflow," said Captain Stephen Correira, Commanding Officer of The Salvation Army in McAllen. "We serve in the name of Jesus Christ suffering humanity and we serve without discrimination."
The Salvation Army will continue to run the overnight shelter for as long as needed.
To support relief efforts, visit salvationarmytexas.org/mcallen.