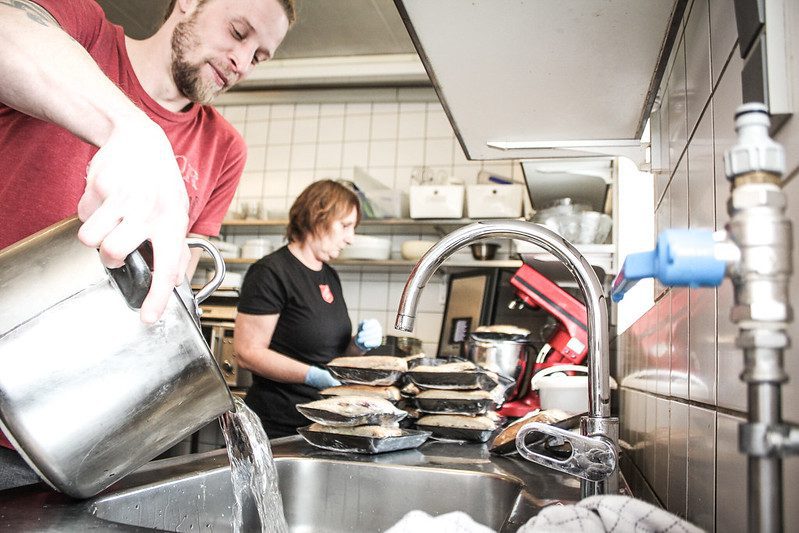 Salvation Army in The Netherlands launches campaign, cruise ship and re-opens prison cell for homeless
All means possible are being deployed by The Salvation Army in The Netherlands in an effort to meet the needs of those experiencing homelessness during the COVID-19 pandemic. In the low-lying European country, shops, businesses, schools and many public utilities remain closed, with social distancing regulations in place and gatherings of more than three people prohibited.
The Salvation Army launched an awareness-raising campaign to address how the Dutch government's instructions to stay at home could be applied in the case of people without a home. The campaign—running across TV, radio, online and in major national newspapers—asks simply: "Stay at home? How?"
"The best solution to this problem is to provide homeless people with a permanent place to live…either on their own, or a safe place to live with help and guidance from an organization like The Salvation Army," said Menno de Boer, Leger des Heils Marketing and Communications. 
The initiative attracted the attention of popular topical cartoonist Loko, who created a visual representation of the question. In the cartoon, a slug asks a snail: "Jij hebt makkelijk praten, maar waar moet ík dan heen?" ("Easy for you, but where am I supposed to go?")
The Salvation Army's campaign has been backed up throughout the country by provision of additional temporary accommodation for homeless and other vulnerable people.
In Rotterdam, The Salvation Army partnered with EasyHotel and the cruise ship Allegro, which is moored in the city's harbor. The accommodation—operating at greatly reduced capacity because of the coronavirus crisis—is being made available to homeless people who are susceptible to COVID-19 because of underlying health conditions. Building on the experience of an initiative in nearby Gouda, The Salvation Army's regional director Gert Jan Freeke explains: "Having your own space with your own sanitary facilities is good, particularly with the need for scrupulous hygiene at this time."
Owner of the Allegro, Mark Jongedijk, is glad that his ship—with the "best view of the city"—is being put to good use. "This is a great way to still use the ship, and to give people the opportunity to stay overnight with us for whom that is usually not the case."
The initiative in Rotterdam is being supported by the municipal authority.
Meanwhile, slightly less luxurious—but no less valuable—accommodation has been opened by The Salvation Army in a redundant prison in Maastricht. Forty-one former cells have been furnished through the generous support of IKEA.
"Initially, their reaction was a bit wait-and-see, but now the residents are happy," said The Salvation Army's facility manager, Joke Wisseborn. "Some of our clients say: 'I've never had a room of my own.' Others say: 'I used to live here [in the prison], now I am again!' But people are happy with the security this building provides, and particularly the privacy. They have their own shower, for example."
Elsewhere in The Netherlands, The Salvation Army was delighted to receive six richly-filled bags of groceries in Eindhoven, from a women's group at the local mosque. "We must help each other especially at this time," read the accompanying note. The goods will be distributed to people in need in the community.
Meals are also being distributed in Dokkum, thanks to the kind support of KB Food and Drink. Forty trays of chilli con carne helped to provide a nutritious takeaway meal for those experiencing hoemelessness in Ede. And Salvation Army youth workers in Kennemerland provided local young people with a mystery bag of fun activities, including a challenge for the older recipients.
See updates on The Salvation Army's worldwide response to COVID-19 at sar.my/covid19.
HOW TO HELP:
If you'd like to make a monetary donation, please click here to make a gift.
Text 'GIVE' to 52000 to make a $10 donation to The Salvation Army. This will automatically add a one-time donation to your next mobile phone bill.
For information about volunteering, please visit volunteer.usawest.org.
To learn more about how to support The Salvation Army's relief efforts, please click here.