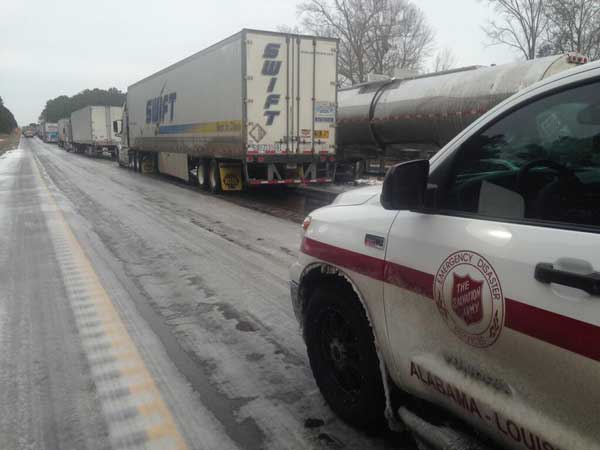 Salvation Army helps first responders, stranded motorists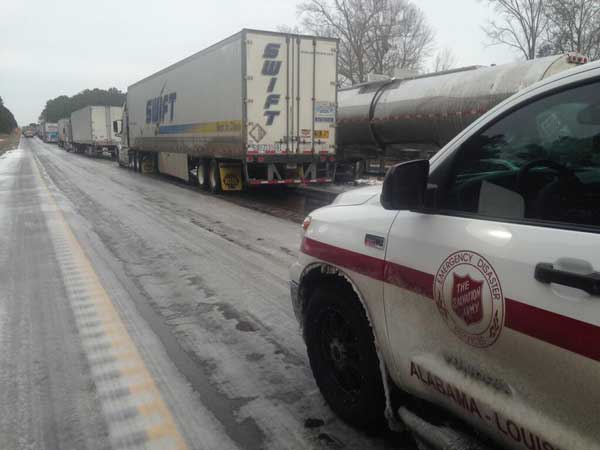 By Lareeca Rucker –
The Salvation Army is assisting first responders today in Copiah County, Miss., where approximately 50 trucks have been stuck along I-55 since yesterday afternoon.
"After last night's winter weather events across the division, many roadways, as expected, were blocked or iced over," said Thad Hicks, emergency disaster services director for The Salvation Army division serving Alabama, Louisiana and Mississippi. "Some motorists and semi truck drivers were trapped along the side of the road."
Hicks said the ice built up, and the trucks couldn't make some of the slight inclines on the roadway. Many are still stuck at this time.
"We were contacted by the Mississippi Emergency Management Agency and asked if we could respond to one of those scenes with food coffee and water," said Hicks. "We are serving along 55 south in the area of the Copiah/Lincoln County line, where we will be most of the day. While we will be stationing ourselves at one of the rest areas, we will also be venturing out to some of the other areas, taking coffee, food and water to those who are stuck."
Hicks said the human body doesn't fare well in extreme cold.  The body can dehydrate quickly and, without heat in the vehicles, hypothermia can quickly set in.
"While we are used to combating hurricanes and tornadoes, the EDS staff of The Salvation Army in the division is adapting quickly to this new ice hazard," he said.