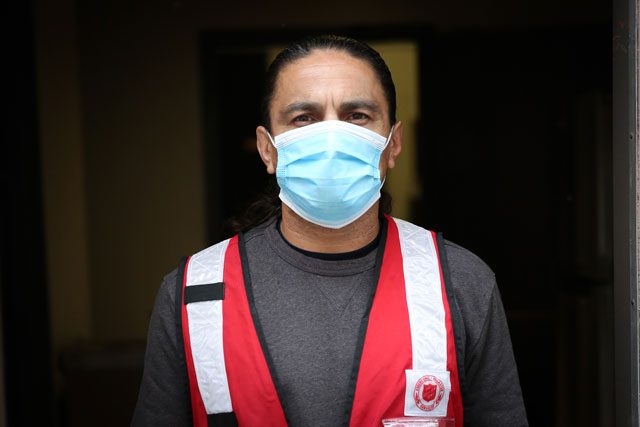 Salvation Army General forms COVID-19 International Response Group
General Brian Peddle initiated a new International Headquarters (IHQ) body—the COVID-19 International Response Group. Headed by Chief of the Staff Commissioner Lyndon Buckingham, it will provide support "swiftly and efficiently," freeing local Salvationists to concentrate on fulfilling the most pressing needs.
Peddle is adamant that every effort is made to ensure local ability to carry out life-saving and life-changing ministry should not be hampered by the lack of access to resources.
According to its terms of reference, the COVID-19 International Response Group exists to:
Consult and collaborate an intentional response to the COVID-19 crisis

Coordinate the resources of IHQ to respond to emergency needs around the world

Assess capacity to respond

Support the Program Resources Department in determining strategic priorities and potential funding resources

Make recommendations to The General's Council/Salvation Army International Trading Company for response and/or recovery

Agree procedures and criteria for funding support

Produce updates for the global Army.
The Chief of the Staff wrote to territorial, command and regional leaders to explain further: 
"The international Salvation Army is stepping up to do what we can," Buckingham wrote. "With prayer, creativity, inspired leaders and dedicated frontline teams, we are not retreating and IHQ wants to support these unique and expanded ministries."
The group, under Buckingham's chairmanship, consists of zonal leaders, and Business and Program Resources leadership.
"The role of this group is to intentionally respond to the COVID-19 crisis by assessing both the needs as they are presented as well as the capacity to respond to these needs," Buckingham wrote, "exploring and securing funding resources and developing processes to ensure timely availability and distribution."
At the time of writing, since its first meeting April 8, the group agreed to fund 59 Rapid Response projects—overseen by International Emergency Services—and 60 "Over and Above" Mission Support projects to be managed through International Development Services.
The group's membership includes: 

Commissioner Lyndon Buckingham (

The Chief of the Staff)

Commissioner Merle Heatwole (International Secretary for Business Administration)

Commissioner Birgitte Brekke-Clifton (International Secretary for Program Resources)

Commissioner Wayne Maxwell (International Secretary for South Pacific and East Asia)

Commissioner Johnny Kleman (International Secretary for Europe)

Commissioner Yvonne Conrad (Zonal Secretary for Women's Ministries, Africa Zone)

Commissioner Sharon Tillsley (Zonal Secretary for Women's Ministries, Americas and Caribbean Zone)

Commissioner Alistair Venter (International Secretary for South Asia)

Lt. Colonel Brian Venables (Communications Secretary, IHQ)

Dr. Matthew Carpenter (Head of Finance, IHQ)

Pamela Hunter (Mission Support Coordinator, IHQ) 
See the latest information on The Salvation Army's worldwide response to COVID-19 at sar.my/covid19.
HOW TO HELP:
If you'd like to make a monetary donation, please

click here to make a gift.

Text 'GIVE' to 52000 to make a $10 donation to The Salvation Army. This will automatically add a one-time donation to your next mobile phone bill.

For information about volunteering, please visit

volunteer.usawest.org

.

To learn more about how to support The Salvation Army's relief efforts, please click here.