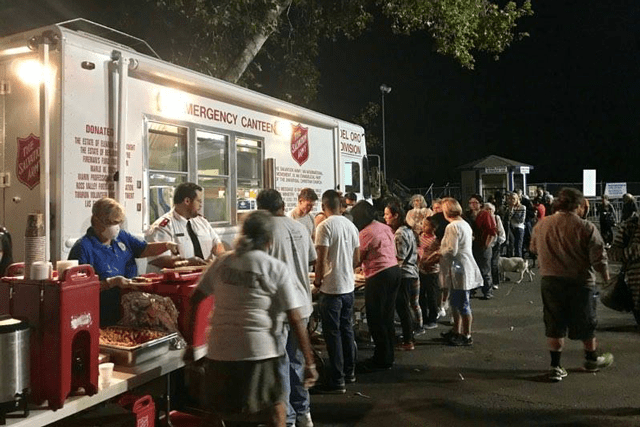 The Salvation Army extends meal service in Northern California
At least 15 fires continue to burn across Napa, Sonoma and Yuba Counties.
The Salvation Army of Northern California continues to provide meals at evacuation centers in Sonoma and Napa in response to more than a dozen wildfires raging across the region.
California's storied wine country is entrenched in a thick smoky haze as fire crews continue to battle at least 15 blazes that have killed 15 people and damaged or destroyed roughly 2,000 structures. Together, the fires have charred more than 115,000 acres spanning eight counties.
Gov. Jerry Brown already declared a state of emergency for Napa, Sonoma and Yuba counties.
The Salvation Army provided more than 3,000 meals on Monday, and continues to serve evacuees at the Finley Community Center, Grace Pavilion, The Veterans Memorial Building in Sonoma, the Napa Valley College gym and Solano Community College.
A Salvation Army canteen from San Jose is also currently preparing meals at the Santa Rosa Corps building, which currently does not have any running gas. Three Bay Area Salvation Army officers and one additional officer from Merced are supporting the meal service in Santa Rosa.
To support relief efforts, visit gosalarmy.org