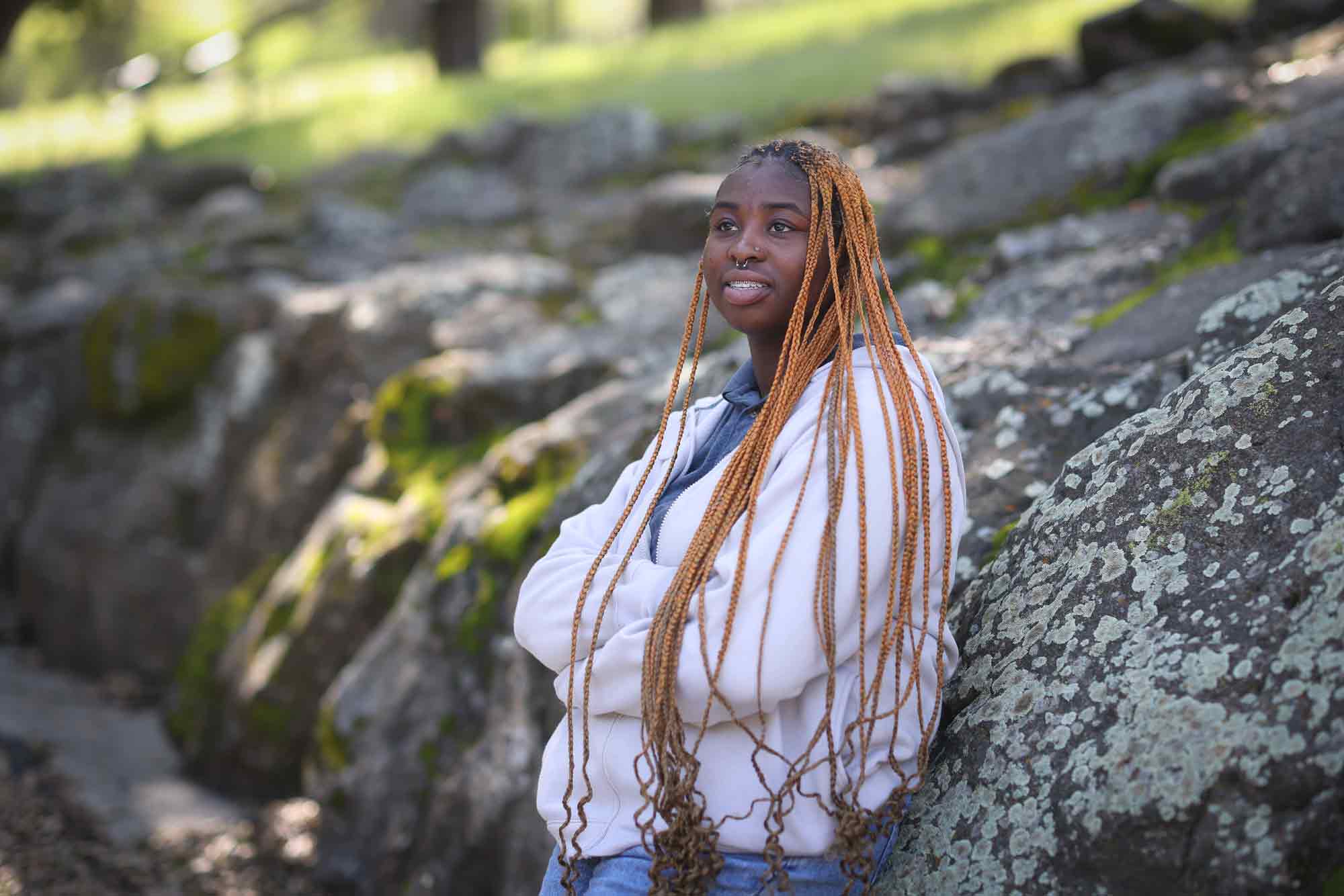 When camp becomes 'home'
Frequent camper turns staff member at The Salvation Army's Lawrence M. Daley Camp and Conference Center
Nestled in Malibu Canyon northwest of Los Angeles, The Salvation Army's Lawrence M. Daley Camp and Conference Center with Camp Daley, Camp Gilmore and Wilderness welcomes some 2,000 campers during an average summer. For Brittanye Joseph, the camp is "literally [her] favorite place on earth."
Joseph, a self-proclaimed Gilmore kid, said going away to camp at age 7 marked her first time away from family. She remembers the anxiety she felt initially and said it sometimes resulted in her acting out. In time, she found she loved camp, and the experiences and mentors she had there. She kept coming back.
Joseph, now 18, is someone Camp Director Marty Brown wants on the team—last summer she was one of the staffers directly responsible for creating Jesus Theater, one of what Brown considers to be camp's most powerful evangelistic programs.
"Brittanye is full of life," Brown said. "She is outgoing and eager to get involved. To watch Brittanye go from a somewhat difficult camper to a must-hire staff member has been a pleasure to watch and speaks to her growth and how hard she has worked."
That growth is a large part of the camp experience, said Divisional Program Manager David Schwarm, a mentor of Joseph's.
"Camp provides a safe space for young people to get away from the craziness of their daily lives and to learn there is a God that loves them no matter what…by being surrounded by staff that love them and God's creation that they may have never experienced," Schwarm said.
Joseph has her sights set on college out of state, applying for schools in Arizona, Texas and Virginia, but this summer, she'll be at camp—her first as a cabin leader. Here, Joseph shares more about the impact of camp.
What do you remember about your first time at camp?
The first time was when I was 7 years old. I think that was 2012. I was very nervous. I was really scared. The morning I got to the corps, I was really excited because I was like, 'OK, this is my first time really being away from family and everything.' But when we got on the bus and started getting closer, I started getting really nervous. Back then, when I was nervous, I didn't know how to control my anxiousness. So I would tend to act up. I just remember being really hyper for the whole time, just jumping around just talking to everybody.
So you kept going every summer after that first one?
Yes, I would go every summer. When I was 7 and 8, I would go maybe two or three times, like three to three weeks. And then, once I got older, I started going every single week. I used to hunt for corps going to camp. I live in LA, and so sometimes I would go to Inglewood and then I end up all the way in Whittier just to go to camp. I would try to find corps that would take me to camp every week.
Brittanye's favorite camp…
Food: Chicken wraps
Place: The cabins at Gilmore—I feel like I'm actually in the wilderness.
Song: Any of the repeat-after-me songs. I feel like it gets the kids more engaged.
What is something you love about camp?
I liked how it became so familiar to me. I call it my zen zone because when I go to camp, I never really think of everything that goes on at home and all the stress and all the problems and everything that I have to deal with…At camp, my main focus is camp. That's the only thing I can think of, is what I have to do at camp, and it's not too much. It's never stressful; it's always a peace. It's always been a safe space for me, a second home.
It's really a place where you can just figure out so much. The atmosphere, it just helps you. When you're around everybody who believes in God or trying to find God, it's just something where you can all relate to the same thing. So it just helps you build a community, especially as a staff member. You guys are all there for two months, almost three months, and you are just all working toward the same goal. And even when it gets challenging or a little bit rough, you've still got each other, like a community, like a family.
When did you decide to come on staff?
I've always wanted to work at camp, even when I was younger. It was kind of difficult because of my behavior. I felt like I wasn't ever going to get the chance to be on staff because I know first impressions are really important, and once I make my mark, people start to think of you as only that one particular thing. I didn't ever think I was really going to get to the point where I wanted to be. And I always wanted to work at camp because I've always seen people who worked there who helped me make a difference in my life. I wanted to do the same thing for kids that I could help. When I started doing weekend work at camp, they started to notice what kind of worker I am and what I can do to help, and then that's when I applied and I got the job in 2021.
Who were those people who made a difference?
I think my favorite person at camp would have to be Dave. He plays a significant role in my life. I genuinely look at him as a role model, and I consider him family in a way because he's been there. He's seen my journey and he knows who I am. And he knows my character and I really appreciate everything he says to me or everything he does for me, because I don't know what I would do without him. Honestly. Dave is a big figure for a lot of people I know that work at camp. He's been there for them.
Does having been a camper help you now as a staffer?
Yes, it helps me sympathize and empathize toward them a little bit more—especially when we have campers who have a harder time behaving at camp because I know what it's like to not be the best camper with the best behavior. I never see any of the kids there as bad because I feel none of the kids are bad. They just have things that they need to work on and improve on just like I did. I wouldn't call myself bad either. I just feel like I just had to work on some things. So it helps you to see them in a different light, I guess. And I can empathize with them and find ways to engage with them better, because I know what it's like to be that camper who had a hard time engaging.
How has going to camp impacted you?
It helped me realize who I am as a person. Every day, I still learn more about myself, and I feel like a lot of times I learned a lot more about myself at camp. When I first started working at camp, that was my first time really being independent on my own in a way. And I got to really see how being by myself is. I was with everybody, but I was away from my grandparents, who take care of me. I really wasn't underneath their care. I was on my own, in a way. And it helped me realize who I am. Camp also helped me realize that I can do more than I think I can.
---
Do Good:
You've probably seen the red kettles and thrift stores, and while we're rightfully well known for both…The Salvation Army is so much more than red kettles and thrift stores. So who are we? What do we do? Where? Right this way for Salvation Army 101.
How do we treat everyone with love and kindness, as if they were our neighbor? Get the Do Good Family Roadmap and take a 4-week journey for families in how to be a good neighbor.
What cause best fits your personality? Take our quiz and discover where you can make the biggest impact today in the Fight for Good.