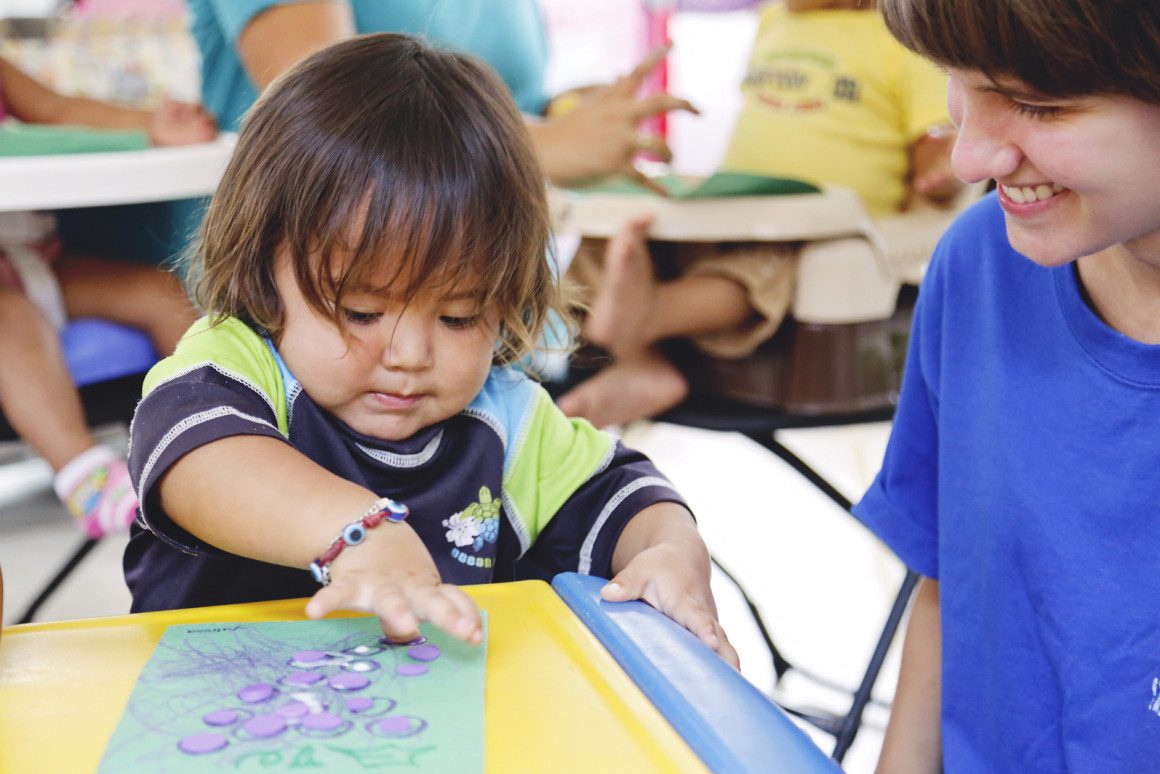 Roots & Wings
A head start for kids in Maria Elena
She clings to her mother's skirt.
Dania, nearly 2, goes with her mother, 19, to collect recyclable materials in the garbage dump at night and to buy and sell recycled goods during the day. Her father, a longtime drug addict, is absent, known for soliciting prostitutes and exploiting young women in the community.
Dania is normally left to play among the trash while her mother sorts through the rubbish, but today is different. Today is her first day at Roots & Wings.
It's a friendly place—a place Dania will soon grow to love, but she does not know this yet. So she clings tightly to the one person she trusts most.
Roots & Wings is a nonprofit organization working in Maria Elena, the community surrounding the garbage dump in Mazatlán, Mexico. Most of its families make a living by going into the dump and sifting through trash, looking for items of any value to sell.
Just below the dump there are children, dozens of them, covered in the filth and smell of garbage. They are children who should be in school or in someone's care, but more often than not are left to fend for themselves while their parents go into the dump to work.
Roots & Wings' mission is simple: support families by providing them with healthy and affordable childcare while they work to provide for their household. In a nurturing environment, children receive the love, care and attention necessary for healthy growth and development; a stimulating space that encourages them to explore and learn; and a holistic program dedicated to meeting the physical, mental and spiritual needs of each child.
But how do we ensure that the needs of the children are also met outside our walls? What else do we do to break the destructive cycles they are currently in?
We teach. Countless studies have shown that a solid education is a powerful tool in breaking the cycle of poverty.
A high-quality early childhood education is both effective and critical in compensating for a poor home environment. Our center gives children a head start into a successful school career, and we prepare children for primary school by offering them a structured setting and a strong foundation in learning.
Roots & Wings not only ensures that all primary school-aged children are enrolled in school, but we also give them the tools they need to succeed in class: from uniforms to school supplies, extra tutoring and homework help.
Acknowledging that poverty can also cause low self-esteem and low aspirations in children, Roots & Wings  provides motivation and confidence during the most formative years of their childhood. We help them realize that each one is special and has unique qualities and gifts. We seek to develop their individual abilities to build a better future.
However, the impact would not be as great without placing an adequate focus on the entire family. Children, by design, were meant to grow and develop within the family unit. So you cannot love and care for one fully without loving and caring for the other. Roots & Wings thus seeks to empower parents and caregivers by helping each family develop the skills and resources they need to keep their families together.
We hold regular classes for parents in order to teach them the basics of parenting: how to communicate and bond with their children, how to grow spiritually as a family, how to implement godly discipline, as well as to teach them safety, hygiene, nutrition and health basics.
Roots & Wings also focuses on income generation and vocational training for parents in order for them to develop a stronger source of income to assure family stability.
When we are afraid, when we are facing a crisis, we cling to those we know. We cling to family—and we wholeheartedly believe poverty should never be the reason a child is separated from theirs. Roots & Wings fights every day to keep children with their families and help them as a unit be healthy and happy.