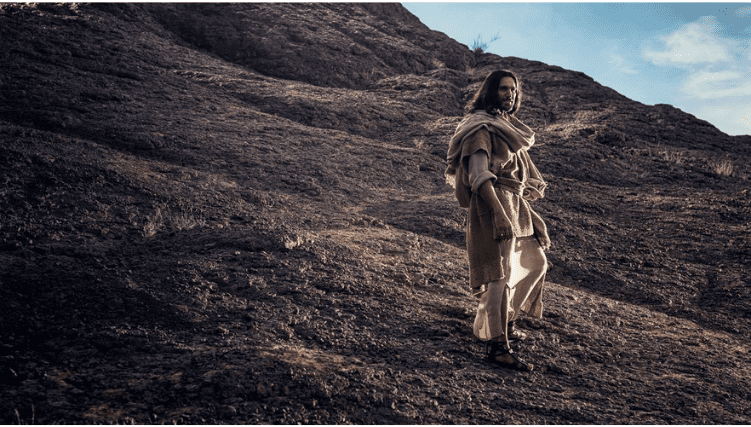 Roma Downey talks upcoming "Resurrection" film
MGM and LightWorkers' Resurrection, a feature-length motion picture from The Bible producers Roma Downey and Mark Burnett, will premiere on discovery+ to its global audience March 27. Following the record breaking-ratings success of the Emmy® nominated mini-series The Bible and the hit feature film Son of God, Downey and Burnett have teamed up once again to bring audiences Resurrection, a biblical epic that follows the immediate aftermath of Jesus' crucifixion. 
In Resurrection, Jesus' followers are hunted, leaderless and desperately searching for understanding, but when Jesus rises from death, they realize that hope didn't die on the cross. It lives on in them. A production from MGM and LightWorkers, a division of MGM, Resurrection is produced by Downey, Burnett and The Bible showrunner Richard Bedser.
While the pandemic rendered filmmaking impossible for many, Downey and Burnett turned to their vast library of biblical material to create Resurrection, a new feature-length epic. 
"Faithful audiences crave content that speaks to their faith and values, and we can think of no better home for this film than discovery+. David Zaslav and his team have created an incredible home for family-friendly entertainment," said Downey and Burnett. "We look forward to sharing Resurrection's ultimate story of hope with the discovery+ viewers and are grateful to be able to share this epic story with families just in time for the Easter season."
"We are honored to premiere Resurrection on discovery+ and shine a light on perhaps the most important story ever told," said David Zaslav, President and CEO, Discovery, Inc. "The film is emblematic of our ambition with discovery+ to provide a subscription service for everyone, including premium storytelling for the entire family. We are thrilled to partner with Mark and Roma on this powerful film."
The Bible miniseries made a ground-breaking impact when it premiered on History in 2013, drawing in more than 100 million viewers over its 10-week run and garnering three Primetime Emmy Award® nominations. The series spawned a feature film adaptation with Son of God, which became one of the highest faith movie openings of all time when it debuted at the box office in 2014, as well as a successful sequel miniseries, A.D. The Bible Continues, which premiered on NBC the following year. Additionally, Burnett and Downey have produced numerous television series under MGM's LightWorkers division, including the recently released reality hit series Country Ever After for Netflix, Messiah for Netflix, The Women of the Bible for Lifetime, The Dovekeepers for CBS, and Answered Prayers for TLC. They were also executive producers on the feature films Little Boy for Open Road Films, Woodlawn for PureFlix, Ben-Hur for MGM and Paramount and the documentary Faithkeepers about the persecution of Christians and other minorities in the Middle-East. LightWorkers is also producing the upcoming feature film "On A Wing And A Prayer" for MGM.
Sitting down with Roma Downey
Recently, Lt. Colonel Kyle Smith, Salvation Army Western Territory Communications Secretary, and Anthony Begonia sat down with Roma Downey to talk about the new film. 
Watch the interview above and find a transcript below, edited for readability. 
Anthony Begonia: Hi, we're here with a very special guest to talk about an upcoming film by Lightworkers MGM from a wonderful producer and friend of the army, Roma Downey. And here I have with myself Lt. Colonel Kyle Smith, Secretary for Communications here in the Western United States. And are we going to say hi?
Kyle Smith: Hey Roma, it's really good to see you again. You're looking great as always.
Roma Downey: Thank you so much. It's lovely to see you both and thank you so much for having me on and allowing me the opportunity to share about our new movie Resurrection.
Kyle Smith: Yeah. It's a great movie.
Roma Downey: Yeah. We're very excited that we get to air it at such a time as this. We really felt that there was a need for a story of hope. And as we all know, the resurrection is the ultimate story of hope. And we're delighted that we've been able to partner with discovery+ so that people can watch from the comfort of their own homes.
Kyle Smith: Yeah, it's exciting. Me and Anthony both had a chance to watch the movie, get a pre-showing of it, and I loved it. I mean, it brought to life from the resurrection and that period of time. There's not a lot of movies about that period of time. And I think you guys did a fantastic job of capturing the feelings, the emotions of what it would've really been like, which when you read the Bible… And Bible is great, but it doesn't go into all that detail, but you did a great job of bringing that out.
Roma Downey: Oh, you're so kind. Thank you. I certainly am a very visual learner. I often joke that everything I know I learned from the movies. And I find that having made biblical dramas, having made Resurrection, that I go back to Scripture and it brings it alive in a different kind of way. As I continue to read through the stories, I imagine the actors who will play the roles. I imagined them, and it helps anchor it for me in a different way. I'm glad you had the chance to see it. There's some great moments in it, aren't there?
Kyle Smith: Yes there are.
Roma Downey: Like some of the great special effects… It holds itself to excellence. We really worked with a great team of people. As you know, it takes a village to make a film and the cast are amazing. The sets took weeks, and weeks, and weeks to build, with over 500 workers working around the clock to build the temple, to build the city streets of Jerusalem. And then when we added the actors to that in their beautiful costumes, with horses, and camels, and donkeys, and goats, and chickens, and marketplace, and suddenly the whole thing just comes to life. You know, anywhere we pointed the camera, it was just teeming with… Felt like you were really back in ancient times. And our job was to create as authentic an experience as we could to tell the story in. And it's such an incredible story.
Most films of the genre usually deal more with the passion of Jesus. And we ourselves did that in our film Son of God. But this time around, we really wanted it to be the aftermath and into the resurrection and beyond, because we pick up the story at the crucifixion. The movie opens at the crucifixion, and then we discover the disciples coming back, they've all scattered. They were afraid. I'm sure they were hiding. We know from scripture that Peter denied Jesus three times, but probably being spotted in the crowds like that terrified him. If they just killed Jesus, maybe they were going to kill him next. He didn't know. So they all flew. And we know from scripture also that the only people that love Jesus at the cross were John, and Mary Magdalen, and Mary the mother of Jesus. And so John was there. So our story picks up with them all coming back together and the variety of emotions that they're feeling.
And I couldn't help but, as I was rewatching the movie recently, as we were preparing for the launch, think about how specific it is to the time that we're living in. And that I'm sure in those early scenes, we all see little bits of ourselves as we come out of this pandemic. Where it raised so many different emotions for each of us and almost tomb-like, we've been locked away in our homes and away from our loved ones. And that in some sort of way, we're all waiting for the resurrection in our own lives. So I feel that the movie is the perfect movie for this time as well, for all the emotions that we've each been going through. But have you both been healthy? Have you managed to stay safe?
Kyle Smith: Yeah. Stayed in a bubble. Kept out of bad situations. I think. So I've been well. And I thank God for that. And obviously, it's just wise not to be in the wrong place at the wrong time.
Anthony Begonia: I think I got sick, and I actually didn't feel really well. And I hid away and actually I was nervous at the beginning. And then I realized there's a lot of things I have to do to take care of my health to make sure I can be healthy and to take those extra precautions. So this is a great reminder of what I needed to do personally, but I would think it was an exciting time to spend time more with your family and your close ones, no matter how difficult that might've been in the initial, it's trying to show you who is your first family. Who do you need to really take care of community-wise? It was definitely a time of losses, but it was definitely a time to reinvent and rethink about what truly is the importance of what we need to do.
And I think about even the first movie you guys did in 2014, and then we were talking about those films and the fact you had such a story career and that you head into this world to kind of… Touched by an Angel and we had the Sally Awards with you to recognize all you did, but you were kind of segueing into a new way of sharing these personal stories. And we were just very excited that you were doing that.
Roma Downey: Well, thank you so much. And I agree with you about the pandemic, it's terrible. And we, of course, wish it hadn't happened. The terrible loss of life, et cetera. But I think that within it, beauty has emerged. And I agree, I feel a new closeness, even with my own family here, because we're all shut in together. And I'm sure everybody had to be more reflective perhaps than we normally are. And to really remember what's important.
But I know that Mark and myself last summer when we were talking about the possibility of trying to get this film ready in time for Easter, we had no idea even then that we would still be so deep in it. I think we thought we might've been looking back on this time instead of still… Hopefully, we're at the end of it, but let's see.
But I think that looking around at what content is available for people, we really were motivated by the hope that is central to the story. Indeed hope that is central to our faith, because the story is. You could take Christmas out of the New Testament and you still would have the New Testament, but you take the resurrection or Easter out of the New Testament, you don't have much of a story. This is the linchpin of our story. And he promised that he would rise. And he did. And when we see these disciples who put all their faith in him… They left their jobs, they left their lives, they left their families to follow him. He called them and they follow him.
And so when he was dead, they're grieving him, but they're also unsure. He said he would come back, but will he? And there's a great moment at the beginning of the film where we have Mary the mother of Jesus that says, "He said three days at least. Let's wait the three days and see." And one of my favorite scenes in the film… Because we have the Romans and the oppression of the Romans in the city at that time, we have the temple authorities and they're nervous because it's Passover and they don't want any trouble. And now they're convinced perhaps because he ends up in the tomb of Joseph of Arimathea that there's a danger now that prophecy, that everybody knows. The rich man's Tomb, that they're going to come and steal the body. They're going to steal Jesus's body. And they're going to pretend that he's risen.
So they get the Roman guard, all the soldiers at the tomb, they get the Roman seal on the tomb. And certainly, nobody will be able to steal his body. Well, then the heavens, the supernatural, and that angel comes down. And one of my favorite moments is just behind the stone that we know three or four men to roll into place. We start seeing the light shining behind the stone because he has risen and the world will never be the same again. It's just so thrilling to see it come to life on the screen.
Kyle Smith: Well, I think this movie's perfect release time is now because –
Anthony Begonia: It's St Patrick's week, right? You timed that really well. That we're talking with you.
Kyle Smith: I was going to say…
Roma Downey: Well, it actually comes on March 27, which I think is the beginning of Holy Week. And then it will play. It comes on and stays up there. Because it's a streaming platform.
Anthony Begonia: So awesome.
Roma Downey: So you can come in anytime over Easter and check it out. And on discovery+, the reason we're so excited that we got to partner with them, because it's a very family-friendly platform and we wanted it to be valuable for people that come in for the movie that there's going to be tons of other things that you and your family might enjoy seeing in there, and that's appropriate for your family, which I think it's also important. They've been great partners.
Kyle Smith: I love this movie right now for two reasons. Number one, we're coming out of this dark time of COVID, and we're going into the unknown. And let's be honest, a lot of churches have been closed down in America for a long period of time and people are wondering, what is the church going to look like going forward? What are his disciples going to look like going forward? His disciples aren't sure. We all don't know what the future holds, but there's such a message of hope. And like you said, that light shining out of the tomb and he rises again. And as you watch the movie, there's this awkwardness at first around Jesus, as they try to work out, Peter, does he still love me? Does he still accept me?
And where's the future going to go? And I think a lot of Christians are wondering that right now, but we know the story. There's billions of people that came to know Christ obviously, had a relationship with them because of this resurrection. And maybe this is the new beginning, a new era of the church as we work out how to reach to our brothers and sisters again and share this wonderful, wonderful story, which you and your team have done a fantastic job of doing.
Roma Downey: Thank you so much. I love the ending. I mean, we don't need a spoiler alert here. I think we all know the story well enough, but I don't know that we've seen it told this particular way before, really through the point of view of the disciples. We are the disciples, all of us, and the body of Christ and the Christian family. And I love at the very ending, how we, to summarize, that there was just this small group of believers. And then it cuts to this global contemporary moment where we are reminded that what started as a handful is now over 2 billion Christians in the world. And it's just so extraordinary.
And when I see the film, I get very emotional at the end, and I also feel kind of empowered and emboldened, because we see that Jesus promised the disciples that he would send the Holy spirit for them. And they're still not sure what it is they're supposed to do, or how they're going to do it. What's expected of them. And we have that great scene in the upper room of Pentecost, where the flame…We just see them coming alive. Coming alive with spirit, and they kind of stumble out of the upper room. Everybody on the street is looking up like "What's going on in there? I want some of that. Whatever they have, I want some of that."
And they come down and they're speaking tongues or speaking languages they didn't even know they knew. And they're ready now to go out and to spread the gospel, which is what he asked them to do, what he asked us to do. And you guys mirror that so beautifully at the Salvation Army, with all your work in all the ways that you mirror Christ and help people. And Mark and I, we're in show business, but we've tried to take our platform and what we'd love to do, and what I think we're quite good at, which is tell stories. But to tell these stories.
Obviously, we could be telling any kinds of stories, but we're committed. At Lightworkers, we are committed to telling stories that inspire, that uplift, that encourage, that in some way show our amazing resilience and ability to overcome. So that there would be something in there that might be of value to the audience. And this is our fifth project now that was set back in this time, this time of Jesus. I've probably seen more Roman uniforms and seen more armor come before me than probably just about anybody.
Anthony Begonia: I would just say, we are so thankful for everything that you do. And we were going to continue to just supporting you and uplifting you guys, and just tell your family hello. We're glad you're a part of our family. And even U2. You watched the concert, you saw us in the band, we were so thankful. You gave us a shout-out during the U2 concert.
Roma Downey: And I was so grateful when I was honored with a star on Hollywood Boulevard a few years ago, and your band came and played, and I had a lot of Hollywood executives there and they said, "We've been to a number of these ceremonies. We've never had The Salvation Army play." The spirit was alive on Hollywood Boulevard. Yourselves, and our dear friend, Rick Warren who spoke. And my lovely mama Della Reese, may she rest in peace, was there. It was a great day, but forever grateful to you guys. And for all that you do. Thank you.
Kyle Smith: Thank you, Roma. We really appreciate this time chatting with you, connecting with you again. It's always good to see you. You don't look like you age, and I'll never forget, Touched by an Angel. You've done all these wonderful things since then, but it was one of those things that me and my family would sit down and watch regularly. And it was just doing good things, being kind to people, showing love. It's a TV series, but it made a wonderful point. And I think it's blessed many people as well over the years. So thank you.
Roma Downey: Yeah, it was a blessing to me to play the angel, to be the messenger. As a believer to get to… Because there was always a part in each episode where we called it the angel revelation scene, which was I had been undercover pretending to be a teacher or a nurse or whatever it was until the moment in the episode where the person I was there to help suddenly falls to their knees metaphorically and says, "God help me."
And then I could say, "Actually I'm not a teacher, I'm an angel." And I was sent by the almighty with a message. And the message was always the same, that there is a God, that he loves you, and he wants to be part of your life. And at its height, over 25 million people tuned in every week to see that, to hear that message.
And Della and I would hold hands, and we would pray before that scene. And the prayer was always the same. We would pray less of me, more of you. Less of me, more of you. And I have maintained that prayer simple. It's like a little mantra now, as I work as a producer. It's just to try to find inspiration, to get out of the way, to let God work through us, to tell his story, to bring it to the screen, and in this case to bring it to the screen in time for Easter this year. So I wish you both safe as we get through to the end of this awful pandemic and a very happy and holy Easter season.
Anthony Begonia: Thank you so much.
Kyle Smith: Well, we thank you again so much. Wish you the same. Great chatting. God bless you and keep up the great work right there in Hollywood, making movies like this, that inspire and uplift and share God's love with others. I mean, there needs to be more people like you, but we thank God for you.
Roma Downey: Thank you so much.   
---
Do Good:
Stream the global premiere of

Resurrection

starting March 27 only on @discoveryplus. Learn more at

discoveryplus.com/resurrection

.

See more videos like this in our

video feed

.

Did you know The Salvation Army served more than 23 million Americans last year fighting hunger, homelessness, substance abuse and more—all in a Fight for Good? Where can you help?

Take our quiz

to find your cause and learn how you can join in today.