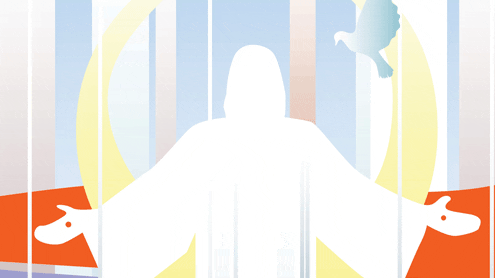 Resurrection power for all
Jesus continues
to offer new life
into the most disastrous and
helpless situations today.
By James Knaggs, Commissioner
The resurrection of Jesus is an indisputable, historical fact. The record is clear that he died on a criminal's cross even though he hadn't done anything wrong, ever. The record reveals it was on the hill known as Golgotha, "the place of the skull," where many had died before in a similar manner. This was a place where those victimized by crimes felt exonerated and those, whose guilty loved ones were punished, felt the agony of an inescapable and irreversible conclusion. It was a place that carried the stench of death and a place where eternity was fed with the souls of mankind. This is where Jesus died. When stabbed with a spear, his blood did not pour out from the strength of a virile pumping heart of a 33-year-old man. It was a mixture of blood and water. He was dead beyond the doubt of anyone.
So it was true with Jesus. Those threatened by him were satisfied with their victory, feeling power and self-righteousness at the death of Jesus. His family and followers were in anguish, unclear as to how this could have happened and why. At the point at which Jesus died, the heavens groaned in agony and bore witness that the Son of God—participant in all creation—had died a horrible death. Isaiah predicted the events hundreds of years before, including the taunting and torture of this holy man.
Needing a place for the body, Joseph of Arimathea stepped up and offered his burial place. Like any other dead person, Jesus' remains were transported to the burial tomb; unlike others, the largest of boulders was employed by the government to seal his lifeless form. It was needed to assure that not one of his followers could steal the body in the night and declare him risen. They even stationed an all night guard of soldiers to protect their theories. The very caution taken by those who conspired to silence the Son of God provided irrefutable proof of his miraculous resurrection.
Truly risen
Try to imagine the surprise when the tombstone was rolled away and Jesus appeared alive and well. In the succeeding days many people saw him; his disciple Thomas even touched him to verify the scars on his very real flesh. This was not a spirit or a ghost. This was the living breathing resurrected Jesus—now the Savior of all.
Had they not seen Jesus resurrect Lazarus from the grave in person, his followers might have thought this miracle beyond their imagination. The experience with Lazarus and Jairus' daughter returning to life gave them the courage to face their reality. He is risen!
Here we are some two millennia later, still amazed by the occurrences of the death and resurrection of Jesus. What can it possibly mean to us?
Just as the disciples were given the salvific opportunities to face and embrace their realities, so can we in 2011. Here's how:
1.  We embrace Jesus as the Savior of our souls. Knowing what we know, our sins are forgiven by him as they are redeemed by his death on the cross. It only requires us to believe in him, repent from our sin and follow him.
2.   We celebrate Easter with the awareness that Jesus' resurrection fully conquers death and the grave. These realities about the end of our lives have no consequence to us because he guarantees our new life in heaven. We need not fear such or the evil one because we have the victory in Jesus.
3.   His love, validated by his sacrifice for us and crowned with his resurrection, sets us free from the enslavement of our lives today. We are free to be and do what God desires for us right now. We can live above our circumstances, escape the victimizations of this life and fully enjoy the presence of God in all that we do.
Evidence of life
Every day in The Salvation Army we witness the evidence of lives, families and communities come alive with the same resurrection qualities we see in the Easter story.
As a teenager, Leslie didn't know any better. Abused by members in her family, she thought it was her fault. Her life was transformed when she found a safe place at the Army and discovered the resurrection power of Jesus. She now attends a Christian college and plans to honor God with the new joy and freedom he has given her.
Ahmed became a drug addict by the time he was 16. Eight years later, after imprisonment, searing disillusionment and the earned rejection of his loved ones, he walked through the doors of an Adult Rehabilitation Center for help. He had bottomed out. Kneeling at the mercy seat of the center and giving his life to Jesus, he stood up from the altar with resurrection power in his soul. He's back with his family, truly alive and well.
John and Patty had a typical high school romance, got married and were trying their best to live happily ever after. With normal pressures in their marriage, they began to blame each other for their unhappiness. It seemed divorce was the only way to go. When they had enough, John stormed out of the house, slamming every door and driving off to "God knows where." It turns out God did know.
John ended up at The Salvation Army. When he was a kid, there was a soldier there who showed an interest in him and was always helpful. It seemed miraculous that his friend was outside sweeping the sidewalk. A conversation and a confession led to a prayer for the grace of God to intervene. Before too long, Patty took John back—by the love of God, their marriage is resurrected toward the right happily ever after.
God continues to this day to bring new life into the most disastrous and helpless situations. He will be with you as well—so you know his resurrection power through anything. Trust him. Come to him. He will give you life, today. Hallelujah!
Jesus said to her, "I am the resurrection and the life. He who believes in me will live, even though he dies; and whoever lives and believes in me will never die. Do you believe this?" (John 11:25-26).