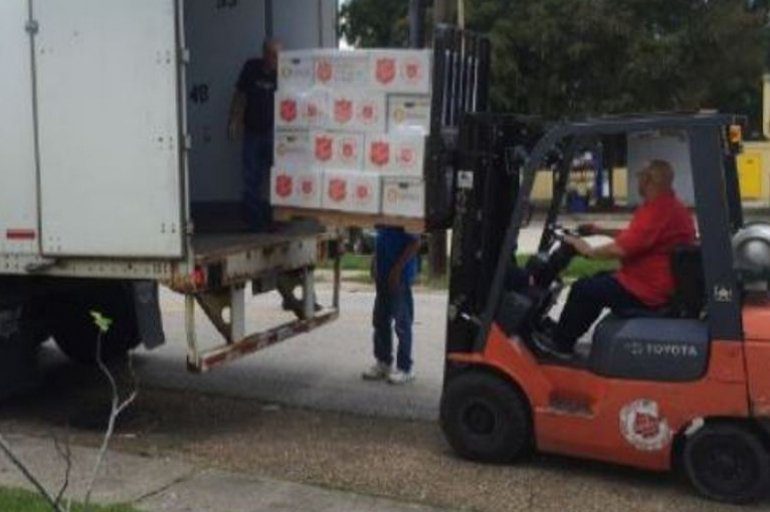 Recovery efforts ramp up after historic Louisiana floods
By Jeff Daniel, Major –
As the waters from last week's historic floods begin to recede across Louisiana, relief efforts continue full force for The Salvation Army in Lafayette and the surrounding area.
Many residents are now beginning to tackle the task of cleaning up after the devastation. As they dive into the hard work of putting their lives back together, The Salvation Army is focusing on how to best serve the needs of those affected both in the short and long term by gearing up efforts to address area needs during the recovery phase.
Saturday, August 27, The Salvation Army is planning a Community Assistance Day at Northgate Mall on Evangeline Throughway, in Lafayette. The event is designed for community organizations and local businesses to come together on the common cause of supporting those who have been affected by the recent flooding. The Salvation Army and The American Red Cross will have representatives and resources available for those who need the assistance. Cleaning supplies will be provided for those who provide identification, along with non-perishable food from the Midwest Food Bank in Illinois. These boxes of non-perishables will be used at the community event on Saturday as well as given to clients once The Salvation Army has their long term recovery location established.
The Salvation Army continues to serve those affected in the Greater Lafayette Area. The Salvation Army in Lafayette operates a homeless shelter with 31 beds, and offers a soup kitchen that feeds about 150 per day. They also operate a Family Thrift Store that helps others in the community by providing gently used items for sale at affordable prices. The Salvation Army also offers a myriad of other services and works with other social service agencies and organizations in the community.