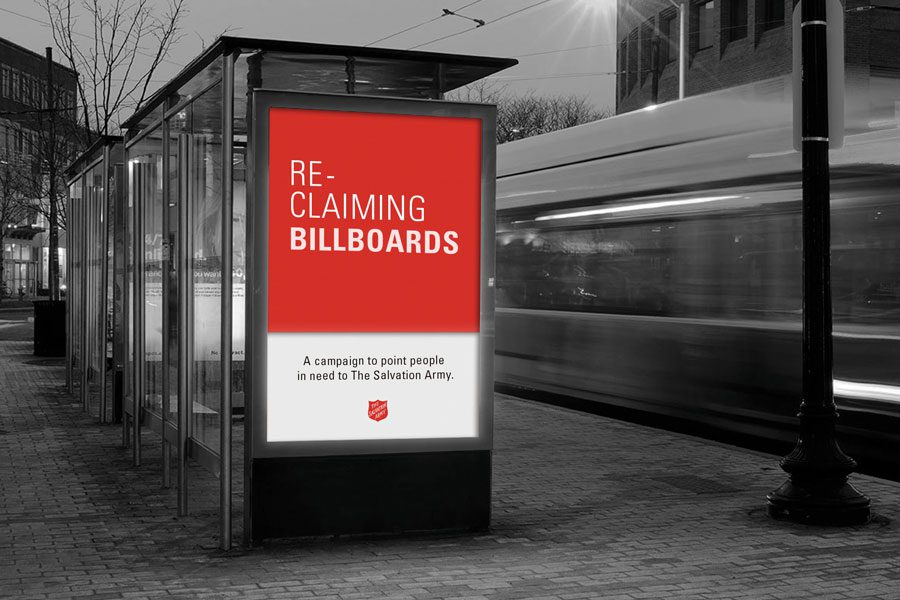 Reclaiming billboards
A campaign to point people in need to The Salvation Army
There it was. Every time one of the men walked out the door or looked out the front window of The Salvation Army's Harbor Light Center in Denver, they could see it. It was impossible to miss.
It was a reminder of the foe that had stolen much of their lives, the one they were now battling every day. Some say it was a trigger that caused them to slip back into old ways.
It was a billboard that advertised an alcoholic beverage.
But now, it's gone, and the advertisement that replaced it promotes The Salvation Army's local shelter. Some would call that strategic. Current resident Trevor Beckte and many of the others at Harbor Light would call it a "godsend."
The ad is part of a campaign created by The Salvation Army's branding agency, The Richards Group, and dreamed up by Western Territorial Commander Commissioner Jim Knaggs.
His mom—also a Salvation Army officer—once placed classified ads in the local paper for young women who were "in trouble." In those days, pregnant young women were often no longer welcome in their own families and would need to seek help. As a young boy, Knaggs was coached on what to do if a woman called on the home phone line in response to the ads.
Memories of his mother's strategy to reach women in need of care gave him the idea for an outdoor advertising campaign designed to reach the very people the Army wants to help.
The city of Seattle was the test market and then Modesto, Las Vegas and Denver also ran the campaign.
That's how Beckte saw the ads. He recently completed the drug and alcohol program at the Harbor Light in Denver after six months of residential rehabilitation.
This isn't his first go-round. Beckte had completed a Salvation Army drug and alcohol program four times already but there was always something in his path to stumble over, causing him to spiral back out into dangerous habits.
"I could have a Ph.D. in addiction by now," Beckte said. "I went through rehab before because I was doing it for others. Back then I didn't really understand addiction but I learned that if you fall, you get back up."
Thankfully, the Army welcomed him back each time for another try, praying that he would figure it out.
This time he'll continue to live in the post-rehab housing on site while he works and goes to school. He'll pay a little bit in rent to help him prepare for the transition to life on the outside.
He's also joined the local Salvation Army worship center and is hoping to pursue a career working with senior citizens.
"The Salvation Army helped me grow," Beckte said. "I wouldn't be the man I am today without them."
Did the larger-than-life alcohol advertisement that stood outside, facing the rehab center, matter? For Trevor it was as if the devil himself had put it there to mock him or set him up for failure.
It matters to him so it matters to us too.
In some communities around the U.S., The Salvation Army works with the agencies that book billboard advertising to ask them to designate outdoor signs that face Army rehab centers "alcohol free."
For Beckte and the thousands of other men and women like him, The Salvation Army will ask other companies to take the "alcohol free" pledge too.
If it can get them to say yes, it'll be helping to protect folks who are taking steps toward freedom from alcohol and drugs during a vulnerable time in their lives.
And hopefully, it'll be worth the effort.
---
Salvation Army ad campaign recognized
By Jon Lee
For more than 10 years, The Salvation Army has partnered with The Richards Group branding and advertising agency to produce television and radio ads, PSAs, holiday ad campaigns, digital creative, websites and social media campaigns for the Army's work and ministry in the U.S.
We're also the agency of record for some of America's other favorite brands: Chick Fil-A, Ram Trucks, The Home Depot, Motel 6, TGI Fridays and Pier 1 Imports, to name a few.
Every year, every employee of The Richards Group receives a link to a website in late November. The site contains every piece of significant creative we've done that year for all of our clients, and we are asked to vote for our favorite concepts. It's a way to ensure that everyone in the agency gets a chance to see everyone else's work. This process is a big priority for Stan Richards, our founder, and we take it seriously.
Because of the open floor plan of our office building, one of the easiest ways to gather everyone in the agency together is to fill the stairwell. At the end of the year we have a big, hour-long stairwell meeting.
Stan gives us updates on the state of the business, we celebrate employees' significant work anniversaries, and Stan shares the top 10 concepts in terms of most votes by our peers. All 705 of us watch on giant flat screen monitors as he counts down the 10 ideas we collectively deem as our best work.
I've had the privilege of working on a few pieces that made the top 10 over the years, but it wasn't until this year's meeting that something our team worked on made it to the number one spot.
The employees at The Richards Group collectively voted The Salvation Army's social service outdoor ad campaign as the single best thing we've done as an agency in 2015.
According to the 705 employees here at The Richards Group, the public benches, trash cans, and outdoor boards comprise the best idea in a field that included Super Bowl commercials, beautiful websites and ground-breaking social media concepts from a wide variety of brands.
I couldn't be prouder of the team or more humbled by the opportunity afforded us to work on something so important.
Jon Lee is the principal for brand management at The Richards Group.