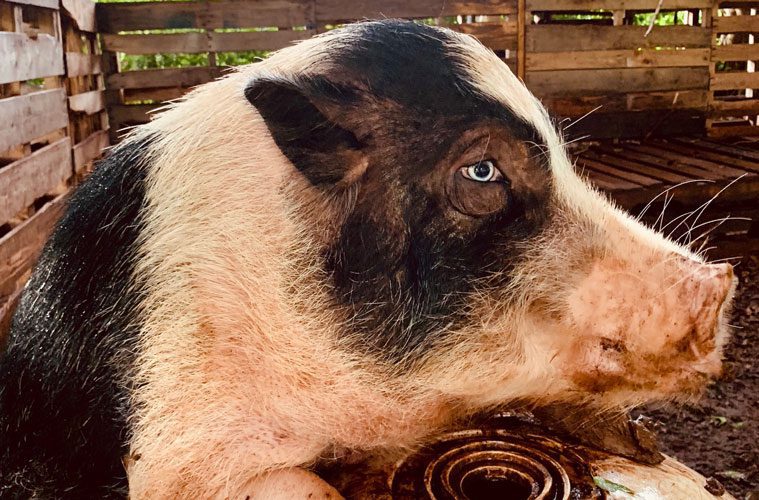 Raising produce and pigs at The Salvation Army's Hawaiian camp
Which came first: the chicken or the pigs? Or was it the goats?
No matter the order, all are a part of Homelani Homestead, a homesteading project of The Salvation Army Hawaiian and Pacific Islands divisional camp, Camp Homelani.
The food produced at the homestead supplies the camp kitchen and is also offered to locals, with recent crops including bananas and papayas. The goats and pigs generate community interest, increasing local knowledge of Camp Homelani, specifically, as well as the overall mission of The Salvation Army.
Camp Homelani planted its first banana plants in 2016, when groundskeeper Steven Dempsey and a Revolution Hawaii crew prepared a large garden plot—clearing weeds, tilling the soil, digging trenches and installing pipes. They also planted papaya trees, originally sprouted from seeds Dempsey purchased from the University of Hawaii seed lab.
"We set some bananas outside the camp gate in a produce stand for people to leave a donation," said Rob Noland, Camp Homelani and Revolution Hawaii Director. And it worked.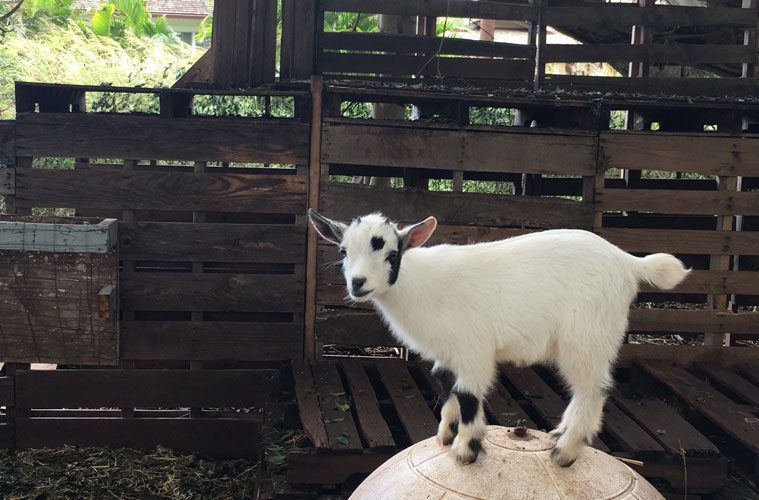 Homelani Homestead's pig, Charlotte, is somewhat of a local celebrity. She arrived at camp as a tiny baby piglet in need of a home. A neighbor delivered her to Fulton Hawk, Assistant Director for Revolution Hawaii and Camp Homelani, who became her surrogate father. She is fierce-looking now, but as a baby she slept at home with Hawk and followed him around. People would stop by just to see Charlotte. Today, Hawk is still her favorite person.
Sensing the project's potential, Rob Noland brought Julia Kleemann on board to bring a focused energy to the effort, to set goals and see how far the project can go. When Kleemann arrived to manage Homelani Homestead, Noland told her to "dream big."
With a degree in agribusiness and previous experience at camp as a Revolution Hawaii member, Kleemann is a perfect fit. She has help from the Revolution Hawaii team members, who reside at camp. They help maintain the garden and care for the animals.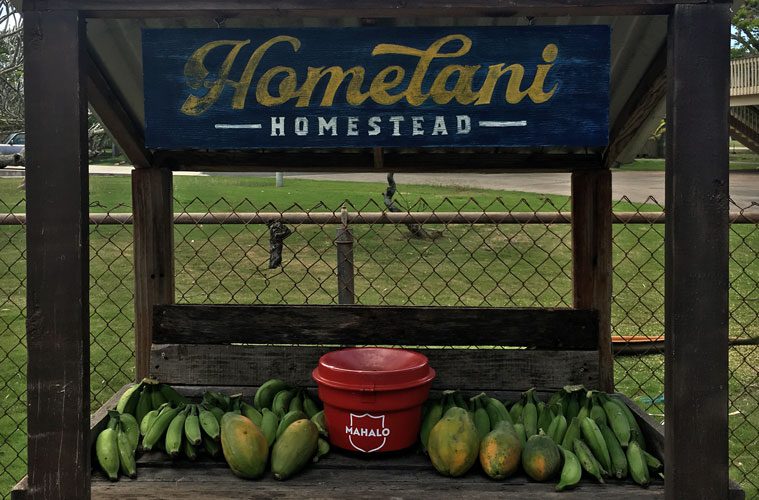 Kleemann hopes to participate in the local farmers' market, and to bring school and community groups to the camp for tours.
"Things at Homelani are going great," Kleeman said after seven months as manager of the homestead project. She reported the birth of three baby goats and plans to add some new chicks to the Homelani flock.
"It's a lot of work to plan and make the plans happen," she said. Currently, she's working on getting the garden going. She moved the chickens to a new location and prepared the ground they were on—removing weeds and creating rows for planting.
"Right now I have two rows of cherry tomatoes growing and a row of sunflowers," Kleeman said. "I also have a raised planter with some herbs and green onions, and carrots growing. I'm getting ready for summer planting and am planning on trying cucumbers, zucchini and wildflowers, and hopefully pumpkins for the fall. We'll see how well they do. The humidity, bugs and wild chickens have been a challenge and I've already lost many plants to them. But it's a learning process. The bananas and papayas are exploding with fruit."
Noland said the project is part of working toward being a self-sustaining camp, and connecting with creation and caring for it, thereby serving God and ultimately serving others, too
---
Do Good: