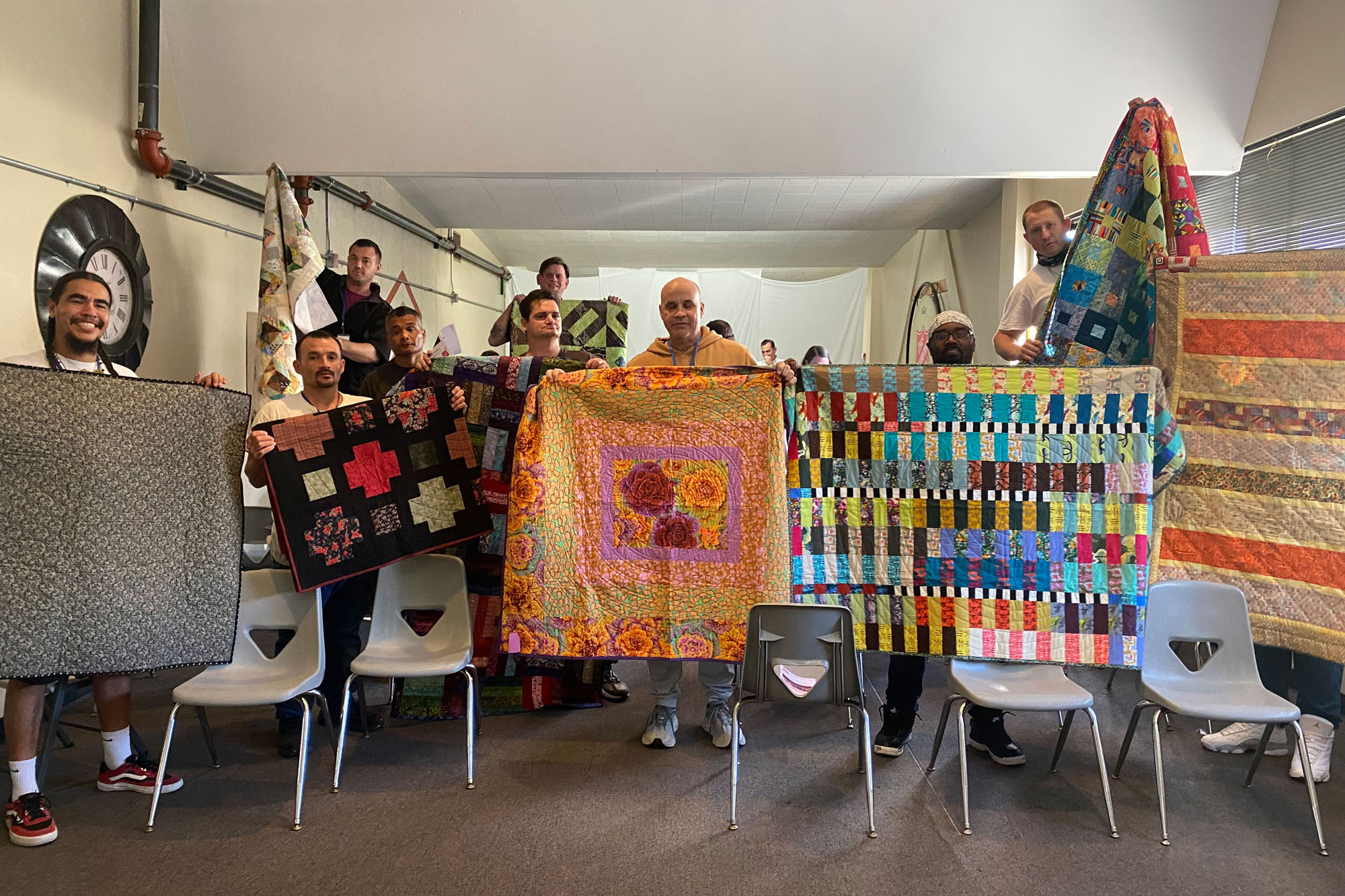 Quilts bring 'hug' of encouragement to men at Joseph McFee center
Members of the San Francisco Quilters Guild saw a television news story in July featuring The Salvation Army Joseph McFee Center (JMC) in the city's Mission District. That's when something caught their eye.
"It was like, 'Aw, those beds need some quilts,'" said San Francisco Quilters Guild Community Outreach Co-Chair Jessica Church, who fielded the response. Church said the guild's community outreach distributes quilts to a variety of causes. These quilts are typically made out of donated fabric or are given when members have made a sufficient number of quilts for their loved ones.
"We like to think about the quilts as giving a hug from us to them because a lot of time and love goes into making quilts," said Church. "Generally we like to give to nonprofits or those who are struggling or those who are trying to do good in their life… It's just something nice to encourage people."
For more than a month, when quilts came in, Church said they set them aside for those at the JMC, which currently serves 36 men as part of The Way Out, The Salvation Army's recovery-focused homelessness initiative in San Francisco.
At the JMC's Sept. 11 house meeting, Church and members of the guild delivered the quilts to participants.
"They were so happy," said Program Manager Sheila McCarthy, noting how it's common for the men to try to get out of the weekly meeting. "There were so many guys at this Monday night meeting, and they all got a quilt. The guys that were at work during the meeting asked for a quilt—and they all have them out on their beds."
Church said being able to hand deliver the quilts was special.
"It was really touching how excited they were," she said. "They were wearing them, putting them on as capes… I like what the quilts bring out in people."
Both Church and McCarthy said many of the men then shared fond memories of family members who would make quilts.
"I wasn't sure how they were going to receive it," said McCarthy. "A lot of our guys are rough and tumble…You get a lot of that hard exterior, but they loved it. It was good to see."
The JMC serves as the third step of The Way Out's continuum of care, McCarthy said, noting that it aims to be a solution for a common problem many seeking sobriety face—achieving sobriety and then experiencing setbacks when they return to their old situation.
"This gives them a period of time to where they can really establish their sobriety and network," she said. "So much of recovery is community and connections in the community with a similar group of people."
McCarthy said the men who are part of the program all have chosen to be there, with some coming out of incarceration. Many are also trying to achieve certain steps to firm up their foundation for life after the JMC, like saving first and last months' rent, working with contacts in the community and getting a GED or vocational training.
"We want them to flourish," she said. "To have the work-life balance that is so important, and the recovery—the recovery is the base and you work on the things you need to do to stay in this beautiful city of ours."
McCarthy shared the JMC's goals—aiming to expand to around 100 participants.
"We're really trying to make it available to all who need it," she said. "Anyone who needs the help, we want to get it to them, so they can succeed because the ultimate goal really is self-sufficiency."
---
Do Good:
Are you best suited to Do Good in disaster relief? Mental health? Social justice? Take our What's Your Cause quiz and discover where you can make the biggest impact today.
What are the simple, soul-filling ways you can upgrade your time, even if it's just a few minutes? Get the Joy-Filled Toolkit and make a plan for joy with a printable 12-week joy planner and mini-workshop podcast to help you make the most of each moment.