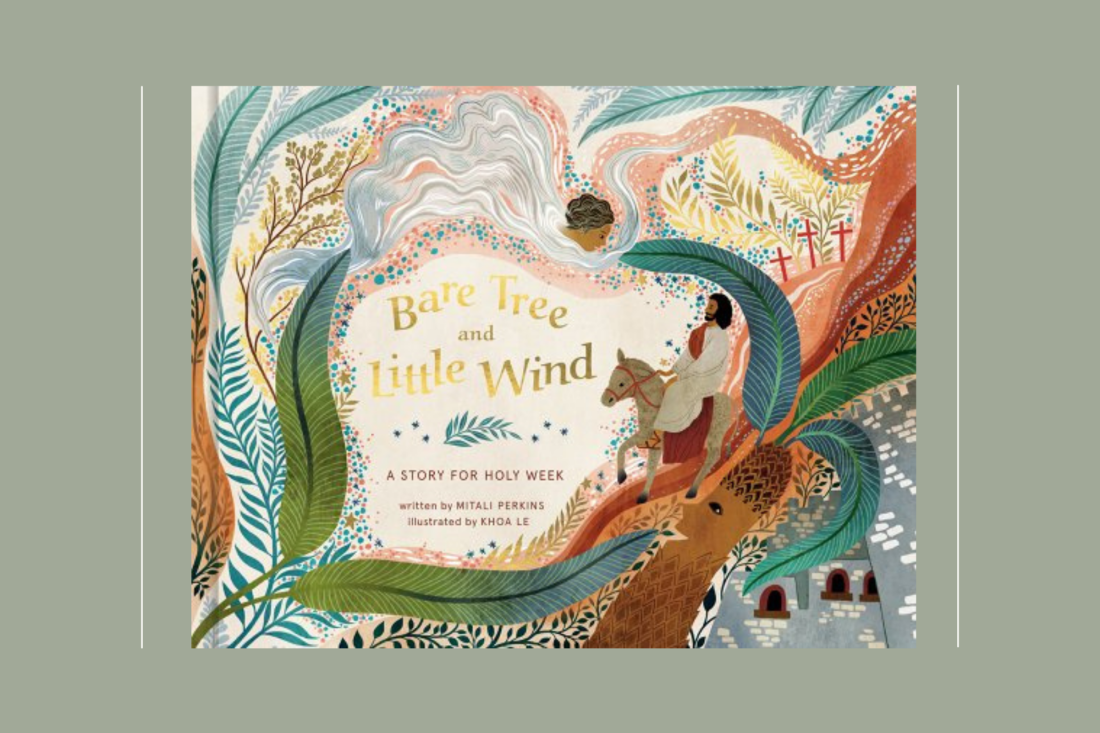 Q&A with the author of 'Bare Tree and Little Wind: A Story for Holy Week'
Mitali Perkins is the author of many novels and picture books for young readers, including National Book Award nominee "You Bring the Distant Near" and "Rickshaw Girl," which was adapted as a movie. Her latest book is "Bare Tree and Little Wind: A Story for Holy Week" (WaterBrook, 2022). She was a former judge for the National Book Award and the Kirkus Prize and received a "Most Engaging Author" award from independent booksellers across the country. She was born in India, immigrated to the United States as a child with her family, and lives in the San Francisco Bay Area.
Caring connected with Mitali to learn more about her latest book.
How were you inspired to craft your new children's book, "Bare Tree and Little Wind"?
During my one and only visit to Jerusalem, I was in awe of the regal, ancient palms, and found myself picturing Jesus approaching the city on Palm Sunday as people waved palm fronds to welcome him. I also thought of two verses in the Bible: one that says, "the trees of the fields will clap their hands" (Isaiah 55:12) when the King comes, and "He makes the winds his messengers" (Psalm 104:4.) Although we celebrate Easter as the first coming of Jesus into the world—tried by Pilate as a "Quiet Man"—creation won't be made fully whole and beautiful until he returns as "Real King." I wanted to write a story that leaves room for questions for children and adults to ask together as they consider the mystery of life between the first and second Advents. What better perspective of Holy Week could I give than from a Little Wind who is sent as a simple messenger, not as someone who has all the answers? I also hope Bare Tree's strong faith, even in the face of the suffering, builds our own.
Tell us about one of your main passions as a children's and middle-grade author, and how you wove that into the theme and structure of "Bare Tree and Little Wind."
I've always been interested in the outsider's perspective because I was born in India but grew up as an immigrant child between two cultures—the Bengali culture of my home and the culture of the Western world where we settled. My writing has often explored life "in between" two realms. In "Bare Tree and Little Wind," I play with this theme as I consider the events of Holy Week from the eyes of creation, not seen by humans trapped in historical time. The Scriptures teach that "all creation waits in eager anticipation for the children of God to be revealed" (Romans 8:19). This perspective on Easter has room for the "long view" of events as experienced by the trees and winds, and invites us into a hopeful waiting for the Second Advent.
How does "Bare Tree and Little Wind" offer a new and refreshing perspective on the Easter story?
As an outsider to the Christian faith, I had never heard about Easter until I entered college. I thought it was about a bunny who gave candy to kids who were American-born and forgot about immigrants like me. When I read the gospels for the first time, I found that my "in-between" eyes could see nuances that people firmly entrenched in one culture might miss. I saw a hospitable Jewish Jesus who loved widows, children and outcasts. The illustrator, Khoa, is based in Vietnam, a country that isn't known for being Christian, although the church there has survived and is thriving. This book is created by two Asian women with outsider eyes, and we hope it will be a gift for the global church, and to those who might not know that Easter is for everybody, not just North Americans or Europeans.
What it was like for you to see the book come alive with the additions of Khoa Le's beautiful illustrations?
I love how Khoa's illustrations firmly place the book in the Middle East, from skin tones to details of the stone buildings. Also, she has a one-of-a-kind eye for colors! When I saw her finished work, I gasped! She has made this book into a work of art to be displayed.
What did you learn through the writing of this book?
This is the most "faith-forward" of all my books for young people, and I've written 15 so far. I'm getting older now, though, and questions about how something might affect my career are fading quickly. I want to write the stories on my heart, whether my faith is revealed in the "bones of a story," as author Katherine Paterson put it, or right there on the skin of it.
---
Do Good:
Read "Bare Tree and Little Wind: A Story for Holy Week" (WaterBrook, 2022) by Mitali Perkins.
Get support from moms who are right there with you. Join the Caring Moms Collective and find a place of low-pressure, high-encouragement love anytime you need it, whether you know it or not. Get in the group today.
You've probably seen the red kettles and thrift stores, and while we're rightfully well known for both…The Salvation Army is so much more than red kettles and thrift stores. So who are we? What do we do? Where? Right this way for Salvation Army 101.