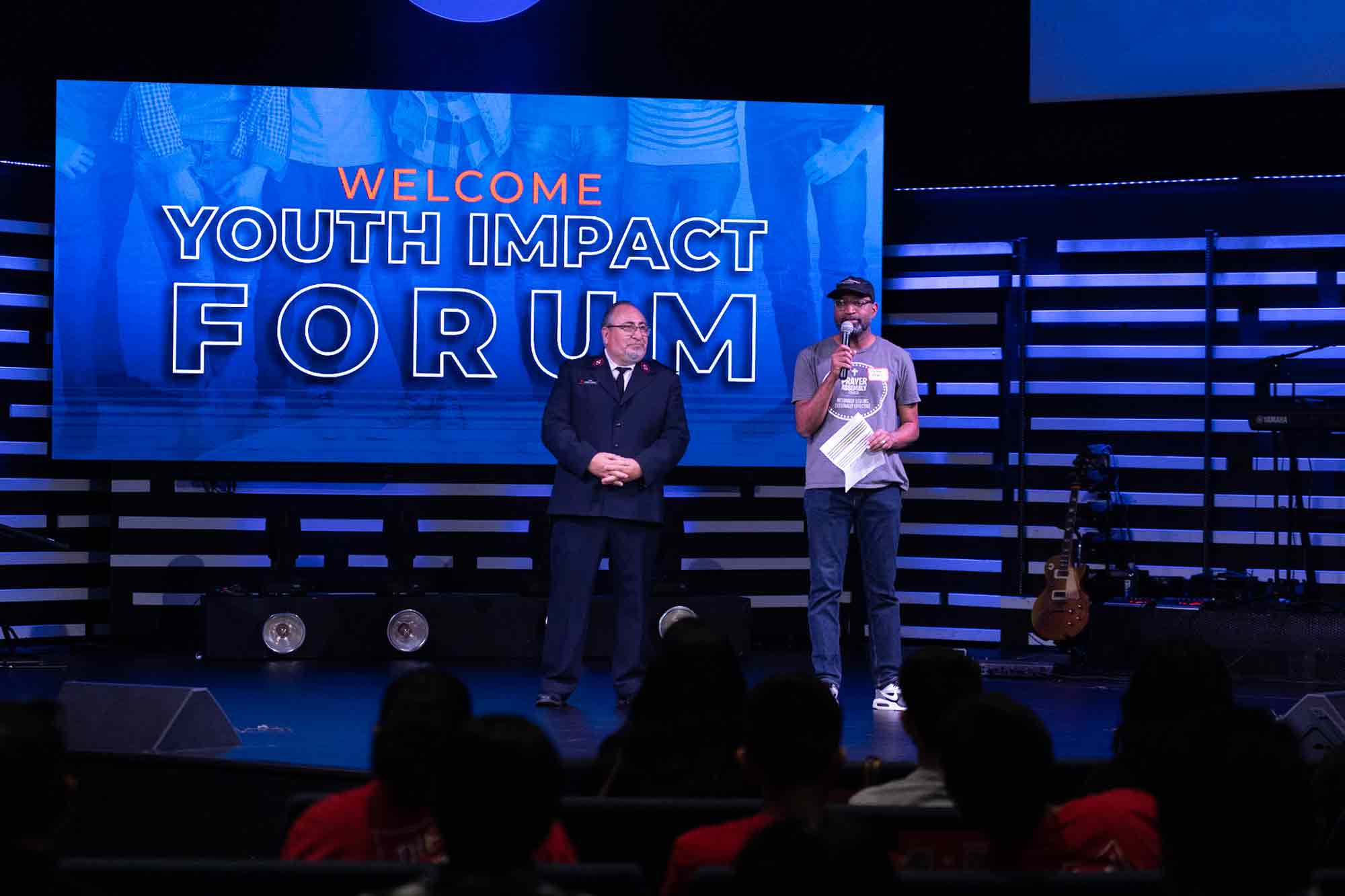 In West Phoenix, local youth benefit from powerful partnership with police
There's power in numbers in West Phoenix, Arizona, where Captain Joseph Cisneros from the Phoenix Maryvale Salvation Army Corps co-chairs an important initiative alongside other faith leaders in the community. The Faith and Justice Project (FJP), which works to "rebuild community relationships through trusted servant leadership," is helping to support local youth, parents and families through partnership with the Phoenix Police Department.
The effort started on the west side of Phoenix eight years ago, where a higher concentration of youth are carrying weapons and are more prone to using them. Cisneros and his FJP co-chair, Pastor Ellis Ogles from the Prayer Assembly Church of God in Christ, work together with the police precinct commander to spread awareness on critical issues impacting the community as well as public safety concerns.
Much like everything else, the pandemic forced the initiative to be in a holding pattern for the past few years. But a recent forum helped bring everyone back together, as a diverse group of speakers covered topics currently impacting teens, from mental health to drugs and gun violence. The PPD precinct commander and second in command shared the dangers they're encountering and how many youth have died from overdose. More than 75 youth and their parents participated in the event, and Cisneros said they hope to host another one in the near future.
"I'm one of three Hispanic pastors involved," he said. "One of our goals is to help youth feel more open-minded and receptive to the police. We want them to know they're our friends, not our enemies."
One of the ways in, Cisneros said, is through compelling speakers who can share their real world experiences and relate to youth at forum events, as well as an open invitation to bilingual police officers to stay in dialogue with The Salvation Army community whenever an issue comes up. Four years ago, when a young member of the community was revived from an opioid overdose by an officer armed with Narcan, a life-saving medication used to reverse the effects of opioids, it showed just how powerful this ongoing relationship is.
Other concerns that are currently top of mind for the leaders of FJP include bullying, sex trafficking, racism and suicide. "I was touched by mental health concerns when I learned that a 7 year old had a plan to take his own life," Cisneros said. "By the age of 14, one out of every seven children have already thought about taking their own lives because of the pressure on them."
As for the Phoenix Police Department, community partnerships like this one have been a priority, even during staff shortages and changes in leadership. "We make sure this is tended to and maintained, because genuine relationships have been built," said Nikki Hicks, community affairs specialist for the police department. "Captain Cisneros has provided so much support in his leadership role. I'm so thankful that he's able to participate."
She added that in the summer, Cisneros "always makes sure to provide the heat relief we need" when the group of leaders from more than 15 churches gather in prayer in the area's "hot zones"—areas that have a high volume of crime. "We want blessings for this area," Hicks said. "We hope they will have a change of heart, even those involved in the crimes."
The Salvation Army provides numerous "extreme heat relief" stations for community members (and their leashed pets) across Arizona whenever an excessive heat warning is issued by the National Weather Service. Mobile hydration units are also dispatched to target additional portions of metro Phoenix to serve as many people as possible, and nearly 1,500 bottles of water are provided per day during excessive heat warnings, with thousands more provided during the rest of the year.
The cold water, ice and air-conditioned spaces make a big difference when temperatures begin to reach more than 100 degrees in the spring each year, and the leaders of FJP hope their prayer groups are just the beginning of making in-roads with those experiencing homelessness, substance use or violence in the city's most vulnerable areas.
"We're working on bringing schools in, as well as more churches and community involvement in the future," Cisneros said. "We would have not only a bigger response, but we could also share the needs and help each other."
Still, that help has already been meaningful for Hicks and the community at large. "The community loves Captain Cisneros and his wife and his children," she said. "It's quite meaningful to have his support."
---
Do Good:
You've probably seen the red kettles and thrift stores, and while we're rightfully well known for both…The Salvation Army is so much more than red kettles and thrift stores. So who are we? What do we do? Where? Right this way for Salvation Army 101.
How do we treat everyone with love and kindness, as if they were our neighbor? Get the Do Good Family Roadmap and take a 4-week journey for families in how to be a good neighbor.
What cause best fits your personality? Take our quiz and discover where you can make the biggest impact today in the Fight for Good.