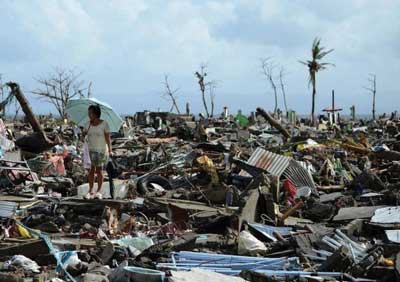 Philippines Salvation Army leader says devastation worse than reported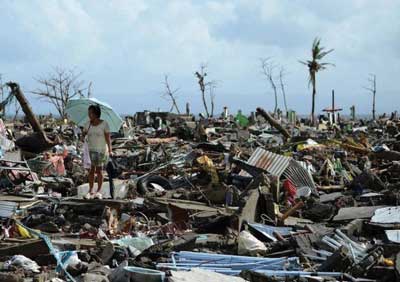 Territorial leaders of The Salvation Army Philippines Territory, Colonels Wayne and Robyn Maxwell, are in Tacloban to support Salvation Army officers and other personnel who are working tirelessly in the ongoing relief operations. Accompanied by Commissioner Gillian Downer, the London-based International Secretary for The Salvation Army's South Pacific and East Asia Zone, the leaders also intend to bring a message of hope and God's love to survivors of Typhoon Haiyan.
Stories of hope punctuate the scenes of destruction and loss, with Wayne Maxwell admitting that the devastation caused by the storm and tidal surge is "worse than reported by the media." Latest estimates say 4 million homes are uninhabitable. But this week, Salvation Army workers met Jostan and his family, whose home was completely destroyed in the storm. Remarkably, the whole family survived, including Jostan's 2-week-old sister who was born just before the typhoon made landfall.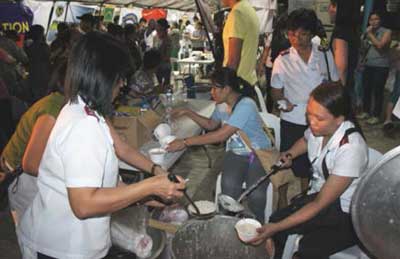 "There have been many, many deaths in our area," Jostan's uncle told emergency worker Damaris Frick. "Fortunately, our family survived, but we have lost everything." He said they will be staying with family in Manila.
Jostan and family may have a long wait. Although military evacuations have resumed from Tacloban Airport, the queues are still long. The Salvation Army continues to provide a supply of clean water and snacks to between 600 and 1,000 people every day.
Elsewhere in Tacloban, The Salvation Army is distributing emergency supplies to hundreds of families. The packs contain staples such sacks of rice, cans of sardines and corned beef and packets of noodles. A further 40 tons of food will be arriving in the next few days. Aid is also being distributed in Cebu and Manila, where evacuees are now arriving regularly.
The Salvation Army is coordinating with the local government of Pasay in Manila, where a large tent city now shelters evacuees who have no friends or family in the capital city. Extended ministry among the tent-dwellers is expected to happen for several months.
Experienced emergency services workers Major Drew Ruthven (Australia) and Matthew Beatty (USA) were dispatched to Manila to provide reinforcement and expertise in The Salvation Army's relief operations.
Report by Communications Section, International Headquarters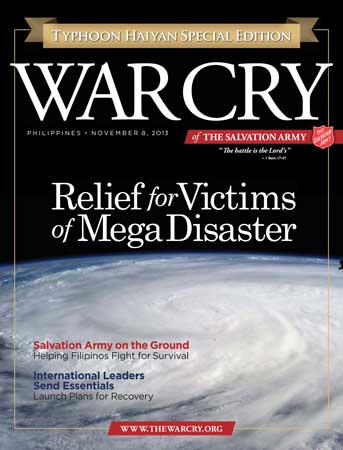 The USA War Cry just released a special e-edition on The Salvation Army's response to Typhoon Haiyan in the Philippines.