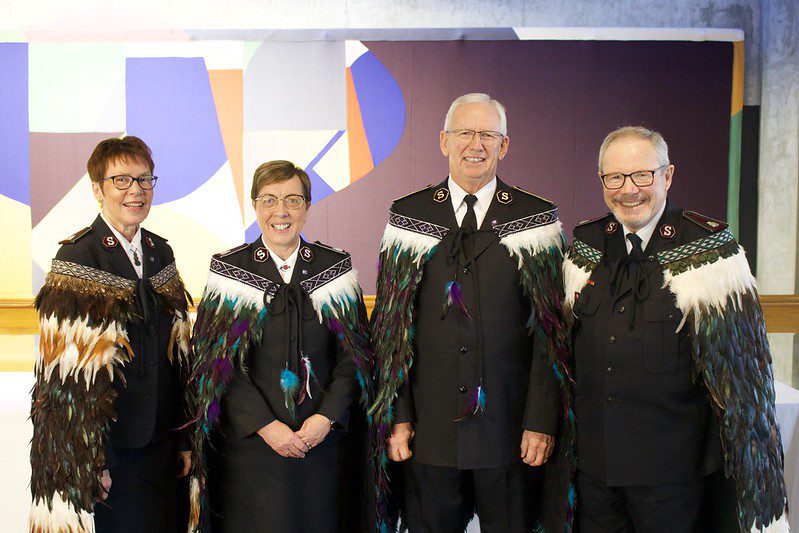 Peddles lead New Zealand congress
The General and Commissioner Rosalie Peddle lead multicultural 'Encounter' congress in Wellington.
General Brian Peddle and Commissioner Rosalie Peddle (World President of Women's Ministries) came "home" to the New Zealand, Fiji, Tonga and Samoa Territory to lead its "Encounter" congress in Wellington, New Zealand, Oct. 3–6. The Peddles served there as leaders of the Northern Division from 2007–2009. They received a pōwhiri—a traditional Māori welcome—and spoke with officers and leaders from around the territory on the first day of the congress.
Later, hundreds of people attended a Cultural Encounter night where Salvationists from the territory's island nations and the New Zealand Māori Ministry group presented culture through song, dance, spoken words and imagery. The General spoke about the work of The Salvation Army internationally, sharing both challenges and celebrations.
That evening, the international leaders met members of territorial boards and councils, and with Wellington Mayor Justin Lester.
During Mission Conference Oct. 4, the General participated in a question-and-answer time facilitated by Major Christina Tyson. He spoke on a wide variety of topics, encouraging and challenging those present.
More than 100 young people gathered for pizza, free t-shirts and a chance to interact with the international leaders. The General sported one of the t-shirts, designed as a modern twist on the old-school Salvation Army guernsey. Young people, leaders and divisional officers shared their concerns, challenges and victories with the Peddles, who responded willingly to both conversation and requests for selfies.
Before the evening service, people gathered at a cafe that served The Salvation Army's own Hamodava brand of Fairtrade coffee. While the Suva Central Corps band played, the General stepped up to the coffee machine to make his own drink, assisted by Envoy Stewart Irwin.
During Friday night's family celebration, Commissioner Peddle joined Territorial Youth Secretary Captain Mat Badger and Ben Clark (one of the youth) on stage for a game with "wobble bobble balls," leading her team to victory.
On Saturday night and Sunday morning, the General shared his international "Call to Mission," and during the weekend seekers frequently lined the mercy seat.
Throughout the event, the General and Commissioner Peddle preached with passion and with an expectation that God wants to move significantly within the territory. They were generous with their time, speaking with individuals and groups, and reconnecting with people from their earlier time in the territory.