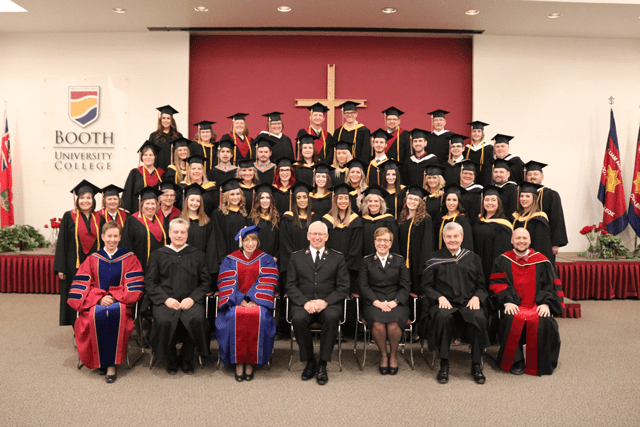 Peddles celebrate 35 years of excellence at Booth University College
By John Murray, Major –
The Chief of the Staff Commissioner Brian Peddle and Commissioner Rosalie Peddle, World Secretary for Women's Ministries, were special guests at Booth University College's 35th anniversary convocation celebration in the Canada and Bermuda Territory.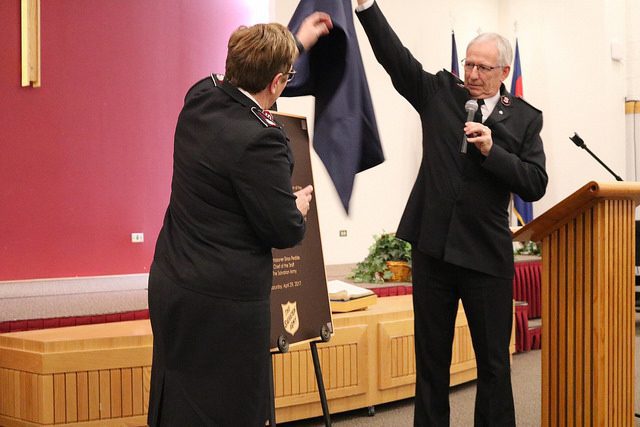 The visit was a "homecoming" celebration for the Peddles. Both are from Canada, but more than that, the Chief is a former Chancellor of Booth UC and Rosalie Peddle is a graduate of the institution.
As part of the celebrations, the international visitors shared in the naming and dedication of the main campus building in honor of the late Commissioners John and Helen Waldron, who played a critical role in establishing Booth UC. The Winnipeg building will now be known as the "Waldron Building" and features a plaque on display in the main entranceway.
"Commissioners John and Helen Waldron had a vision of something more for The Salvation Army in this country and this territory," Brian Peddle said. "They had a desire to invest in the education of our emerging leaders and—through their leadership and faithful service—they accomplished just that through this institution. We thank them for their visionary leadership in establishing and supporting the ongoing development of Booth University College."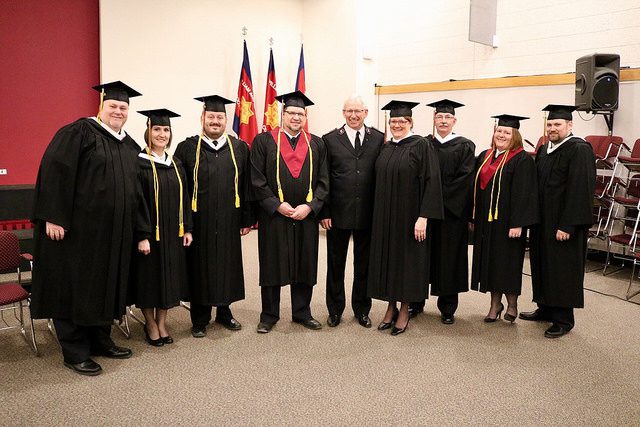 Throughout the weekend, the Peddles participated in meetings, celebratory dinners and receptions with the board of trustees, donors, faculty, staff, and family and friends of the 2017 graduates.
Prior to the convocation events of Sunday afternoon, the Peddles, supported by Commissioner Susan McMillan (Territorial Commander and Chancellor of Booth University College), and Colonel Glen Shepherd (Chair, Board of Trustees) met with the Hon. Ian Wishart, Minister of Education and Training in Manitoba.
The minister thanked The Salvation Army for its extraordinary partnership in providing support and care to refugees who continue to cross the border into Manitoba from the United States. He also brought greetings on behalf of the Government of Manitoba during the convocation service.
In his convocation address to the graduating class of 2017, the Chief of the Staff said: "There is much to celebrate as Booth University College strategically moves from strength to strength, expands its scope of course delivery, enhances the program profile and creates new partnerships. This progressive stance enables Booth UC to strengthen communities of faith through its focus on theology, business, social work, chaplaincy and spiritual care."
In closing, Dr. Marjory Kerr, President of Booth UC, said, "We celebrate God's faithfulness and provision that are evident through our heritage and are the foundation of our hope for the future."
Before returning to London, the Peddles spent time with cadets and staff of the territory's college for officer training, where they shared something of their international ministry and experience of the global Salvation Army. Following their presentations, the cadets and staff encircled the commissioners and prayed God's blessing upon them.