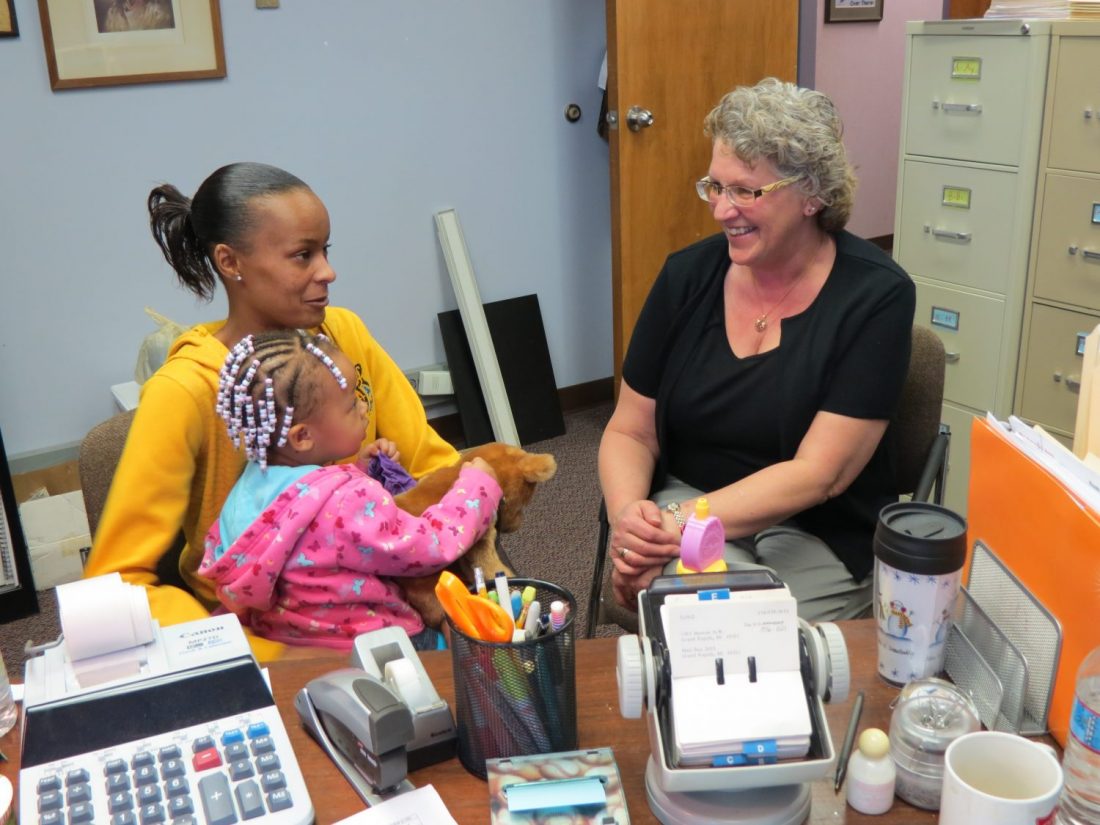 Serving to solving
Client-caseworker relationships can make all of the difference in Pathway of Hope.
Average Pathway of Hope client growth rate
After first quarter: 1.6%
After 1 year: 9.3%
Average POH client's yearly household income
Upon entering: $13,430
After 6 months: $20,255
An increase of: 51%
In 2013, clients achieved 38% of their goals every six months
Graduates achieved 83% of their goals
SOURCE: The Salvation Army Kansas and Western Missouri Division
The Herth Hope Index is a 12-item, multi-dimensional index designed to measure a global, non-time oriented sense of hope. It is composed of three dimensions: temporality and future, positive readiness and expectancy, and interconnectedness.
The Self-Sufficiency Outcome Matrix, created by a task force in Snohomish County, Wash., in 2004, is a counseling tool designed to help monitor and assess the progress of clients in social service programs. It uses a numeric system to track progress in 18 areas of a person's life that could be barriers to self-sufficiency. It quantifies the "better off measures" of peoples' behavior, attitudes, circumstances, and knowledge and skills.
Implicit in the American Dream is the concept of upward mobility—that individuals can rise above poverty through hard work and perseverance. Yet, according to a report from the Brookings Institution, 42 percent of children born to parents in the bottom fifth of the economic distribution remain in the bottom as adults.
After years of wondering if the cycle of generational poverty could ever be broken with the same system and methods, The Salvation Army Central Territory shifted its approach.
In 2010, The Salvation Army National Advisory Board and the nonprofit Bridgespan Group implored Army leaders to move from "serving" to "solving." As of January 2014, every division in the Central Territory had implemented a new program called Pathway of Hope, with more than 380 families enrolled. By 2016, every corps in the territory will be trained in Pathway of Hope.
The program helps clients experiencing homelessness gain housing, employment and self-sufficiency through one-on-one case management. In the program's first 18 months in the Kansas and Western Missouri Division alone, caseworkers served 154 families, including 199 adults and 372 children. Nearly 20 percent of the families graduated from the program.
Each client's progress is evaluated quarterly via both the Self-Sufficiency Outcomes Matrix and the Herth Hope Index. The average client in the division posted a 1.6 percent growth rate after the first quarter but increased it to 9.3 percent after a year. The average client's yearly household income also increased by 51 percent within six months of entering the program.
While Pathway of Hope contains many moving parts, it's often the client-caseworker relationship that plays the biggest role in building individuals' confidence.
Referred to Pathway of Hope by the local public school district homeless program, Monica had been a victim of human trafficking and domestic violence and found herself in a conundrum with her 12-year-old daughter.
DO GOOD
 – Donate to the Pathway of Hope program at bit.ly/pathwayofhope.
– Donate an extra set of professional attire to Dress for Success to help someone in need ace a job interview.
– Sign the petition urging members of Congress to support the Healthy Families Act, legislation that would guarantee workers the right to earn paid sick days—a benefit over 40 million people currently do not have. See more at bit.ly/healthyfamact.
When our caseworker met Monica, she was hesitant to share her story.
One of the first questions Monica asked was, "How did I get to this point?"
Yet over time, as they built trust, Monica began to open up about her journey from a professional in her home country to working in yards after being deceptively led to the U.S. Monica finally fought her way out and went to the police for help.
During one of her Pathway of Hope visits, Monica expressed how insignificant she felt as a human being. Her caseworker told her Jesus personally cared for her.
"Some of us have gone through worse things than others, but all of our stories have significance in the eyes of Jesus," she said, then sharing her own personal testimony and leading Monica to Christ.
While The Salvation Army still serves those with basic needs, it now also sets goals with families willing to work in partnership. The Army helps them set goals and hold themselves accountable in a working relationship with increased capacity frontline staff.
Monica is now working to plan a better life for herself and her daughter.
With Nancy Rodriguez