On the Edge: The Salvation Army in Canada
FundRaising Success just announced The Salvation Army Canada as the 2013 Gold Award recipient for fundraising excellence in the "on the edge" category.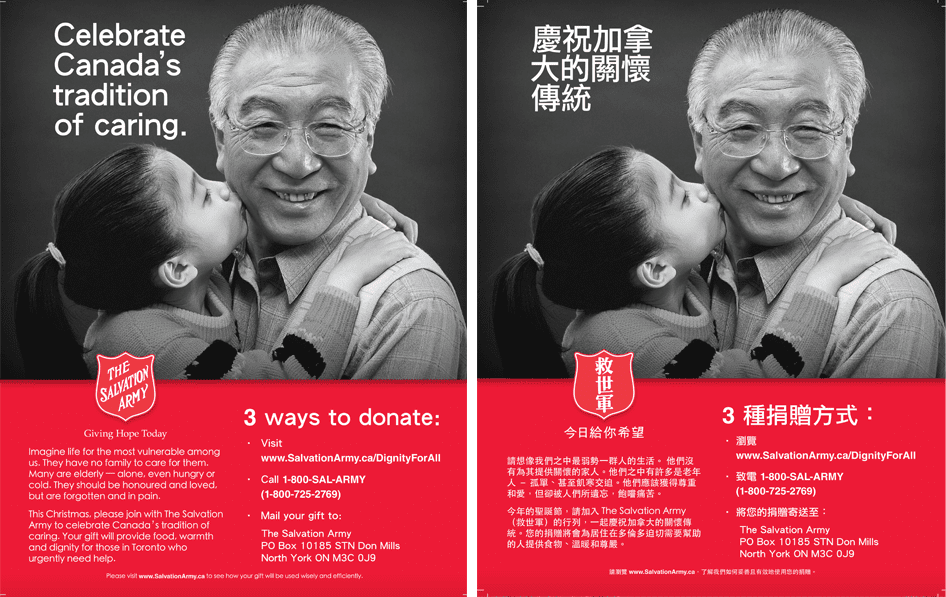 In 2012, the Salvation Army Canada set out to increase awareness of the organization and to begin generating support from Toronto's Chinese community, which accounts for roughly 20 percent of the population.
The Army's Ontario Central East Division, along with Grizzard Communications Group, emphasized its shared values with this community, including respect for the elderly, a commitment to family and caring for those in need through the Celebrate Canada's Tradition of Caring campaign. Chinese-language radio ads; magazine, newspaper and other space ads; and free-standing inserts all included the well-known Salvation Army colors and logos, images representing the Chinese community, and content in both English and Chinese.
"An integrated, multichannel campaign of this magnitude is a challenge in and of itself, but adding the multilingual element made this a truly edgy campaign that laid a foundation of cooperation and support within the Chinese-Canadian community," said Major John Murray, formerly the divisional secretary of public relations and development and currently the communications secretary at International Headquarters.