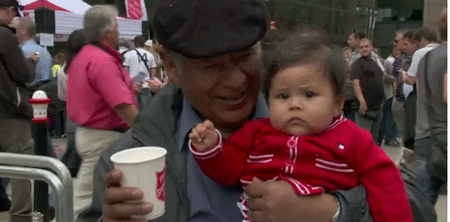 Olympic Ministry at IHQ During Women's Marathon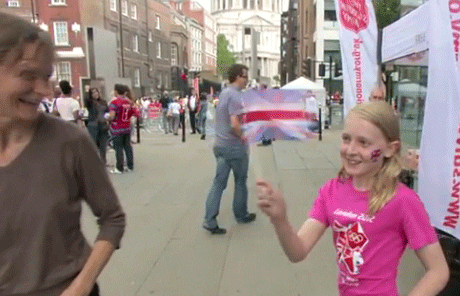 International Headquarters (IHQ) in London, United Kingdom, was right at the heart of the women's Olympic marathon Aug. 5 with runners passing the building six times during the race.
Almost four hours before the marathon began people arrived outside IHQ looking for a prime viewing spot. Soon after, a team of 20 officers and headquarters staff were in action.
Throughout the day, near the main entrance to IHQ, free cups of water were distributed to spectators, race officials, police and Olympic volunteers. Face painting attracted many people with the Great Britain flag being most requested.
Inside the building, sport-themed copies of the United Kingdom's War Cry and Kids Alive! publications were given out and Olympic-inspired displays in the cafe area and on the ground floor proved popular. Of particular interest was information regarding The Salvation Army's hosting of the Olympic mountain bike event on its Hadleigh Farm property the following weekend.
As part of the overall More Than Gold Christian ministry to the Olympic Games, five water distribution stations were set up by The Salvation Army along the women's marathon route. On Aug. 12 a similar bridge-building ministry will be carried out during the men's marathon.
To capture a little of the atmosphere during the women's marathon view a video (put together by the UK Territory's Video Production Unit) at sar.my/ihqwmmar.
 Report by Lieut-Colonel Laurie Robertson
International Communications Secretary