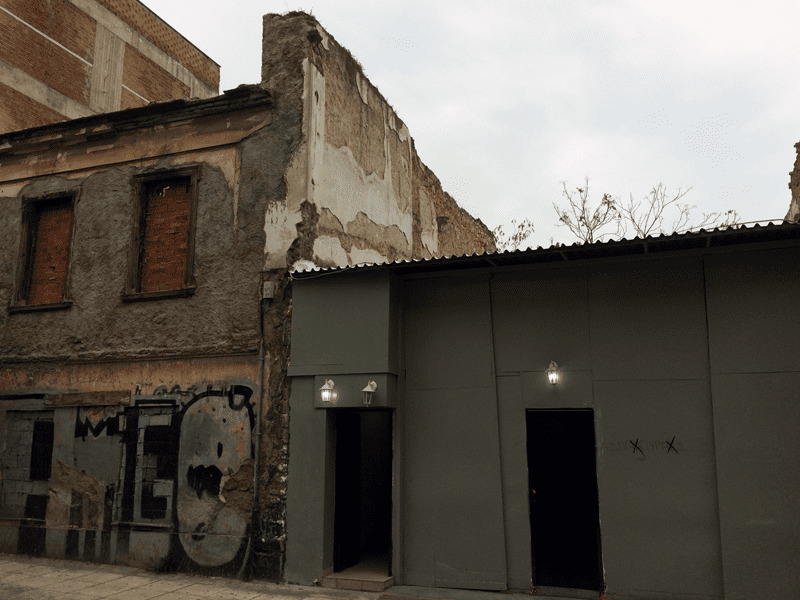 Green Light Project gets women out of Red Light District
"It reeks. It's dark. It has a funky feel about it. It's filthy. A lot of girls who work the morning shift, they don't see daylight." –Kali Long
On a Thursday afternoon at The Salvation Army in Athens, Captain Rachele "Ray" Lamont is engaged in complex negotiations with two young women who have been quietly waiting their turn in the hectic lobby.
A translator explains that the women are hoping for assistance. But The Salvation Army isn't taking any new registrations here—the organization is almost out of supplies.
"We're going to work something out," Lamont tells the translator. She turns to the young women: "To the best of my ability I want to help you, because I love you."  
They make arrangements for the women to come back the following Wednesday. At the end, Lamont gives each woman a hug.
Lamont, a Canadian Salvation Army officer, is in her first year as the Anti-Trafficking Coordinator in Athens. The pair from the lobby are prostituted women. Both are from Bangladesh and divorced, supporting children back home. Their families don't know what they're doing here in Greece.
"They thought that when they got here, it would be a better life," Lamont said. "They couldn't find work. So this is where [they are] now."
Lamont heads up The Salvation Army's new initiative called the Green Light Project, aimed at getting women from the red-light district off the streets. The project's headquarters sit on Satovriandou, a grim stretch of city blocks in the Omonia neighborhood serviced by mostly migrant and some Greek women. In this part of town, pollution is so strong it burns the nostrils. Empty lots are converted to trash dumps.
Though prostituting has never been easy, it's become more difficult since the Greek financial crisis. One in four Greeks now lack employment. Enforced austerity has slashed client demand and rates, leaving many women struggling to survive.
The Salvation Army is one of a handful of faith-based organizations that minister to prostituted persons and sex trafficking victims in Athens' toughest neighborhoods. The Green Light Project, which launched in January, aims to support prostituted women's physical and emotional needs, while staying realistic about the low numbers who manage to leave the profession.
"The biggest thing we focus on is building credibility and trust," Lamont said. "We want to play a very nonjudgmental role in their lives, to say that we're going to love you where you're at."
Prostitution is legal in Greece, though unregulated street walking is not. Registered prostitutes working out of licensed brothels must be over 18 and unmarried, and they're entitled to benefits such as biweekly sexual health testing. But plenty of women opt to forego that structure, since a brick-and-mortar location means they can be taxed. A legal brothel also forbids them to work if they contract a disease, and they must be legal residents of Greece. The streets offer more freedom.
About 80 percent of the women Lamont encounters are foreign-born, many from Algeria, Bangladesh, or countries in the former Soviet Union. About one in five is Greek, and most are supporting dependents in Athens or back home.
Sex trafficking is common. New faces often circulate into town for two to three weeks before they're moved again, either to elude the authorities or because a pimp has sold them.
For the majority of women on Satovriandou, "some life event has taken them by surprise," Lamont said, "and then they find themselves here."
The only way to help
Less than a mile from The Salvation Army's headquarters, a dramatic sculpture of a fallen angel dominates Karaiskaki Square in the Metaxourgiou neighborhood. In the blocks surrounding the concrete plaza, approximately 80 legal and illegal brothels stay open for business around the clock. They're easy to spot, distinguished even in daylight hours by an illuminated white LED light above the door.
Karaiskaki Square houses the headquarters of Nea Zoi, "New Life," a Greek evangelical organization that since 1996 has journeyed into Athens' brothels to build relationships with the women there. President Martha Polyraki oversees the organization's weekly walks through the neighborhood. She guides a visitor through one now.
In Metaxourgiou, pimps and traffickers keep a close eye on their wares. Turning a corner reveals a drug encampment, where addicts inject each other with heroin.
The johns entering and exiting the brothels run the gamut of age, ethnicity, and affluence. One man whom Polyraki says is Greek looks to be in his 50s or 60s, with stringy red hair pulled into a ponytail. Some appear to be middle-aged businessmen: there's one with a black laptop bag and another who drives off in a navy BMW.
Others appear younger and foreign-born, perhaps migrants themselves. One dark-skinned man in his early 20s pops into a doorway before emerging moments later, crossing the street, and entering another establishment. Thirty seconds later he leaves again and heads down the street, only to turn up outside another business a few blocks later. Since the economic crisis, many patrons shop around for the best price.
In most of these brothels, one girl works a roughly eight-hour shift supervised by a madam. The prostituted woman may be controlled by a pimp, a trafficker or a "lover boy"—a term Polyraki uses to describe men who lure women into romantic relationships and then convince them to turn to prostitution. Often, the women start out exchanging sex for drugs but eventually get swept up working for someone else.
"The woman, one way or another, is always under somebody," Polyraki said.
Several times a week, Nea Zoi volunteers venture in pairs into brothels. Kali Long, 25, worked with the organization from 2012 to 2014 while serving as a missionary with the Free Methodist Church. She said the typical Athens establishment is far from luxurious.
"It reeks. It's dark. It has a funky feel about it. It's filthy," she said. "A lot of girls who work the morning shift, they don't see daylight."
Long still remembers the 21-year-old Bulgarian woman she encountered on her first brothel visit in 2013. The woman was naked, but she showed Long pictures of her daughter, a little girl about 5 years old. From time to time she would get called out into the lobby for prospective clients, where she'd do a little spin—"about 10 euros for anything you want," Long said.
"I remember feeling like I could have met this girl walking down the street," she said. "Maybe speaking about her daughter was a way of saying, 'This isn't really me who you're seeing. This is the best part of me here in this picture.'"  
Like The Salvation Army, Nea Zoi focuses on building relationships. Women can come by their offices for counseling, medical services, or simply a safe space. Their staff doles out hugs.
"Jesus came to everybody. The only way you can help them is by giving them Christ," Polyraki said.
She sees Nea Zoi's outreach as an extension of Jesus' saving mission. "I become his instrument—his hands, his heart," she said.
Freedom through faith
For many women, the lack of job skills traps them in the cycle of prostitution. Threads of Hope was started in 2014 by Cecilia Sakatira, a Zimbabwean volunteer with Nea Zoi who wanted to extend the organization's mission through practical channels.
The organization trains women on the cusp of leaving sex work in the trade of sewing. The nonprofit sells purses, tote bags and other textiles through its online store. Many women had never seen a sewing machine until they came here.
They undergo a three to six month training period, during which they're often still prostituted. Once that period is complete, they can apply for a place in the Threads of Hope workshop. The part-time position pays only minimum wage, but it's dignified work that offers a chance at healing, Sakatira said.
She currently has five women working in the program. She hopes to move to a bigger space that will allow her to accommodate up to 10 women.
"As a Christian, it's my responsibility to help as I have been helped to discover who I am and who God created me to be," Sakatira said. "[These women] need help to rediscover their hope, their dreams, their identity and their value."
Once the Green Light Project gets up and running, it will encompass art workshops and job training. Over the next year, Lamont wants to build a drop-in center with access to showers, laundry and hot meals. She's hoping to draw women in with regular social activities like baking and onsite mental health support.
In the meantime, Lamont struggles to find the time and resources to build the program she wants. Her firm commitment to the work keeps her going.
As a survivor of an abusive relationship herself, Lamont said she can understand the mentality that leads women involved in prostitution to feel trapped—"like, there's nothing else than this, there's nothing better than this, how will I ever get out of this?" she said.
In Lamont's case, faith saved her from the abuse.
"The only reason I got out was I got into a relationship with Jesus. Because of him, I have freedom," she said. "And so there's just this desire in me to let these women who are surrounded by lies and desperate, to let them know, yeah, you can get out. There is something different. There's freedom—and you can have that."