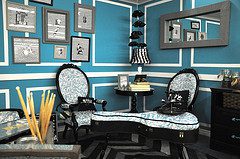 Noah's ARC sparks creative design
"This place is huge!" one student shouted––a sentiment echoed by twenty design students as they walked through the warehouse at The Salvation Army's Adult Rehabilitation Center (ARC) in Anaheim, Calif. These students would spend countless hours here over the next two months, gearing up for the fourth annual Noah's ARC Interior Design Challenge––a partnership between The Salvation Army Anaheim ARC and the Orange County Chapter of the American Society of Interior Designers (ASID).
Students from Westwood, Art Institute, Interior Designers Institute and Saddleback College divided into four teams and designed 12' X 12' vignette rooms at four Salvation Army Family Stores in Orange County using only donated items from The Salvation Army and paint from Sherwin Williams. All items created were silent auctioned to benefit the Anaheim ARC.
Upon arriving, the students toured the facilities at the Anaheim ARC and learned of the no-fee counseling, shelter, food, and work therapy programs offered by The Salvation Army. For many, this was their first exposure to the ARC program.
"Noah's ARC was a conceptual idea here for many years until the ASID student members adopted the project,"  said Major Bill Heiselman, administrator of the Anaheim ARC. "The students' eagerness to participate, their energy, talent and support for the ARC is taking this project well beyond what we ever envisioned it could become."
Aside from benefiting the ARC, the students had an opportunity to expand their portfolios after dedicating hundreds of hours––without course credits––to create wonderful living spaces. The students installed their rooms over four days, many spending the entirety of store hours painting, upholstering, and positioning their pieces. Many customers stopped to photograph the designs and read about the event.
The students worked extremely hard on their rooms, taking pride in their resourcefulness. More than 30 items were sold that likely would have otherwise been recycled or discarded.
Westwood College's "Rock n' Roll Chic" room featured a rug sewn together into a Chevron pattern from 35 pairs of jeans. The Art Institute team created an adventure room complete with chalk-ready wall paint for a child's imagination to run wild.
"I feel so blessed to have been a part of this awesome design event and honored to contribute to an amazing organization that helps save lives every day," student designer Genevieve Chambliss wrote on her blog.
The students revealed their rooms to the public on April 13 and offered design tips to the public on how to utilize Salvation Army purchases to create unique styles. ASID instructors and administrators served as judges for the contest, handing out awards in the following categories: Best Overall Design––Interior Designers Institute; Best Theme/Genre––Westwood College­­; Best Practical Application––Saddleback College and Best Design Process Board––Art Institute.
"This is the best year yet," ASID Judge Rick Campos said.
Anaheim ARC Community Relations Manager Danny Hauger and ASID student representative to the board Ashley Salzmann planned and coordinated the event. The ongoing partnership between The Salvation Army and ASID has grown deeper each year as the ability to help the community while offering a valuable experience to these local students is celebrated by both organizations.
"This event is a wonderful reminder, that these items, like so many of us, have unlimited potential," Hauger said. "All that is needed is the time and effort to make the transformation."
The fifth annual Noah's ARC is scheduled for April of 2014 in Orange County Salvation Army Family Stores. Details will be announced @OCSalvationArmy on Twitter.