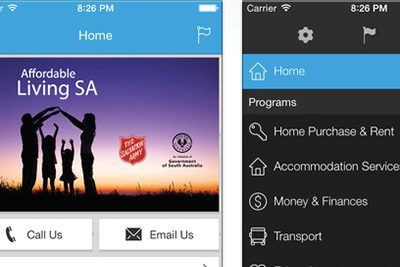 New app points to help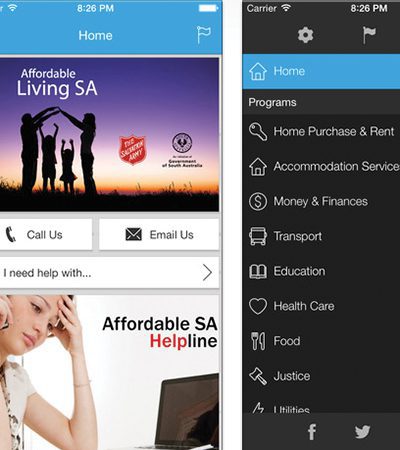 Affordable Living SA App links users to emergency supplies and guidance.
The Salvation Army and the South Australian Government launched a new app to make life more manageable for low-income families and those experiencing homelessness.
The Affordable Living SA App is the brainchild of Sharon Maslen, program director of The Salvation Army's financial counseling service in South Australia. From February to September 2014, The Salvation Army in Australia received 720 calls from people needing help, Maslen said. The analysis of the calls showed that people did not know where to start.
"The idea came from my thinking that people just didn't know what they didn't know and in thinking about how The Salvation Army could extend its reach to others to help people be more informed rather than have to call organizations to access information that could be freely available," Maslen said. "Herein lies the app idea."
Maslen said she searched through the data to make sure an app would be a good solution. The Australian Bureau of Statistics from 2011 showed that 87 percent of people with a landline have a smartphone, 62 percent of those facing homelessness have a smartphone, and 66 percent of the unemployed have a smartphone.
"This data confirmed to me that the app idea would enable The Salvation Army to come alongside to care for others in need without discrimination empowering them to access immediate help," Maslen said.
She then met with locally based Verto Group, which specializes in mobile app development and branding solutions, and shared her vision of an intuitive, easy-to-use app. Verto Group said they could make it happen, so Maslen shared the vision with the South Australian Government and received permission to use some of the helpline funds to pay for app development.
The mobile app provides a list of emergency suppliers of free groceries and community meals, links to free confidential guidance from a Salvation Army financial counselor and information on receiving food stamps. It also includes practical tips and tools for supporting a household and managing the cost of living.
"I love that this app meets the mission and values of The Salvation Army," Maslen said, "and I truly believe this is something that William Booth would have been excited about too."