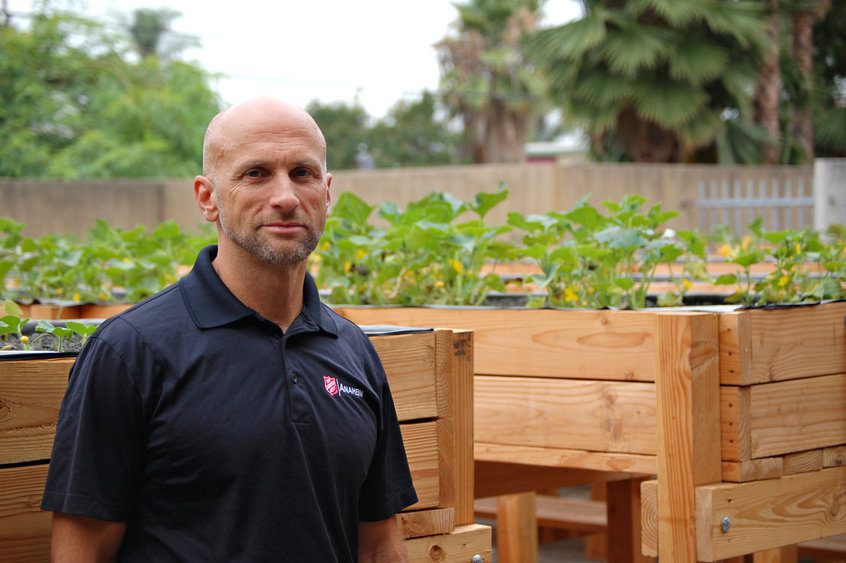 New life
Across the landscape of The Salvation Army's service in communities across America, new life is a common theme as hope is restored. In some cases, the new life is more literal as seeds bring forth produce and more.
These are a few growing gardens.
Canoga Park, Calif.
At the Canoga Park Adult Rehabilitation Center in Southern California, residents work the soil of three community garden plots cared for by residents and volunteers.  
"Gardening is a very therapeutic thing for me to do, so I thought maybe it would be a good thing for the men too," said Emilia Neudorff , a local advisory council board member.
The garden has become a way for residents to heal, to give back to the community that helped them and to help others too.
"Redeeming the dirt is a saying that kind of parallels with what the Lord is doing in our lives; he is redeeming our dirt," Neudorff said.
Anaheim, Calif.
Staff at the Anaheim Praiseworks Corps Community Center made use of an empty lot behind their center through aquaponics––a sustainable food production system that conflates growing fruits and vegetables with raising fish by recirculating the water between the two environments.
"The thing that was exciting for us a church ministry is it creates a strong connection point," said Aaron Flores, worship and creative arts director. "Most importantly, we're turning that blacktop into a resource where we can help feed the community and invest in the city of Anaheim in a really cool, practical way."
Chicago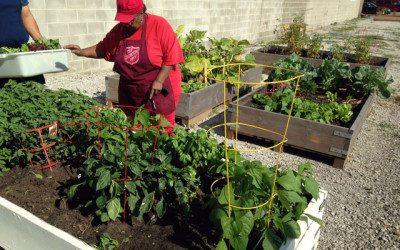 In Chicago's Englewood neighborhood, Lt. Nikki Hughes worked with longtime resident and chair of Greening the Environment, Beatrice Jasper, to launch a balcony garden that would provide fresh food to senior citizens who participate in the drop-in program.
"It's not just that more food is needed," Hughes said. "It's that real food is needed."
The seniors also tend to the garden themselves, which produces kale, tomatoes, lavender and cucumbers.
Blue Island, Ill.
The Salvation Army Corps in Blue Island, Ill., built aeroponic tower gardens on the corps roof to provide fresh produce for their seniors as well. The garden is comprised of 30 towers equaling up to 10 acres of conventional farmland.
Richmond, Va.
Members of The Salvation Army Boys & Girls Club in Richmond, Va., working with a group from Renew Richmond, developed an urban garden on the club's property. The garden will supply fruits and vegetables for the community and provide programming for area residents.
"Our goal is to create a garden learning program in which projects and participants radiate outward into the local community," said Renew Richmond's Director John Lewis in a letter. The garden is cared for by community members and serves as a gathering place for those in the area to participate in and learn about healthy and sustainable living.
Oakland, Calif.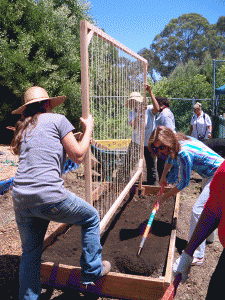 Through a partnership with the Low Income Investment Fund and City Slicker Farms, the Garden Center Corps in Oakland, Calif., planted a new community garden full of herbs and vegetables, which will provide fresh produce and ingredients for the corps' Family Emergency Shelter and Booth Child Development Center.
"This garden embodies the whole concept of the Garden Street campus," said Lt. Dan Whipple. "Along with the shelter, Booth Child Development Center and the corps, we are working to develop and enrich the lives of those in our community. This community garden is just one avenue that allows us to serve those around us."
Seattle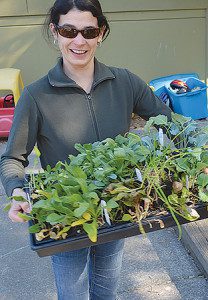 A new partnership between Temple Corps and the Seattle Tilth led to the revitalization of two existing 4′x8′ growing beds that had been built 10 years ago, as well as building and installing a third raised bed on a portion of the playground area.
Corps Officers Majors Rob and Amy Reardon decided to rebuild the former garden after attending a presentation of Seattle Tilth, which works to help people grow organic food.
"This has been a dream of ours, to involve the congregation, and the community really, in a gardening project where the fruit of our labor will be distributed among all people," said Rob Reardon.
The Salvation Army is a movement built on hope, motivated by a desire to bring more than material goods to those served. With every meal offered, every bill paid and every knee bowed, we see new life emerging, we see hope. We are redeeming the dirt.