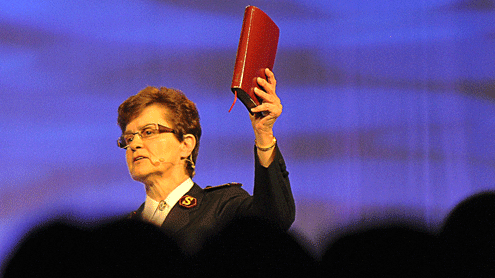 • NEW FRONTIER EXCLUSIVE • An interview with the General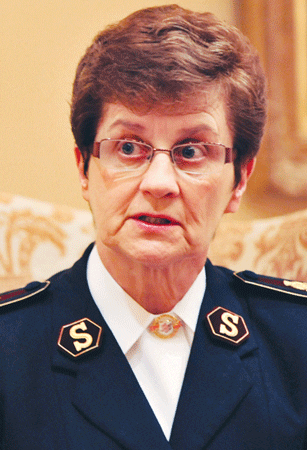 By Robert Docter
Roughly 14 months since General Linda Bond became the international leader of The Salvation Army and just days following her return to the Western Territory, New Frontier sat down with Bond for a wide-ranging interview that included her deep commitment to the mission of the Army and her current role.
Elected General by the High Council in January 2011, Bond assumed responsibilities in April 2011 from her prior appointment as territorial commander of the Australia Eastern Territory. She also served as territorial commander in USA West in the early 2000s.
Before attending the High Council, Bond said she had not entertained even accepting nomination despite urging from several high-ranking officers. Bond said she spent the Sunday prior to leaving for the High Council in prayer. "God spoke clearly to me about being open to him, and not being inflexible," she said. It was no Damascus Road experience as she had previously said she would need. "I was reminded of Samuel missing the voice of God because it was an ordinary voice and of Elijah hearing God in a whisper, not in the dramatic," she said. "The Lord rebuked me for wanting the dramatic when his leading of me has always been by a whisper or gentle nudge."
Bond said she received emails from around the world from people providing Scripture verses of encouragement and guidance and some of them felt an urge to pray directly for her. She said there was a sense of God's leading throughout the High Council process, but nevertheless, she prayed: "Lord if I have this wrong, don't let me get elected."
"I do believe, humbly, it's by the grace of God that I am the General," Bond said. "He confirms this in his blessing on my ministry during these months and the joy I find in it. I continue to spend a lot of time with the Lord and the Scriptures continue to nourish me and encourage me. The Lord's command on my life has for many years been 'be strong and courageous.' I am a coward at heart so I need him to ask difficult things of me. Obedience to him is the basis of everything I do. I have learned that his commands are his promises and he will give grace in every instance."
Returning to the West, Bond said, it was heart-warming to have many say, 'welcome home'.
"During my time here I felt very connected with the officers and soldiers of the territory," she said. "I was born to be a Salvationist, and I love it. I love the Army because it's his."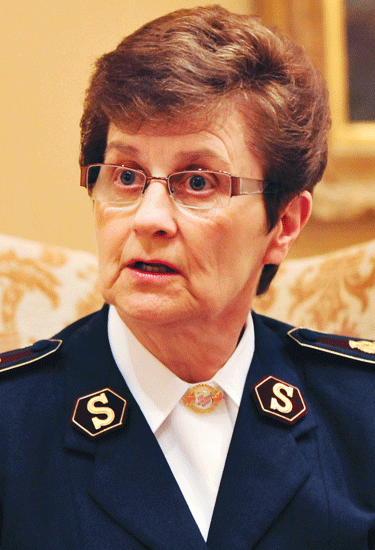 In speaking of the West, Bond commended the territory for its construction of seven Ray and Joan Kroc Corps Community Centers. She recalled delivering news of the $1.5 billion bequest from Joan Kroc to the National Commander and colleagues in territorial leadership. "I'm thrilled to see reports of the progress and of our commitment to Joan's dream," she said.
"Upon receipt of our portion of the bequest, we put a plan in place to use the money for its intended purpose, which became the template for the entire country," Bond said. "We were cautious and careful to fulfill that dream and get it right without being hurried."
She said we need to continue to keep our focus on "the main thing."
"Wherever there is a Salvation Army shield, we must take our whole mission to the whole person," Bond said. "Every item in that mission is a must for anyone or any unit that calls itself The Salvation Army.
"If we take strands of that mission and separate them—giving 'service to suffering humanity' to social services, 'saving souls' to the ARC, and 'growing saints' to the corps—we split the Army," she said. "We would have 'salvation' in our name, but not in our ethos, not in our souls."
As a leader, Bond said she focuses on relationships.
"Leadership is relational—I want to have people on board with me, to hear what they have to say, to let people fill in the blind spots," she said. "But I'm also a person who wants to see something done; a leader has to set the course."
Bond established mission priorities for The Salvation Army from soliciting input from the territories and commands from around the Army world—"One Army, One Mission, One Message"—which she said she will work to emphasize throughout her term as General. Upon retiring in 2014, Bond said she wants to serve as a recruiting sergeant in a corps.
"Relationship building becomes the means by which mission emphasis can happen," she said.
Ultimately, Bond said, The Salvation Army must continually ask two questions: "Do Salvationists have a heart for the lost and are people being saved?"
Photos by John Docter and Tim Schaal