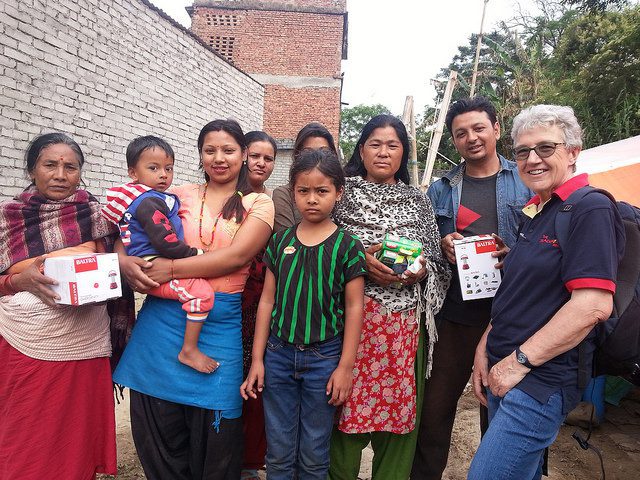 International disaster responder shares progress in Nepal
International Emergency Services team safe following May 12 earthquake
As The Salvation Army's response in Nepal continues to grow, Damaris Frick from International Emergency Services  provides an overview of the activities in place and insight into the way the international team is fully sharing with the people of Nepal, especially as they recover from a second major earthquake May 12.
The relief operations underway can loosely be separated into urban and rural projects. Broadly speaking, the urban ministry in Kathmandu, Bhaktapur and Lalitpur is centred around camps for displaced people, including camp management roles and the provision of food and water. In rural areas, The Salvation Army is supplying food and shelter to remote communities in Ramechhap and Sindhupalchok Districts and around Ghorka.
One truck of relief items made its way to Nepal from the India Eastern Territory, including 700 3-gallon boxes of water and 130 boxes of noodles, each of which contains 48 packets. So far the Nepal relief team has distributed about 150 boxes of water and 40 boxes of noodles. These items are mainly used for the camps The Salvation Army is involved in and for small scattered shelters. Another truck with 300 tarpaulins for shelter is on its way from Kolkata.
The relief team has provided food assistance to more than 700 households in Kathmandu, Bhaktapur, Lalitpur and Sindhupalchok. The food parcel typically consists of rice, dhal (lentils), oil and salt. Another distribution planned for Ramechhap will provide food parcels to 280 additional households.
Through partners The Salvation Army secured tarpaulins and distributed 131 so far. Another 70 are already assigned for distribution.
Shelter remains a major concern, especially with the monsoon season approaching. A thousand high-quality, weatherproof tents were ordered in Pakistan and, thanks to assistance from the international logistics company UPS, they will be transported to Nepal shortly. It has been possible to source food items locally, which is the ideal solution.
The Salvation Army was asked to take on the responsibility of managing a number of camps. So far it has been allocated four camps (two of which have now been closed) but it is still providing support including food, shelter and non-food items to another two. The team has been asked to oversee another camp which needs assistance, which team members will visit to assess the needs.
A new project is being undertaken in the far north of Ghorka, where 8,000 people need food and shelter. It will be implemented in cooperation with MountainChild, a local non-governmental organization (NGO) which has access to the helicopters needed to reach some of the most remote areas.
In Sindhupalchok, food has already been distributed along with some non-food items such as solar lamps, and plans are being put in place to provide shelter to 1,000 households.
The Salvation Army continues to carry out its response as part of the bigger humanitarian operation and is therefore making an effort to coordinate on national as well as district levels. It is registered as the main relief agency in certain VDCs (village development councils) and attends eight of the clusters organized by the United Nations to ensure effective cooperation and coordination.
The international response team in Nepal currently consists of: Damaris Frick (International Headquarters), Colonel Carol Telfer (Pakistan), Captain MacDonald Chandi (Pakistan), Captain Kathy Crombie (International Social Justice Commission) and Captain Vanlaltluanga Pachuau (India Eastern Territory). Two members of the team, Captain Joy Thang and Michael Andrew (India Eastern) have now returned home, and International Emergency Services is currently working to source more deployees.
The international deployees are working closely with Majors Lalsangliana Vuite and Lalnunsangi Ralte, who oversee The Salvation Army's work in Nepal, with assistance provided by many young people connected to The Salvation Army (or the Salvation Mission, as it is known in Nepal). The local knowledge and contacts are proving vital.
"You will all be aware of another earthquake May 12. Most of us were somewhere on the road in Kathmandu, as we were getting several relief items to the airport," Frick said. "We also had two teams on an assessment mission in Sindhupalchok very near the epicenter. We were grateful when we could make contact with them via satellite phone and again when they came back safely.
"Every person in Kathmandu seems to be sleeping outside tonight, so we will take our mats and sleeping bags and do the same," she said.
To the many people who have shown concern, offered prayers and given generously to the work of The Salvation Army in Nepal, she has a final message: "Thank you for all the interest and support from all over the world; this is greatly appreciated. Please continue to pray for our colleagues and for the lovely people here in Nepal."
Visit www.salvationarmy.org/nepalearthquake to make a donation in support of The Salvation Army's #NepalEarthquake appeal.