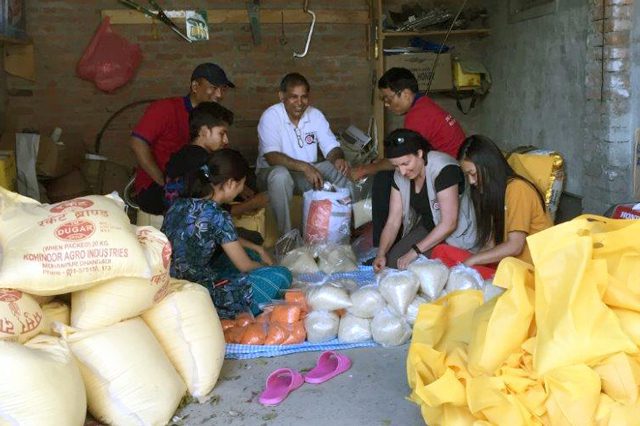 IES field officer recounts Nepal response to date
Damaris Frick shares initial observations, her method once on the ground, and the motive behind her International Emergency Disaster service.
Due to its structure, The Salvation Army is well poised to respond locally and internationally following a disaster, which Nepal experienced first-hand when a 7.8 magnitude earthquake struck April 25.
Majors Lalsangliana Vuite and Lalnunsangi Ralte, who pioneered the work of The Salvation Army in Nepal since it opened in 2009, ushered their congregation from the building as the ground shook and set to ensuring people's safety and comfort. Simultaneously, Damaris Frick, field officer with International Emergency Services, prepared to leave for Nepal.
Upon arrival, Frick has liaised with local Salvation Army personnel and international response units to oversee food and water assistance distribution and shelter needs, including managing emergency camps. The Salvation Army is registered as the main relief agency in certain village development councils and Frick and team members attend eight of the clusters organized by the United Nations to ensure effective cooperation and coordination in the humanitarian response.
Here, Frick shares more of her experience to date with New Frontier Chronicle.
NFC: What is your initial feeling when you hear of an international disaster, and how do you mentally mobilize as you prepare to depart?
DF: Part of my job is to monitor world situations with regards to conflict and natural disasters. Hearing about the Nepal earthquake on the Saturday morning, I immediately tried to get in touch with the territorial commander of the India Eastern Territory. As soon as I heard back with the request of support from International Emergency Services (IES) I jumped into action—getting in touch with the IES coordinator who was on holiday at that moment, looking into flight options, gathering available data and facts from relevant humanitarian webpages, requesting information on coordination meetings in Nepal, sharing information with the communications people, and I packed my bag.
In a way I am always prepared on a physical, practical and mental level to depart on short notice because that's what I do and what I am passionate about.
Once on the ground, what are your immediate actions?
One of the first activities on the ground is always to register The Salvation Army as part of the humanitarian system, get some data on needs and gaps, find out about cluster coordination meetings, get a feel for what is happening on the ground, and deal with some logistics like transportation, team accommodation, food, money transfers, and so on. We try to get a picture from various sides, our Salvation Army contacts, random people who are affected, and humanitarian actors to make rapid needs assessments and start to make some initial plans.
What did you observe on the ground in Nepal?
Nepal is a beautiful country with amazing people. It is sad to see the level of devastation. The remoteness of many villages high up in the mountains make this relief operation particularly challenging. Many locations are only accessible by helicopter and other areas which we could access before the last earthquake are now cut off due to landslides.
How does The Salvation Army's Nepal response compare to other disasters you have worked on?
People are people, no matter if they live in Kathmandu, Port-au-Prince, Tacloban or New York. A disaster takes away things they hold dear and puts them in a situation where they are forced to live an undignified life. Nepali are very friendly and lovely people and it is amazing to see how they get up and restart their lives. In many of the mountain villages where we work, we have seen people rebuilding their homes with parts and pieces they managed to salvage from the rubble of their old ones.
The Salvation Army is very small and not very well-known in Nepal so the relief team couldn't rely on a wide network and a huge number of assets. IES therefore deployed people from a number of countries; we are currently a team of seven international people plus additional officers who work alongside the Nepali Salvation Army colleagues, which makes it a much bigger team than usual.
How is The Salvation Army engaged in the coordinated international response effort?  
The Salvation Army International Emergency Services makes an ongoing effort to be an active and professional actor in the wider humanitarian field. In the field, we attend cluster meetings which coordinate the areas of relief efforts we are involved in. Currently, we attend the shelter, food security, CCCM (camp coordination and camp management), WASH (water, sanitation and hygiene promotion), logistics and education cluster meetings, share information and report our activities and plans. We show willingness to partner with others and flexibility to pick up gaps in the provision of relief.
I believe that other humanitarian actors realize that we are working on a professional level and are not just well-meaning amateurs. People we deploy have usually attended a training in international disaster response and therefore understand the humanitarian charter, the code of conduct, how to coordinate with other actors, what minimum standards we are aiming for and how to ensure quality and accountability. Many people seem to think that disaster relief is just about handing out some bags of rice or a cup of tea, but it is much more complex than that and fortunately we have people in The Salvation Army world who can live up to a professional standard.
What do you think motivates you to do this kind of work?
I strongly believe that people have a right to a life with dignity and a right to receive humanitarian assistance. In my opinion disaster relief is not charity, it is justice and assisting people in claiming their rights. Seeing people affected by disasters and knowing that there are things we as The Salvation Army can do to meet some of their needs and contribute to the restoration of dignity in their lives is a constant motivation for me to do this kind of work. We are not the only actor in this field; as a matter of fact, in terms of humanitarian work, we are probably a fairly small actor compared to some others. But our local presence and knowledge and the willingness to remain flexible and fill gaps can play a huge role in the humanitarian efforts.
What stands out to you so far to you in this response effort?
I love seeing my team members and our Nepali colleagues going way beyond their normal duties, sleeping on a sleeping mat in front of the house, working long days without a lot of breaks, lifting many bags of rice, all for the benefit of the relief operation and the disaster affected communities. I love the fact that people from different nationalities work closely together in this response despite cultural differences. I love seeing people taking control of their lives again and dignity being restored. I love justice being done for people.