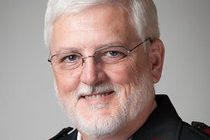 Moving toward self reliance
New territorial department partners with other territories and commands in ministry
By Karen Gleason –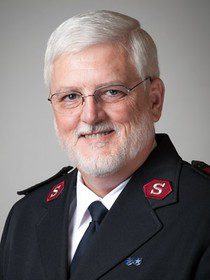 A huge world map fills the wall outside Major Jim Boyd's office in the department of Self Reliance at The Salvation Army Western Territorial Headquarters. He indicates countries where the Western Territory is helping The Salvation Army achieve self-reliance—meaning they will no longer depend upon grants from International Headquarters (IHQ) to conduct their ministry.
"As I understand it, the General had a list of priority countries that could use help to move toward self reliance," Boyd said. "He shared his priority territories and commands with the international secretary for business administration [ISBA] to work with the Western Territory's Self Reliance office."
The department is new to the territory, and Boyd, recently appointed to it, said its members are developing a passion for this ministry. The team comprises Boyd and his wife, Major Cathi Boyd, Renay Panoncialman (former retail director for the Adult Rehabilitation Centers Command) and Major Keilah Toy. The department falls under the Chief Secretary's office, and works with the ISBA, Commissioner John Wainwright.
Once territories or commands become self reliant, the benefits to the worldwide Salvation Army can grow exponentially.
"They can begin to develop new income streams with a goal of becoming a facilitating command, rather than an implemented one," Boyd said. "If a command is self reliant, they have the ability to find new mission opportunities, expanding their outreach into the part of the world they serve. If successful, they also free up IHQ funding that may be used for other projects, perhaps even expansion into new unserved parts of the world."
The West is in a good position to provide this service to other countries, and Boyd said that Territorial Commander Commissioner James Knaggs believes in what the West has to offer the world.
"Our people have expertise," Boyd said of Western Territory officers. "We have people all over world—in Moldova, Korea, Singapore and Africa."
Boyd said the department's method is not to run things for the assisted countries, but instead to come alongside them, raising their expectations and advising them as they make their decisions.
"We're on the verge of getting Brazil self-reliant," Boyd said, speaking of the department's first big endeavor. The West funded a thrift store initiative in Sao Paulo, a city of 20 million people, and the stores are now making money, leading The Salvation Army there to self reliance.
The West is also eyeing partnerships in the Philippines, Tanzania, Spain, Portugal, India and South Africa.
"These are countries that depend on operational grants from IHQ to keep their corps going, but they don't have the start-up money for programs," Boyd said. "This is where the self-reliance initiatives come in—with the goal of eliminating dependence on operational grants. This is different from project funding, such as new wells."
Boyd is well-suited to his new role.
"You have to be fiscally careful. I've had some experience with that," said Boyd, who holds a master's degree in business administration and has served the territory in various positions in business administration and risk management, as well as an adult rehabilitation center administrator.
In the final analysis, it's not about the money.
"We try to make money to serve people and ultimately win them to Christ," Boyd said. "We believe God will provide, and he does. But God wants us to work hard and shrewdly, with good ethics and morals. God honors hard work. The monetary profits are used to expand the kingdom."