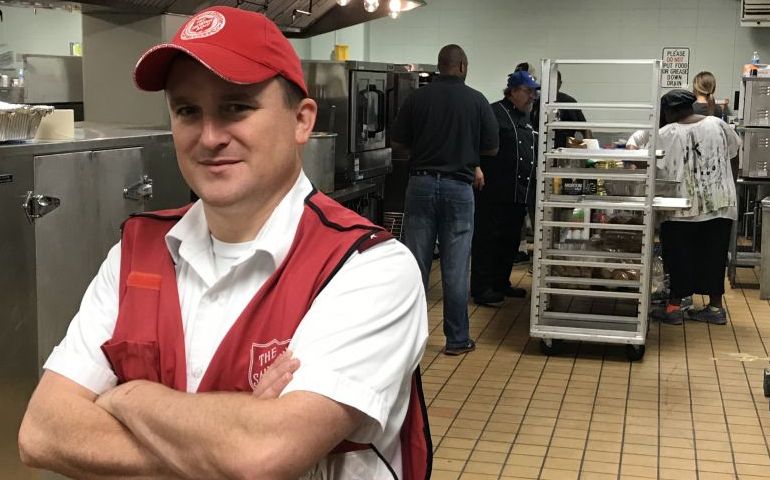 More Harvey evacuees move into Louisiana
"We have rallied as a community, and you can't ask for more than that."
With much of the nation's attention on Houston and Southeast Texas following Hurricane Harvey, Lake Charles, Louisiana, as well as other cities in the state are seeing a number of evacuees crossing state lines in search of a safe place to stay until the flood waters recede.
Salvation Army officers, working alongside partner organizations, are helping care for hundreds in the shelter at the Lake Charles Civic Center.
"The original plan was for our canteen truck to support shelters in the area with hot meals," said Lt. Richard Watts, Lake Charles Corps Officer. "The city and churches quickly realized that one consolidated shelter was the best option."
Watts, with the help of 80 volunteers, has managed meals three times a day for up to 1,200 evacuees and residents driven from their homes by Harvey. Watts says it sounds like a daunting task, but the community has come together to make sure all those in need are helped.  
"We have rallied as a community, and you can't ask for more than that," Watts said.
Watts also received a helping hand from Alexandria Corps Officer, Major Glenn Riggs, who provided emotional and spiritual care for evacuees at the shelter.
"It's been about comforting," Riggs said. "I've cried a little, encouraged, empathized with them, even though you couldn't possibly know what they are going through."
Riggs estimates he's prayed and encouraged nearly 300 folks in this shelter. He says he's spoken with some who have lost loved ones and their homes from the storm.
"They are pleased with the care they've received here, and even with the uncertainty, in fairly good spirits," Riggs said.
Officials expect more evacuees in cities across Louisiana because floodgates will have to be opened to release the built-up water.
To support relief efforts, visit helpsalvationarmy.org