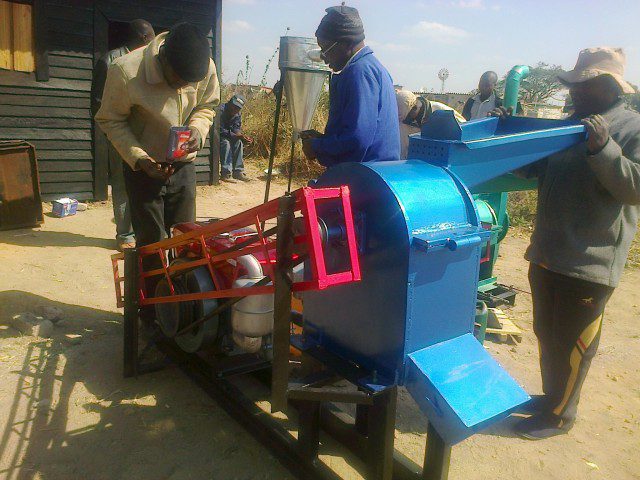 Mill for Mvurwi
El Cajon Corps mission group installs income-generating grinding mill
By Terry Masango, Captain –
I grew up in poverty, in Harare, Zimbabwe, in the ghetto, Highfield. Now, after living in the developed world for over 15 years, I returned home to astounding poverty that still lingers in the neighborhoods. It appears, I have adjusted to Western lifestyle and comforts. However, a great portion of my heart loves this land. Deep down, I am a Zimbabwean to the core. I may have changed my citizenship, but I have not changed my heritage.
With the El Cajon Corps, our mission team traveled thousands of miles to Mvurwi, Zimbabwe, to donate a brand new grinding mill. The idea surfaced last year after I learned about the Nunurai Support Group. Ten individuals trained as AIDS/HIV caregivers by The Salvation Army Howard Hospital, support roughly 250 individuals who are infected or directly affected by AIDS/HIV. Children have their own support group with 19 members—nine girls and 10 boys.
At the time, Golden Goni, the chairman of the Nunurai Support group, told me the group was raising funds for a grinding mill that would allow them to generate income to better support its members through medicine, school fees and food. The grinding mill would be used by local families who grow maize [corn] and need it to be ground into a powder, which they use for cooking.
This summer, the team and I traveled to Zimbabwe where we helped install the grinding mill in a room in the business area of Rusununguko Business Shopping Center. The group plans to build its own shop on the land generously donated by the Mvurwi Town Council to the Nunurai Support Group.
I go to bed fulfilled and blessed to have been a conduit of God's grace to the suffering in Mvurwi. I go to bed grateful to many who have supported our Zimbabwe Mission Trip 2015. I go to bed knowing that the lives of a few people have been changed forever as a result of the generosity of The Salvation Army El Cajon Corps.
Thank you God. Thank you all who helped make a difference in a part of the world few would like to visit.