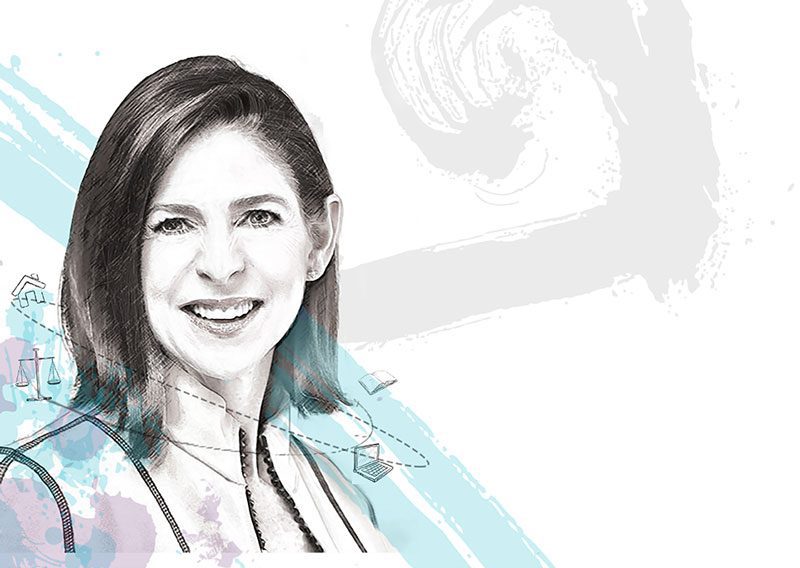 Mentoring success
Corporate leader Diane Paddison founded an organization to mentor Christian women in the workplace.
Salvation Army National Advisory Board member Diane Paddison is founder and president of 4word—a national network of professional Christian women committed to faith, family, work and each other. A Harvard MBA graduate and former global executive of two Fortune 500 companies, Paddison now works in her passion: mentoring professional women. It's mentoring that she believes helped her find success.
Caring Magazine: Your education started on a family farm in Oregon before you studied fashion merchandising and then went on to earn an MBA from Harvard Business School. What did your range of education teach you about having an enterprising spirit?
---
Diane Paddison: One of the things I have in my background is a real education around people. Working on the farm, I was managing crews of 40 people picking peaches at 16—there were high school kids, there were migrant workers, there were unemployed individuals, and there were some that loved to do it. It taught me a lot about people and Christ's view of all people having wonderful gifts to offer. The important important things of life don't come because of your social economic circumstances.
I'm a high achiever, God built in me strength and my parents always encouraged me. My dad told me that I could do anything on the farm that a man could do, and my mom told me every day that I could be anything. My dad gave me a lot of jobs, and never said this is a big deal, he just had me do it. There was an unsaid expectation of success. Now I work harder than ever, because I'm in my passion.
CM: You are a corporate executive, a wife, mom and person. How do you find balance in it all?
---
DP: You need to dig in, work hard and put the strengths and talents God has given you to work. Be aware of the risks of working in the professional world. The work world has a way of demanding so much of you that there is little time left over for the things that are important to you. It was important to me to work for a company that would give me the flexibility to grow as an employee without sacrificing my family or faith.
It's good to have a great gatekeeper, like my daughter, who will tell me to put my work down. I'm disciplined about getting up and getting in daily Bible study—I might do it while on the elliptical machine, but I do start my day that way. I take care of myself physically and spiritually. I know my strengths, so I try to avoid taking on things that are not my strengths. I've learned to be able to say no, or not right now. And I know I can't do it alone.
CM: You founded a mentoring organization for Christian women in the workplace. How did that come about?
---
DP: I noticed as I was in the 'C-suite' of Fortune 500 or 1000 companies, and as I moved into more senior roles, that I started having women coming to me asking to go to coffee, asking how I was there and married and had kids. I enjoyed spending time with those women and helping them to see a way they might do something differently or ask questions to think about something differently.
I write every day in journal what I was grateful for the day before. I noticed that the thing that made me happiest was seeing a woman get through something, and I had helped in some way. I knew that this is where I get energy, so I started research. I looked at the percent of women in workforce today versus 30 years ago, who the advanced degrees were going to, and who the primary breadwinners were, and all demographics had shifted 30 percentage points or so, but the leadership in corporations hadn't kept up. There were eight Fortune 500 chief executive officers.
I knew there was a need for ministry for women in the workplace. I wanted to create something where faith is the foundation, where we see relationships as priority, and where we see the workplace as a place God has given to use our gifts. I found 1,200 marketplace ministries for men specifically or for men and women jointly, but there were zero ministries led by women for women.
I wrote "Work, Love, Pray" (Zondervan, 2011) and launched 4word, which today touches over 2 million people through online content. In addition to our own site, we partner with Christianity Today and write a "Career and Calling" column in Today's Christian Woman. 4word has 17 local groups in cities around the U.S. and a mentor program with 149 peers.
CM: How do you encourage young, enterprising individuals?
---
DP: We all need a mentor, because you can always learn from somebody. I try to help my mentees in a way that really helps them become successful, whether it's through personal connection or resources or the market or whatever I can do to make an impact. In a formal relationship, I never have more than one mentor at a time. But I'm a connector, and once I have a relationship I usually don't let it go. I've had 10 mentees, and there's only one I don't keep in touch with. Plus I have many informal mentees. I love to keep in touch with all of them and see them really fulfill their dreams and passions.
CM: What does it take to be an effective mentor?
---
DP: There are three keys. First, be a great listener. Second, have great advice to share. Have some options to throw out, not to prescribe but pose things as: 'Have you ever thought about…' Third, be very objective. A mentee may not see the whole picture, and you may need to test what they're thinking. Be willing to present an objective viewpoint.
CM: Why do you serve with The Salvation Army?
---
DP: It's the organization that cares about being loving to all of mankind and typically those that are in the most destitute situations. The Salvation Army is awesome in that it sees the gifts of men and women and tries to use them in the way they're gifted, not in a way they might be stereotyped in. The people that serve are serving in a way that is a picture of Christ.
With reporting by Suzanne Niles