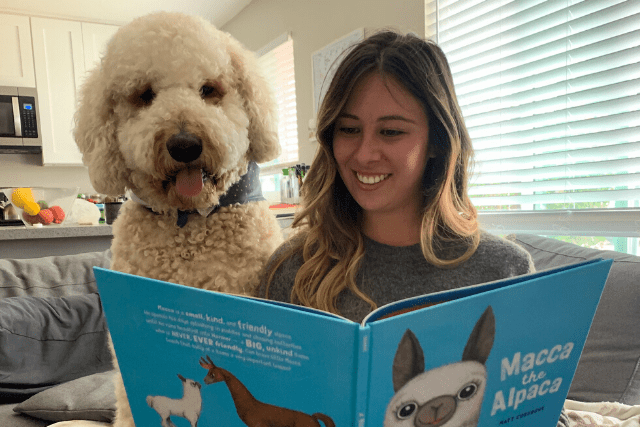 Meet The Helpers: Spreading good news and a boost of positivity
When everyone went home for the greater good, members of The Salvation Army's Echelon, a young adult auxiliary, still wanted to contribute. After seeing actor John Krasinski's Some Good News initiative, they decided to be part of the spreading of feel-good content on behalf of The Salvation Army. Eyo Toe, a graduate student at Point Loma Nazarene University and one of San Diego Echelon's public relations chairpersons, joined in. We caught up with Toe to hear more about how she's helping in the midst of COVID-19 alongside her Echelon teammates. 
How are you connected to The Salvation Army?
I learned about Echelon through a class activity I participated in. I have always incorporated service into my life one way or another, and when I moved to San Diego last July, I was hoping to find an organization to join that connected me with a community that wanted to make a difference through networking and volunteering. 
What has it been like for you in this pandemic?
This pandemic has presented many new challenges for me in my professional and educational life. I am so grateful for those who have created a virtual space to still connect with people in our everyday lives. I am the type of person who likes to have a schedule every day and it was difficult to adjust to this new day-to-day reality at first. I have been pleasantly surprised by the new hobbies I've developed as I find ways to fill in the days when I don't have as much to do. 
What are the most pressing needs for you or those around you right now?
One of the most pressing needs for the San Diego community is making sure those who are experiencing homelessness are being taken care of during this uncertain time and that those who have lost their jobs do not have to worry about feeding themselves or their family. San Diego is a city that loves its people. The city has allowed for certain hotels and the San Diego Convention Center to open its doors to keep those who do not have a home safe from the virus. The Salvation Army and the San Diego Food Bank are doing their part in packing and providing food and necessary goods to those who are experiencing homelessness and those who are experiencing extreme difficulties feeding themselves or their families. Local restaurants have reached out to their community and are giving free meals to those industry workers who are currently unemployed. It is amazing to see how each person is finding small ways to create a big impact in someone else's life.  
How do you handle the emotional stress of the COVID-19 situation?
I handle it by having a "don't count the days, make every day count" attitude. I have been using the extra time I have to invest in myself and empower my community, which has helped me feel a sense of purpose during this uncertain time. I have been educating myself by reading books and articles and attending webinars to learn new skills and discuss hot topics in the business industry. The extra time has also allowed me to get more involved in my community with The Salvation Army. Connecting with fellow Echelon members and brainstorming how we can create a positive impact in our community even from our homes makes me so grateful to be part of a group of young professionals who have the same values as I do. 
Why did you start the #SomeGoodNews project? What is involved and how has it gone so far?
After the COVID-19 situation caused stay at home protocols, Echelon SD wanted to find a way to bring people hope and positivity while maintaining social distancing guidelines. We started the #SomeGoodNews social media campaign where we post our members doing the most good in our community. Some examples of our members in the community have been volunteering to deliver groceries to those in need, creating notes of encouragement for seniors who cannot leave their homes, painting stones with words of encouragement to leave in our neighborhoods, and partnering with the Autism Tree Project Foundation to read children's books for their video series. We are finding more creative and innovative ways to help the needs of our community and hope that this may inspire others to join in and impact those around them.
How are you different today than you were a year ago?
A year ago, I was just about to graduate with my bachelor's degree and start my MBA program. When I self-reflect, I realize how much I have grown the past year not only as a young professional but as a person. I recognize what my strengths are and use them to my utmost ability throughout all aspects in my life. I moved to San Diego in July 2019, I did not know many people and was excited for this new chapter of my life to start. Little did I know I would meet so many circles of people who have inspired me and empowered me to be the best version of myself. Studying at Point Loma Nazarene University has been an incredible experience in my self-growth as well as building relationships with Echelon members who really value helping our community. 
How has your faith helped you and impacted how you've served in the crisis? 
My faith has helped me stay positive during a crisis where there is no determined end date. This has made me realize that no matter who you are, you are being affected by COVID-19 and this is a time we should be helping one another whether that is your neighbor, a friend, or donating what you can in the form of money or your time to contribute what you can during this pandemic. The Salvation Army has given me a platform to spread positivity and gives opportunities for anyone to get involved. 
Can you share a story of recovery, kindness or selflessness you've witnessed?
I think something to keep in mind during this time is how incredibly grateful we are for our front-line workers and how people are coming together in the most creative ways to show their support. A local DJ has set up his balcony to play music every Saturday night at 8 p.m. as a tribute to all essential employees who are working during these trying times. People have come together on their balconies to look at the bigger picture and thank our working community while enjoying good music. Pilots have organized hospital flyovers writing inspiring messages into the sky to give workers a boost of positivity during their day. Any act of kindness big or small is extremely impactful and witnessing all aspects of the community from children to business owners to essential workers contribute in giving what they can is incredible to see every day.
---
Do Good: 
If you'd like to make a monetary donation, please click here to make a gift.
Text 'GIVE' to 52000 to make a $10 donation to The Salvation Army. This will automatically add a one-time donation to your next mobile phone bill.
For information about volunteering, please visit volunteer.usawest.org.
To learn more about how to support The Salvation Army's relief efforts, please click here.