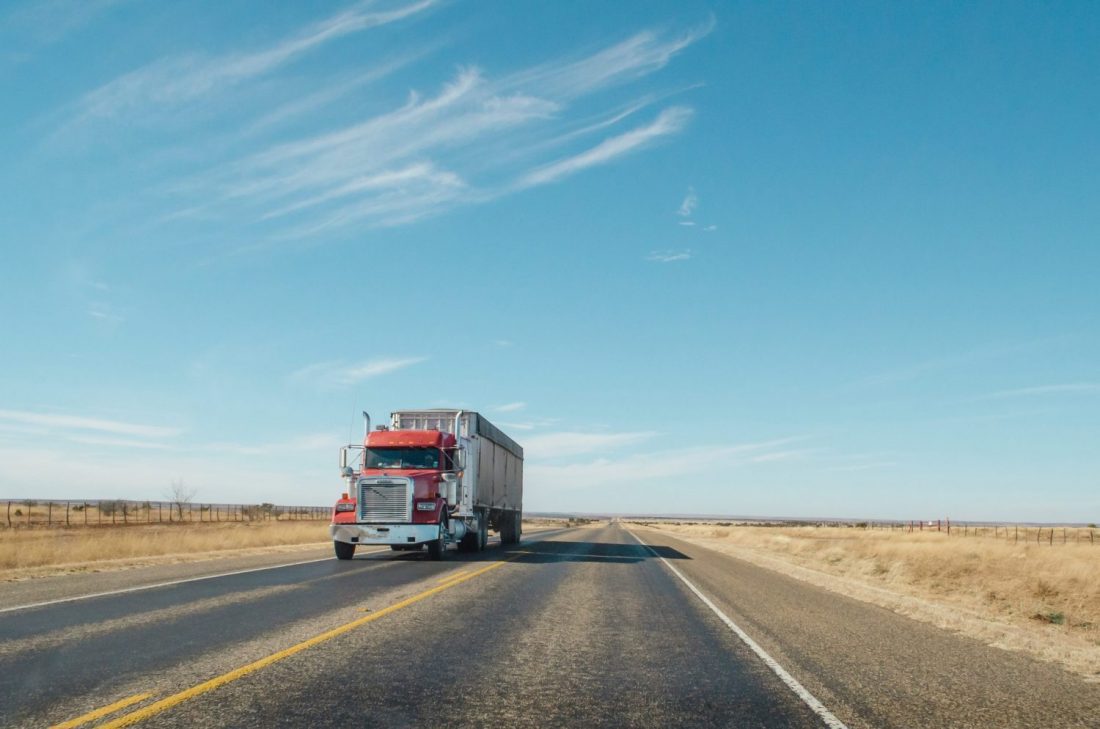 Meet The Helpers: Evie Russell is keeping supply trucks moving by feeding the drivers
Evie Russell drove a truck for 12 years before having kids and joining The Salvation Army. That's why she had such a strong reaction when she heard that some truck drivers were being turned away from restaurants or had a hard time finding a place to eat as they helped deliver essential goods during the coronavirus pandemic.
Evie is the Service Center Coordinator for The Salvation Army in Cortez, Colorado—a hub along major routes for the supply chain.
It was her idea for Operation Thank a Trucker—a partnership between The Salvation Army and Ute Coffee Shop near the intersection of Highways 160 and 491. 
Now truck drivers can stop at the coffee shop and choose from select items on the breakfast or lunch menus, like a giant breakfast burrito or a Bison Burger, and have a free, hot meal—and a little bit of interaction.
Evie and other volunteers have also packed about 1,000 snack bags that they're handing out to drivers as they come through the area.
 She recently appeared on the Do Gooders Podcast to share more about it, how she's helping in the midst of COVID-19 and what she is seeing from the frontlines of service.
Christin Thieme: Can you tell me a little bit more about your work, what you do, where you are, and what it's like on the front lines of service right now?
Evie Russell: I am the Service Center Coordinator for Cortez. Right now we've had a little bit of a slow down because a lot of the services that we would normally provide are going to the [new multi-state assistance] call center, so we're looking at other ways to help in the community. We are doing some outreach to other communities that don't have a Salvation Army presence and things of that nature. In my search of other things that we could be doing, I noticed a lot of the truck drivers stating that they weren't able to get a hot meal, that some of the fast food restaurants were not letting them walk up to get a meal. They wouldn't let them go through the drive-thru because they had to walk through and they couldn't take their trucks. As an ex-truck driver myself, that hit home. It really did. I drove a truck for 12 years. When I first started driving as a female driver, if I sat within the driver's section of the truck stops, I would be refused service, so it really hit home for me that this was not okay.
I initially started looking at how we could help. My thought was we do have a local vendor who has a food truck. I looked at how we could possibly get him down to near the port of entry, the old truck stop, to see if there was some business for him because truck drivers are still working. Obviously, they're still making money, but getting them the food they needed, the logistics on that didn't really work out.
A new coffee shop jumped up on our local Facebook page, Montezuma County Neighbors Helping Neighbors. They popped up and said, "Hey, we would be happy to help. Let's work this out." They have truck parking, so we got it out there that, "Hey drivers, we're willing to help. We want to make sure that you guys are okay," and that's how it kicked off. We started asking the community for donations and ideas on how the community could help. We got snack items, food, bottles of water, Gatorade, things that we could make snack bags to send with the drivers, and donations came in to provide a meal. So I jumped on board.
So when the truckers come through this area, how do they know that they can stop here for a meal?
It's all over the place. The first couple of days we had people out holding signs, letting them know, "Hey, there's a free hot meal for truck drivers at this location," and now the word's out. It's on all the trucker sites. We tried using a CB, but a lot of the drivers don't use CB's anymore, so we quit doing that. At the port of entry with the weigh station where the trucks have to come through, they're letting them know that hey, if you're hungry, you need a hot meal, just stop at the Ute Cafe, they'll take care of you. It just spread like wildfire. The first day, a driver stopped and took a picture with me. He put it on his page, shared it to other stuff and it got shared all over the place. So it's been a good experience, it really has.
What's the response been like from the truck drivers?  
Oh my gosh. They are so grateful knowing that they can come in and get a meal. They can't sit there and eat, of course, with social distancing, but they can come in and have that little bit of interaction. That interaction with human contact that's not just your shipper or receiver has been a big thing. We got a letter from one of the truck drivers that he had stopped in and got a meal, and he's a manly man, but it really hit him and brought tears to his eyes that somebody actually cared. Keeping morale up in our area has been a big thing here.
Absolutely. Can you tell us a little bit about the area? What's Cortez like?
Cortez is a little farming community in the middle of nowhere. We are a four corners area, so you're about three and a half hours to an interstate in one direction and about two hours to the interstate in the other direction. If you're heading East, it's all mountains. You're going through Durango and across Wolf Creek Pass if you go that direction. There's not a whole lot of places for trucks to stop anywhere. We're the hub, the 491 and 160. It's kind of a long stretch for any driver if there's nothing open for them to get food.
Right. So you were a truck driver. Why did you see this as an important project and mission for The Salvation Army to reach out in this way right now?
The moral support, we really try to keep morale up in our area when things are bad. Seeing The Salvation Army out there for our community has been a big impact in a lot of ways, not just for this. When we're out there ringing the bell, they realize that hey, there is hope. Even though this is a hard time, I know I can go to the Salvation Army and get some assistance if needed. I've heard that time and time again. They know that they can count on us to be there. It's important to keep our face out there because there's so many agencies doing the same thing that we do here. We get pushed aside. We're all fighting for the same grant fundings. We're all doing the same thing. We have a thrift store here, so we don't really need to fight for the funding as much as the other agencies do. Our impact in the community is a little bit different than some other Salvation Armies and some of the other agencies that do the same thing we do.
You said the community has helped to support this effort?
Oh, absolutely. They are all over it. We've had several people stop by and leave a check. Our port of entry officers stopped by and donated money to continue the efforts and make sure that the drivers are getting the support they need. They're just as much frontline workers as anybody in the hospital or any of that. They're bringing in the supplies that we need to keep our community going. If they're not getting a hot meal or the food that they need to keep going, they're going to shut down too.
Last thing we want to do is shut down the supplies, so just making sure that they're also taken care of is very important.
How do you handle the emotional and just stress of this whole situation, and maybe how do you encourage others who come to you who might be afraid?
I handle stress very well, I always have. I don't know, I just take it in stride. I don't really stress about the situation. I've prayed with several people that were scared. I've just kind of said this too shall pass. We've been through a lot in our community. We've been through droughts, we've been through a lot of stuff that other communities may not have to deal with, and we've always come through. We always pull together as a community and things get better. We always have our community support and not just from The Salvation Army. The whole community will step up and help when there's a need. So I just remind them that we live in a community that cares. They care about everybody, not just the ones out there doing. They care about every single individual. We've set up a plan for the elderly on how they can get somebody's attention if they need help. Our community is awesome. They come together anytime there's a need.
That's incredible. Can you share a specific story of kindness or selflessness that you've witnessed during this time?
Oh my gosh, there's so many. I was at the grocery store, and there was an elderly person that needed to go in. She was scared to go in because she didn't have a mask. I was sitting there talking to her and a guy walked up and he said, "This is my last one but you can have it." He gave her his mask and said, "Hey, let's help you through the store so we can keep people away from you so you don't get sick." He walked her through the store and helped her get her groceries, a total stranger.
There's so many. I put out on Facebook that one of the local nursing homes was needing TV trays for some of the residents because they have to have them so far apart. They can't have them all in the area at one time to eat, so they were asking for TV trays so they could spread them out. I put that on Facebook and within a couple of days they had them, everything they needed.
There's a lot of that going around.
I love that. 
We had a lady that wanted to donate to the feeding of the truckers, and when I went to go see her, she put the check on her mailbox so there was no contact between us. She was an elderly lady. I was talking to her when I got there and made sure she knew it was me and I asked her, "Is there anything you need?" She said, "Well, I'm kind of running low on toilet paper, but I hate to ask anybody. I'm sure I could figure something out." I just happened to have toilet paper in my car and I said, "Well, I'm going to leave this for you, but you've got to wait two days to pull it, just in case. Make sure there are no germs on the plastic." She was so grateful. It was amazing.
There are so many stories like that.
You just happened to have it in your car? That's amazing.
Yeah. I found some because it's rare that we find any at the store.
I was looking specifically for the bigger packs that have six rolls in individual plastic so I could open that bigger pack and leave four for a person just in case. I still have some in my car just in case something happens and somebody who can't get out wants toilet paper.
I've been carrying that stuff. 
---
Do Good: 
If you'd like to make a monetary donation, please click here to make a gift.
Text 'GIVE' to 52000 to make a $10 donation to The Salvation Army. This will automatically add a one-time donation to your next mobile phone bill.
For information about volunteering, please visit volunteer.usawest.org.
To learn more about how to support The Salvation Army's relief efforts, please click here.