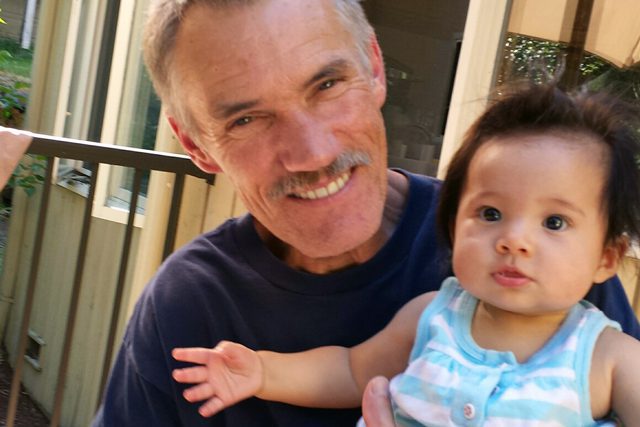 Far from done
Seattle ARC worship leader shares his testimony
By Marty Swanson – 
My parents, teachers, nuns, and even the parish priest, were all at our house awaiting my arrival.
It was an intervention.
I tried to stay away from home to avoid my father's abuse. He took his anger and frustration out on all five of his kids, but seemed to focus the majority of his abuse on me.
Once a straight "A" student, I started cutting a lot of classes my sophomore year of high school to smoke pot. I got away with this until I brought home a report card home for my parents to sign.
Everyone agreed that my circle of friends caused my misbehavior and the sooner I separated from them, the better. Before the week was out, I was shipped off to Utah to live with my aunt and uncle.
My uncle, however, was a doctor with a closet full of sample drugs, and my aunt was an alcoholic. I resumed my behavior with my new friends and returned home to Seattle in a few months because my aunt and uncle didn't see any redeeming qualities in their nephew. The reception I received when I arrived back home was anything but warm. I recall my dad said something like, "So you couldn't make it in Utah, either?"
Back home in the summer of 1969, I lost my desire to get high all the time as I watched my old pals act like idiots; drunk and high on pot and pills. I hustled and got myself a job with a neighborhood real estate office doing everything from painting houses to refinishing floors. All I really wanted was to play music, maybe start a band and make my own way. By the end of that summer I had saved enough money to buy equipment and found some happiness for the first time.
A year later, my cousin came back from Vietnam with a drug habit and a healthy quantity of heroin from Asia. His plan was to sell the stuff on the streets of Seattle and make a ton of money. Everyone involved was now experimenting with all of these drugs—except for me.
Being the only sober member of the group, I was elected to handle the stash and figure out how and where to sell the product. The next thing I knew I was getting high off the dope I was packaging. Soon, I went from selling my gear and instruments to stealing anything I could get my hands on. It wasn't long before I walked away from my friends and family so I could live with the other junkies.
I somehow functioned for the next 10 years in a bad marriage based on addiction and despair. I fathered four children during those years, which were a blur of methadone, pills, poverty and a lot of wasted time.
I wound up in prison for the first time at 32 for drug possession and spent most of the next 11 years there. Although I had no problem staying clean in prison, I was high by sundown each time I was released. The downward spiral began again and I was soon back behind bars.
For the longest time, I actually looked forward to going back to the joint. It was easier than trying to make it in the world. It seemed to be the only place where I could stay clean and sober.
I managed to stay out of jail for the next several years, despite my heroin addiction. When I learned in the year 2000 that I was HIV positive and had Hepatitis C, I almost threw in the towel. I saw this as a death sentence. I couldn't see much point in going on. I had no one in my life at that time to encourage me to deal with my issues.
I completed a 90-day inpatient program and a couple of 28-day spin-dries over the next seven years. I learned about addiction and met some wonderful people, including a nurse practitioner who specialized in treating HIV/AIDS patients. She convinced me that my life was far from done—if I was willing to take some steps to salvage it.
In 2007, I walked up the stairs of the Seattle Adult Rehabilitation Center (ARC). After entering the program a couple of times in recent years and leaving after a week or two each time, I had to convince the staff that I was serious this time. They allowed me in.
It was a difficult first month there. A lot of pain, sleepless nights and fear of the unknown all but consumed me, but I was determined to stay.
I found great comfort in reading the Bible, especially the teachings of Jesus Christ. There seemed to be an answer to every question I had. If I could be just a little more like him, I might just have a chance of making it, I thought. That became my goal, that day and forever.
If not for the opportunity The Salvation Army gave me, I wouldn't be around to write this testimony today. Now eight years since I completed the program, I lead the praise and worship team at the ARC with my wife, Rosalie. I have four grown children, with kids of their own, who have all forgiven me and accept me for who I am.
I've also made amends with my brother and sisters, who supported and encouraged me over the years. I began working for my brother at his business several years ago and still do today.
I hope that anyone looking for a way out of a life of addiction will let go of the past and trust that God will guide you through the future. The doors of The Salvation Army are always open. I can't think of a better place to start your new life.