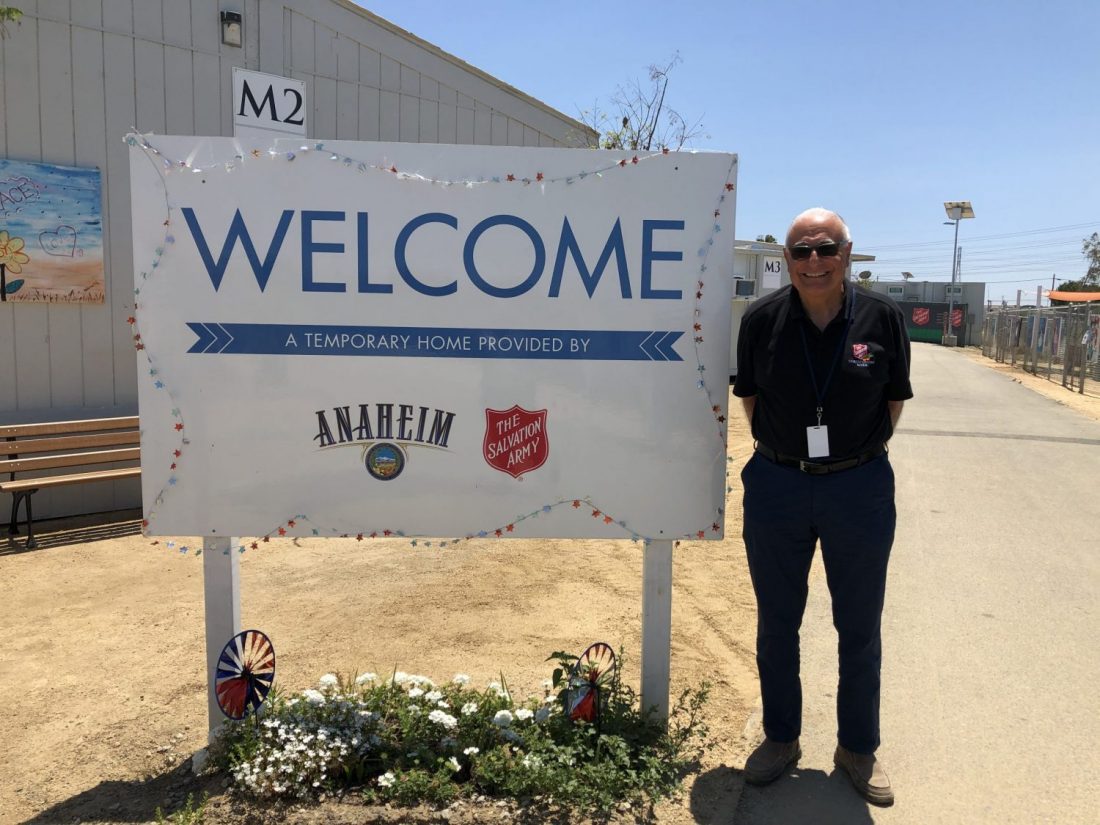 Linking social services and corps ministry in Orange County
Anaheim Emergency Shelter and Tustin Ranch Corps work together to change lives.
By Karen Gleason–
The Salvation Army in Orange County, California, has been bridge-building lately—despite the pandemic—linking social services and corps ministry. A number of Anaheim Emergency Shelter (AES) residents are attending Tustin Ranch Corps Sunday worship services virtually; the services are presented live on Facebook and screened in the shelter dining room. Residents are also attending Bible studies held during the week, some in-person at the shelter and one from Tustin Ranch via Zoom.
A driving force behind the corps/shelter partnership is Jim Bogosian, Social Services Ministry Leader for the California South Division in Orange County, who has an office at the shelter. Known as "Pastor Jim" to shelter residents, Bogosian did in fact pastor several churches over the years. As he reached retirement age, he still wanted to serve, but many churches thought he had "aged out" and wouldn't connect with younger people. 
However, when Tustin Ranch Corps Officer and Orange County Coordinator Captain Nesan Kistan met Bogosian, he recognized a mighty servant of God, driven by the love of Christ, with a lot to offer. Before long, Bogosian was working for The Salvation Army and attending the Tustin Ranch Corps' Sunday worship services.
"What [Jim] is doing to link our social services ministry with corps ministry—this linkage is fulfilling the overarching mission of The Salvation Army: save souls, grow saints and serve suffering humanity," Kistan said.
Bogosian is looking forward to when the pandemic is over and his team can transport shelter residents to the Tustin Ranch Corps for in-person worship services. Meanwhile, people are viewing the live-stream in the dining hall. On a recent Sunday, almost 30 individuals attended. Bogosian said while these were mostly residents, some staff and security also came. Currently, the shelter houses about 175 people.
"Since Pastor Jim has been present at AES leading new Bible studies and services, there is a noticeable difference in the community here," staff member Jennifer Springer said. "His love and care to so many broken matters big time. [I] love being able to attend the new Sunday worship service in the dining hall…looking forward to attending Tustin Ranch in person after COVID-19."
Bogosian's future plan is to transport as many as possible—75-100 people—to local corps, including Tustin Ranch, Santa Ana and, perhaps, the Anaheim Red Shield Community Center.
For Bogosian, attending the corps and getting to know the soldiers there are advantages in his role as ministry leader at the shelter. 
"I can be genuinely, naturally enthusiastic about what The Salvation Army has to offer," he said. Another part of his long-range plan is to get more and more corps members involved in the social services ministry,  "to bring it back to first and foremost Salvation Army involvement," he said. He is working to build awareness among corps members of service opportunities so that they anticipate future needs and avoid scrambling at the last minute.
Two elements of this involvement are expanding the Tustin Ranch prayer chain and forming a new pastoral care team. The Tustin Ranch Prayer Army prays for the needs of the church family and requests from AES residents and staff. Currently the Prayer Army has about 30 members; Bogosian says the goal is to build it to 100. At the shelter, residents can request prayer at intake or later by speaking to Bogosian or submitting a prayer card. The next stage is follow-up. The new Pastoral Care Team, made up of corps members, will visit residents at the shelter, following up on prayer requests and inviting them to meetings and Bible studies.
"After COVID restrictions, we plan on having some Prayer Army gatherings at AES to celebrate, worship and pray together," Bogosian said. 
Some of the residents already have powerful testimonies. When Alvinardo Cabida came to the shelter six months ago, he was homeless, estranged from his family, and addicted to drugs and gambling. Currently, he's waiting to be admitted to the Anaheim Adult Rehabilitation Center.
"Shortly after I came here, the Lord miraculously and completely freed me of drugs, cigarettes and gambling," he said. "I am so glad for Pastor Jim's ministry—I attend the Bible studies and worship service here; and through Zoom, attend the online Bible class with members of Tustin Ranch that Pastor Jim teaches…Praise God!"
Resident Manuel Mercado, Jr. said although he knew about Christ, he ended up addicted and homeless, and spent time in prison. "But now at AES, I'm getting what I call my 'my last chance' with no turning back," he said.
 Before the pandemic, he and some of the other residents attended the Tustin Ranch worship services. "Even after I transition to my own housing, I look forward to supporting The Salvation Army Orange County and serving with the ministry at AES for the rest of my life," he said. 
For Bogosian, it's all about giving people more than physical shelter; it's the relationship with God that truly changes lives. As the partnership with the Tustin Ranch Corps grows stronger, he sees it serving as a model for new connections with other Orange County corps, all serving to bridge the gap between social services and corps ministry.