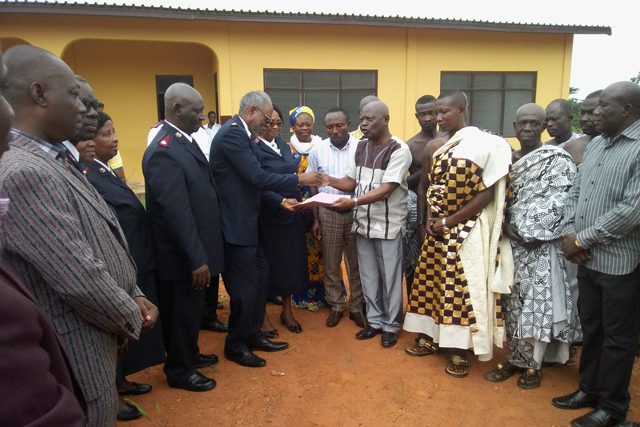 Land grant in Ghana earmarked for new university
The school, slated to open in 2022, will serve a region without any easy access to higher education.
Government officials in Ghana donated nearly 15 acres to The Salvation Army to build a new university, which will join William Booth University Kinshasa in the Democratic Republic of Congo as The Salvation Army's only two African universities.
The land and property were formally handed over at a ceremony presided over by regional officials representing the Agona Traditional Council and the Sekyere South District Assembly. A large assembly hall already sits on the land, and is included as part of the gift. According to Edward Kusi Ayarkwa, District Chief Executive for Sekyere South, the traditional council had long sought to establish an institution of higher education, but numerous past attempts had been unsuccessful due to funding shortages. The university will serve an area of the country that currently lacks any easy access to higher education institutions.
The Salvation Army won the council's approval by beating out a number of proposals submitted by religious organizations. That was largely because its plan for the facility lined up with the council's vision, Ayarkwa said.
"The Salvation Army is strong in the district, and the educational, moral and spiritual programs the Army has since been embarking on in the district are a testimony, which won the hearts of the district assembly to give such a mammoth institution to the Army to champion such an enviable project," said Territorial Commander Colonel Joseph Lukau.
The school plans to begin admitting students in 2022, a year which also marks the Army's centennial in Ghana.
Initially, the university expects to serve between 300 to 400 students who can earn internationally recognized, four-year degrees in nursing, business studies, education—with an emphasis on music—and theology, with more programs set to be introduced down the line. The Salvation Army has already created a panel of scholars, professionals in relevant disciplines and administrative personnel to develop the various curricula. Faculty members will be drawn from this committee, as well as recruited locally and internationally.
Opening up greater educational opportunities to the area will benefit the community on several levels, Lukau said.
"University education…is a critical constituent of [personal development] and provides the high-level skills necessary for the labor market," he said.
Funding for the endeavor will come from local mobilization efforts, territorial headquarters, corps sources and other stakeholders, as well as local and international donors.
Though this is only The Salvation Army's second university in Africa, Lukau noted that the organization has already established a number of secondary institutions around Ghana.