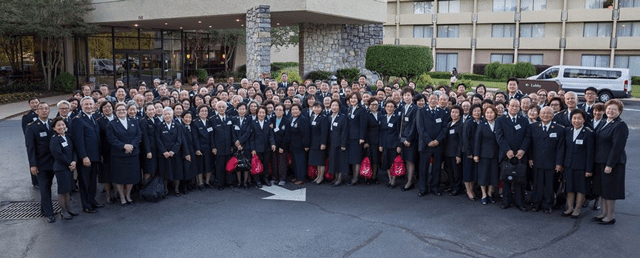 Korean Salvationists 'Rise'
11th Americas–Korean Ministries Consultation meets in Atlanta.
"But rise and stand on your feet; for I have appeared to you for this purpose, to make you a minister and a witness both of the things which you have seen and of the things which I will yet reveal to you" (Acts 26:16 NKJV)
Salvation Army officers and soldiers from Korean ministry corps across the country gathered in Atlanta, Georgia, this spring for the 11th united meeting to "Recharge, Rethink, Revive and RISE."
The opening praise and worship prepared the delegation for unity, a sense that would last throughout the conference. The mini Olympics that followed provided stronger bonding between delegates, which in turn allowed collaborative focus on competition and team victory.
Major Jung Gil Kang from the Canada and Bermuda Territory recharged the delegates the next day, roaring the motto of the Army—"the Blood and Fire" mission. His message called upon delegates to do, and be, much more than they might have imagined. Delegates were challenged to rise up to be more than just survivors, but instead to be "savers" in the journey of following Christ.
Breakout sessions provided opportunities for delegates to rethink their responsibilities as holy brothers and sisters. Topics ranged from the basics of Salvation Army history and mission, to Salvation Army sacrament and holiness life, to strengthening spiritual discipline in discipleship and evangelism. For many, the local officer qualification and responsibility session was a refresher and validation, a reminder that to serve, rather than be served, is a privilege, and their values, attitudes and behaviors should distinguish the delegates in such a way that others emulate and admire them.
The Army's command in coaching culture shone again in constructive leadership exercises designed to build high-performance teams. Honing the necessary skills to be effective leaders and followers, these exercises equipped delegates with practical skills applicable for all levels.
In separate group discussions, representatives from each territory dug deeper, brainstorming and addressing territory-specific issues and needs.
"Everyone acknowledged that the spiritual battles people face today are challenging, and the need for personal triumph is great, but our faith that Christ will lead us to victory is greater," said delegate Jeannie Tam from the San Francisco All Nations Corps.
National Secretary for Program Lt. Colonel David Kelly made a lasting impression in the closing worship service: "Salvation Army greatness is about officers and soldiers choosing to experience holy presence… What distinguishes us from others is the living presence of God in us."
Delegates left the conference revived, ready to "rise" to today's challenges until they meet again in 2020 for the 12th consultation.
"In every corps scattered across the USA, with unity and determination, we will roll up our sleeves and stay focused on our mission to lead souls to Christ," Tam said.