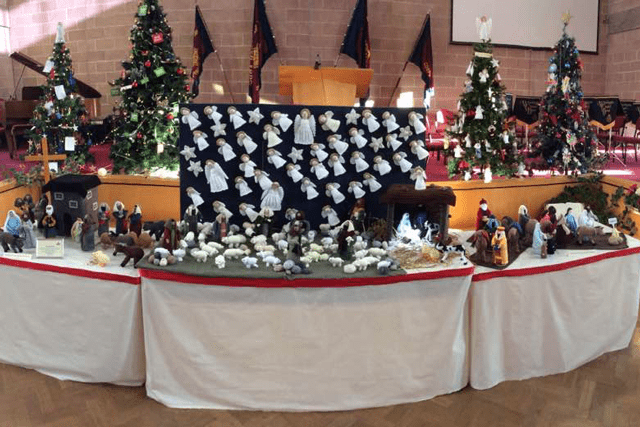 Knitting though the Bible
A group of women from the Warrington Corps created a 70-foot Bible scene made entirely of wool.

Twenty-eight women from the Warrington Corps in the U.K. recently completed a 10-month project to knit a collection of Bible stories that reached 70 feet in length.
Inspired by instructional YouTube videos about how to make figures out of yarn, Warrington Corps Secretary Marjorie Samuel organized volunteers to make a few images from Bible stories. It soon evolved into creating complete scenes.
The group decided to name the exhibit "Knitting through the Bible" after completing the first story, Noah's Ark. From there they recreated 12 well-known stories including the creation, the nativity, the feeding of the 5,000, and the resurrection.
The group originally met on a weekly basis, but as the number of volunteers grew, they started meeting twice a month to complete their goal. Friends and family who supported the project continually donated wool to keep it going.
"Everyone was so excited at the result and this fueled our imaginations and determination to continue to do other stories," Samuel said.
Proceeds from a public exhibition of the display will be put toward the building fund for the Warrington Corps.
"Just about everyone who had an association with the corps were involved in some way," said Corps Officer Major Adrian Coupe. "This brought about a great community spirit that encouraged all who were involved. It was also tremendous to see the thousands of people who came to see the exhibition, as many had heard about it through the local television coverage."
The group is currently in the process of recreating the Palm Sunday story to be put on display at the Warrington Corps during this year's Holy Week, Samuel said.
"The most rewarding part of this project is that hundreds of new people have been to visit the exhibition who have never been in our church before," Samuel said. "It's been a wonderful experience and a marvelous outreach."
Coupe said that because of the publicity and coverage that Knitting Through the Bible received, the corps has seen an increase of visitors at the Vine Coffee Shop, the corps' outreach ministry.
The exhibit be put on display at the Edinburgh Fringe Festival in August at the Edinburgh Corps.