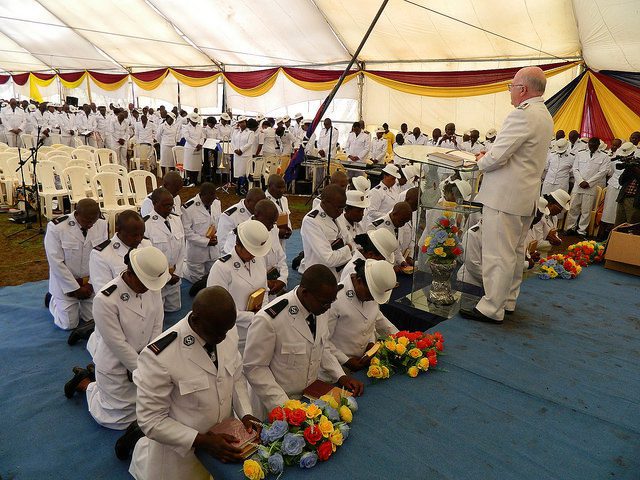 Kenya East Territory commissions 36 new officers
Chief of the Staff and Commissioner Nancy Roberts lead commissioning celebrations in Kenya East Territory.
[gss
gallery ids="18470,18471,18472,18473,18474″]
The Salvation Army's Chief of the Staff, Commissioner William Roberts, and Commissioner Nancy Roberts, World Secretary for Women's Ministries, were guest leaders for Kenya East Territory's commissioning celebrations.
Kenya East Territorial Commander Commissioner Vinece Chigariro, officers, local officers, bands, timbrellists, songsters and friends of The Salvation Army greeted the guests at Jomo Kenyatta International Airport in Nairobi.
"It is our prayer that everything happening this weekend will bring honor and glory to God," Roberts told the welcome party.
The weekend began with a Cadets' Farewell Festival, which included a Silver Star presentation, recognizing parents' influence on the cadets. Nancy Roberts challenged the 36 cadets of the Heralds of Grace Session and their parents to keep shining like stars in the world. The territorial commander thanked the parents for allowing the cadets to serve in this way and assured them that God will take care of their children.
Cadet Damian Mutheu spoke for the session, thanking parents for their support and acceptance of their children's choice to serve God in The Salvation Army. She also expressed gratitude to the families who cared for grandchildren while their parents were in training.
Roberts challenged all present to "say goodbye" to things that hinder them from loving God and following him fully.
Commissioning Sunday began with a march-past and salute in Thika High School for the Blind. At the commencement meeting, cadets of the Messengers of Light Session marched into the tent first, in contrast to members of the Heralds of Grace Session, who entered in silence, one by one, each holding an open Bible.
In his challenge to the new lieutenants, Roberts reminded them that they are Salvation Army officers and they should hold on to that. He challenged them to remember the promises made in their officer's covenant and always to be "blood and fire" officers.
During the commissioning ceremony two new officers–Lt. Simon Kitonyi and Lt. Margaret Njeri–gave their testimony.
The territorial commander gave the new officers their first appointments.
Groups providing music during the weekend included the territorial band and songsters, Nairobi Central Corps Band and Ladies Band, Kilome District Songsters and Machakos Division Youth Timbrels and Gospel Dance.
During their time in the territory, the Robertses visited territorial headquarters, where they participated in morning devotions, and witnessed the work being carried out at Nairobi Girls' Training Center and Kibera Corps and Primary School.