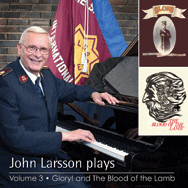 John Larsson plays Glory! and The Blood of the Lamb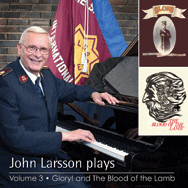 Third in the series of CDs is now available.
The third in the series of CDs featuring General John Larsson (Ret.) playing piano arrangements of songs from the Gowans and Larsson musicals has now been released. The CD highlights music from their two musicals based on Salvation Army history and comes complete with a 32-page book of the lyrics by General John Gowans (Ret.).
Glory! brings to the stage the classic stories of early-day Army life told by Edward Joy in The Old Corps, and features songs like "There is a message," "When the glory gets into your soul" and "As high as the sky."
The Blood of the Lamb is based on Vachel Lindsay's epic poem "General William Booth Enters Into Heaven," and, fittingly in this the centenary year of the Founder's promotion to Glory, portrays William Booth leading into heaven the great multitude he has won for Christ. Songs include "There's only one flag for me" and "They shall come from the east, they shall come from the west."
For sample tracks and further information about the CD series visit johnlarsson.com.
John Larsson plays Glory! and The Blood of the Lamb is available from tradewest.com.