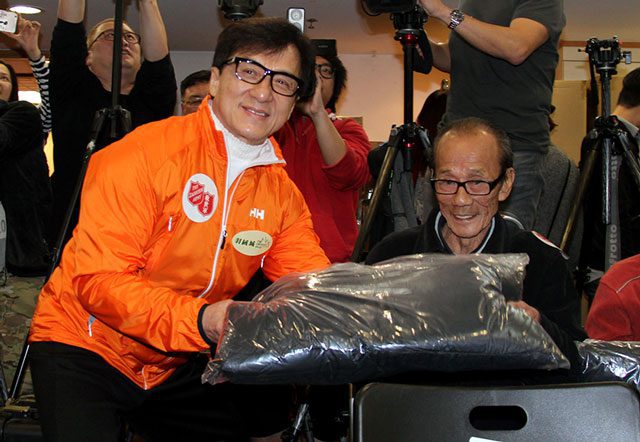 Jackie Chan supports 'Warm Action' in Hong Kong
The Salvation Army and the Outdoor Store help senior citizens stay warm and healthy.
The Salvation Army in Hong Kong, supported by actor Jackie Chan and The Outdoor Shop, delivered over 280 coats to older adults in need, to help keep them warm and healthy during the winter.
To acknowledge this outreach–the 20th "Warm Action" campaign—The Salvation Army held a ceremony led by Lt. Colonel Ian Swan, officer commanding for the Army's Hong Kong and Macau Command. Participants included Chan, Lily Lee, the executive director of High Performance Sports Limited, other Salvation Army representatives and seniors who received jackets.
"I thank Mr. Jackie Chan and Ms. Lily Lee for their trust and for the donations that have been made in the last 20 years," Swan said. "The jackets are lightweight and comfortable and very beneficial and useful for the elderly who live alone. 'Warm Action' has been providing heat to the elderly in the cold winters."
Social workers from E.S. for Seniors arranged service booths on the streets and set up home visits. Volunteers delivered jackets to the "grandparents who live in anonymity," who typically stay in their homes with limited family or social support.
Many of these individuals are in poor health, and the winter months are hard on them. They are often lonely and do not know how to ask for the help that they need.
Through the efforts of The Salvation Army, The Outdoor Store and their supporters, the community is able to show its love for its older members.