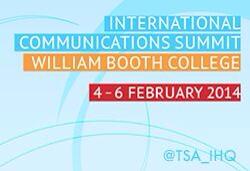 Communications Summit instigates global support network
By John McAlister –
Salvation Army representatives from International Headquarters (IHQ), Kenya, Australia, Canada, The Netherlands, the United Kingdom and the United States gathered Feb. 4-6 at William Booth College in London for an International Communications Summit.
In his welcome remarks, Commissioner Gerrit Marseille, international secretary for program resources, told the international gathering that the event was important because of the way stories go viral, quickly spreading from country of origin around the world and also because "the General wants a more proactive approach to communications and social media."
Major John P. Murray, IHQ communications secretary and literary secretary, highlighted the global reach of communications today "It's essential that The Salvation Army be equipped to respond publicly to issues around the world in a consistent and timely manner," he said.
During the summit, delegates discussed best practices for brand management, web and social media, advertising, media relations and crisis management. In addition, they explored the potential for a 24-hour international communications team that would be available to respond instantly to global issues as they arose.
"It was valuable to meet with communications directors from around the world," said Jennifer Byrd, national communications director for The Salvation Army in the U.S.. "We listened to each other's best practices and learned that we share similar struggles. As a result, we have created a new network of support that will help us better communicate the good works of the Army and navigate those tricky situations."
Lt. Colonel Julius Mukonga, assistant chief secretary for the Kenya East Territory, said "Although we have different skills and resources around the world, the Army's global communications program will be stronger and more diverse thanks to this experience."
At the conclusion of the summit, delegates expressed a desire to connect regularly to discuss emerging communications issues that could positively or negatively impact the ministry of The Salvation Army worldwide. As well, they outlined the value of providing training and mentoring programs for key communications personnel across all five international zones.
"Quality communication is critical at every level of our Army structure," said Major Bruce Harmer, territorial communications and public relations secretary for the Australia Eastern Territory. "The International Communications Summit provided an important opportunity for our global messaging to be managed at a much higher standard as we move forward."