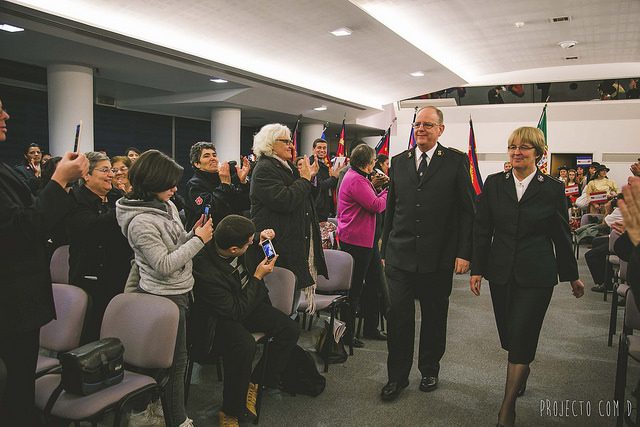 International leaders visit Portugal
With Spain and Portugal command leaders Lt. Colonels Gordon and Susan Daly, the Coxes met Portugal President Dr. Marcelo Rebelo de Sousa at the Belém Palace. The president showed interest in the ministry of The Salvation Army and offered thanks for the work that is being done, especially with homelessness.
The international leaders met informally with officers and social services staff. The Director of Social Services, Sandra Martins, spoke about The Salvation Army's social work in Portugal before the General presented long-service awards to staff members and Dr. António Eva Ferreira, who has been the Army's legal counsel there for almost 35 years. The General reminded those present that The Salvation Army has a twofold mission to preach the gospel and meet human need. It is not either/or he emphasized as both aspects of that calling and mission must be visible in every corps and institution.
The first public gathering was a well-attended prayer meeting, which set the tone for the whole weekend. On Saturday morning, Portuguese officers met in council. That afternoon, a women's rally featured drama, dance and testimonies. Silvia Cox spoke about transformation.
The celebration festival on Saturday evening featured timbrel playing, dance and a combined band and youth chorus. British Salvationists John and Margaret Large presented a number of brass instruments for use in Portugal. Long-serving soldiers were presented with a small memento and were thanked by the General for their service. Soldiers who had been enrolled in the past three years, mostly young people, were also acknowledged.
Sunday activities began with a holiness meeting. Following his message, at the General's invitation, corps groups joined together for touching moments of prayer with their corps officers.
Over lunch, the Coxes met with a group of young people. Portugal Youth Officer Captain Luis Viriato introduced several of them who had prepared questions for the General on a variety of topics. The General challenged the young people to be mobilized in God's service.
The final meeting of the weekend was a time of praise and testimony, concluding with words of challenge from Silvia Cox to be "saved, sanctified and mobilized." Gordon Daly passed on the command's "The Whole World Mobilizing" Salvation Army flag to the Sâo Brás Corps leaders to use for the first two months of the year.